HERE'S A WINTRY SCENE of Lakeford Drive near Lee Highway in Falls Church submitted by Larry Golfer. To see your favorite pics of the community, send them to us at newsandnotes@fcnp.com. (Photo: Larry Golfer)

Fundraising for FCHS Graduation Celebration
Volunteer parents from Falls Church High School will again be selling double shredded hardwood mulch to raise funds for the FCHS All-Night Graduation Celebration, a drug and alcohol-free way for graduating seniors to celebrate the event. Mulch bags are $5 each and can be ordered until March 19th by sending a check made out to: FCHS ANGC, with your name, address, phone number, email, and the number of bags you wish to purchase to Falls Church High School (ANGC), 7251 Jaguar Trail, Falls Church, VA., 22042. For questions and order forms, email wwodatch@msn.com or call 703-533-9325. $2 of each bag is tax deductible, as well as any donations.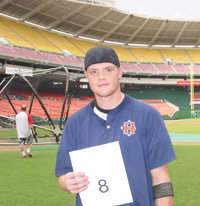 Metro Run and Walk Free Clinics and Events
Metro Run and Walk is offering free speed walking clinics as well as Saturday morning group walks from Tysons-Pimmit Regional Library. Clinics are open to the public, starting at 9 a.m. on Saturday March 10, March 24, April 7, and April 28. Attend one or attend all. Clinics are held at Metro Run and Walk (7516 Leesburg Pike, Falls Church). Group walks are held Saturdays at 8 a.m. beginning on March 3, with one mile and three mile options. More information is available at RunWalkLive@aol.com.
ASA to Host Soccer Camp over Spring Break
The American Soccer Academy will be hosting a community soccer camp from 9 a.m. to 5 p.m., April 2 to April 6 at Haycock Elementary School (6616 Haycock Rd., Falls Church). The camp is open to boys and girls ages 3 to 14 years, and will focus on teaching young players the basics of soccer in a series of practices and games. To register, visit www.AmericanSoccerAcademy.net, email the ASA at Camps@AmericanSoccerAcademy.net, or contact at 301-695-GOAL.
Mind-Body Medicine Seminars
The Northern Virginia Chronic Fatigue Syndrome and Fibromyalgia Support Group is hosting Chinese medicine herbalist Jonathan Gilbert, NCCAOM, and integrative psychotherapist Anita Bains, MS, RN, CS-P. on Saturday, March 17 from 2-4:30 p.m. in the Mason Governmental Center Community Room (6507 Columbia Pike, Annandale). Also speaking will be clinical psychologist Fred Friedberg, PhD, at the Davis Library (6400 Democracy Blvd., Bethesda, Md.) on April 5 from 1:30-3 p.m. Alan Pockini, MD, will be discussing strategies for managing CFS and FM April 21 from 2-4:30 p.m. This seminar will also be held at the Mason Governmental Center, in the Large Conference Room. All events are free and no registration is necessary. For more information, visit www.geocities.com/cfsnova/flyerspring07.pdf or call 703-968-9818.
Art Show not an Auto Show
The art exhibition Vision will feature works in various media by members of the Falls Church Arts. The show will open with a reception on March 9th from 7-9 p.m. at Don Beyer Volvo (1231 W. Broad St., Falls Church). The show will continue on March 11th from 1-4 p.m. until March 31st with Monday-Saturday hours from 10 a.m. to 6 p.m. at the Falls Church Arts Gallery (111 Park Ave., Falls Church). Vision is the fourth annual FCA all-member show and sale. It will feature about 100 different works by more than 50 artists in several different mediums.
Area Students Named to Syracuse Dean's List
Congratulations to students Michael Freudberg, of Falls Church, a junior majoring in finance and marketing, Alexander LaPiana, of Arlington, a junior majoring in entrepreneurship and emerging enterprises, Alexander Barker, of Annandale, a freshman majoring in film, Brett Dougherty, of Fairfax Station, a freshman majoring in film, and Julia Chase, of Falls Church, a sophomore majoring in music industry. To qualify for the Dean's List, students must achieve at least a 3.4 grade point average on a 4.0 scale.

Give Kids a Smile Day
On Friday, Feb. 23, Dr. Robert Morabito and several other volunteers were able, through cooperation with the Northern Virginia Dental Society, to see more than 170 needy children at the Springfield campus of NOVA Community College. Besides serving at-risk children, the project highlighted the ongoing challenges low-income and disabled children face in getting dental care. The day was pirate themed; children were given goody bags with eye patches and t-shirts. Parents were given handouts on proper oral hygiene.
Lions Club Donates 500,000th Pair of Glasses
The Lions Club of Falls Church has just recently donated its 500,000th pair of recycled eyeglasses to needy children and adults around the world. The Lions Eyeglass Recycling Center of Northern Virginia is located in the Shreve-McGonegal Building (212 North West St., in Falls Church). Volunteers are needed to help sort the eyeglasses and prepare them for use. All ages from middle school students to senior citizens are welcome to come volunteer for the cause. Used and old glasses can be donated several different ways: by dropping the glasses off in a collection box, contacting your local Lion's Club member, or by shipping directly to the Center. More information is available by calling 703-241-7004.
Capital City Concert to Feature Novik Winner
Alan Woo, a 15-year-old sophomore at Thomas Jefferson High School and winner of the biannual Novik Piano Concerto Competition will be the featured soloist during its March 18 concert ("Ellington!") at the Atlas Performing Arts Center (1333 H St., NE, D.C.). The Washington Music Teachers Association created the scholarship to honor Ylda Novik, an influential teacher in the Washington metro area, more than 20 years ago. Tickets are available at the Atlas Web site www.atlasarts.org, or through the box office at 202-399-7993. In advance: $16 adult, $12 senior/student; At the door: $20 adult, $16 student/senior. Children 16 and under are free with paying adults.
Reston Interfaith Charity to Host Open House
Reston Interfaith is holding an open house tour highlighting its mission to assist residents of Northern Virginia who are experiencing hardships. The first portion of the tour will be at 10 AM at the Embry Rucker Community Shelter; it resumes at 5:30 p.m. at the Emergency & Self-sufficiency Services Program office, and then at 6 p.m. at Laurel Learning Center. This is an opportunity to see a number of programs and learn more about the day-to-day operations at various locations. Open to the public. R.S.V.P. to Gail Roberts at 571-323-9560 or gail.roberts@restoninterfaith.org.
Volunteers Needed
Fairfax Court Appointed Special Advocates (CASA) is looking for volunteers to work with abused and neglected children. No prior experience is necessary and all training is provided. Volunteers must be at least 21 years of age and be able to commit to 3-5 hours a week. For more information or to attend the next information session, visit www.fairfaxcasa.org, or call 703-273-3526, or email volunteer@casafairfax.org.
Volunteer Management Training
The Northern Virginia Association for Volunteer Administration (NVAVA) presents Volunteer Management training on "Volunteer Retention: Keeping the Spark" on Thursday, March 15 from 9:30 a.m. to noon. Andy King, a local expert, will cover facets of volunteer retention. The training will take place at the Fairfax County Government Center (12000 Government Center Parkway, Fairfax) in conference rooms 2 and 3. The meeting is open to all who manage volunteers. The training is free to members, non-members $10. Lunch will be served in the cafeteria; brown bag lunches welcome. RSVP by Wednesday, March 7 to Susan Stolpe at susan.stolpe@restoninterfaith.org or 571-323-9569.
High School to Perform Renaissance Era Entertainment
Under the direction of Linda Martin, the McLean High School Choral Department, ranked 11th in the nation, will transport guests to the 17th-Century with the music of the European Renaissance. The event will feature a banquet, catered by Doug Cook, former head chef at the Sage Restaurant, as well as performances by McLean High School's Madrigals. The Madrigals will dress, act and sing in the style of the European Renaissance. Tickets are $40 for adults and $25 for children, ages 12 and under, with proceeds benefiting scholarships for choral students. For information and reservations, please contact Patrice Comey, at pcomey@mcleanchoral.org, or call Carla Johnston at 703-628-8827.
Vietnam Veteran to Speak on Boat People Exodus
As Chief of Mission and Representative of the United Nations Secretary-General in Hong Kong, Robert Van Leeuwen, M.P.A. directed an international effort to bring an end to the human exodus from Vietnam, which made possible the establishment of full diplomatic relations between the U.S. and Hanoi. The speech is being held at the March 15 chapter meeting at Neighbor's Restaurant in the Cedar Lane Shopping Center (262D Cedar Lane, Vienna) at 7:30 p.m. The general public is invited, and admission is free. For information, call Len Ignatowski at 703-255-0353 or visit www.geocities.com/vva227.