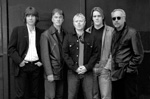 Seldom has a band lived up to its name as well as The Alternate Routes. During their time together, the Connecticut-based group has hit a number of roadblocks on their way up, but they have always found a way around them. They scraped for rent money. They rolled quarters to buy a tank of gas. Seemingly always though, the solution to their problem lay with the band.
Well, the band … and a black jack table.
One night a little while back, Warren and fellow founding member Eric Donnelly were driving back from a late-night gig in Boston with a $200 paycheck in their pockets. Problem was, they needed a lot more than $200. The band was effectively broke after recording its second EP and now they needed $2,000 to get it pressed. As they drove back through Connecticut, Donnelly turned to Warren and guaranteed him that he could turn their $200 into the $2,000 they needed … if he dropped him off at Mohegan Sun casino off I-395.
The ensuing argument left both men sitting silent in the van for the duration of the trip, but when they passed the exit for Mohegan Sun around 4 a.m., Warren pulled the van off and stopped in the parking lot. He told Donnelly to do his thing, then closed his eyes to take a snooze. He awoke a few hours later to the sensation of money hitting his face — about $2,000 worth.
"It was a pretty steady streak of poker and black jack," Donnelly says, admitting with a small hint of pride that he's "a bit of a card player."
"We made several trips to the casino around that time," Warren says, explaining his logic, if not wisdom, for letting Donnelly gamble their hard-earned cash. "Sometimes we would have only $40 for rent, but we wouldn't need $40, we would need $400. The casino was the only way to turn money around that quick … Of course it doesn't always work."
The anecdote is one of several where poverty played a role in the Routes' genesis. Another involves the band's year living in New York. After a year of playing a few gigs, they were, again, broke. Cash was gone, credit cards were maxed out. All they had left was a $10 roll of quarters. Those paid for gas as they left town for Bridgeport, Conn.
"New York literally took our last dollar," Donnelly recalls. "It was partly due to our bad habits, but also, it's just an expensive place to live."
The year in New York did yield the band's manager, Danny Heft, so it wasn't a total loss. Likewise, a painfully awkward gig at a child's christening ("We basically just set up in the corner," Warren recalls with a shiver.) got them enough cash to start their website.
Things are a little easier after an exec for Vanguard Records saw a show in Nashville and inked the band. Now they're recouping some of the dollars lost to recording costs, rent — and casinos — and their full-length LP, Good and Reckless and True drops March 13. It's already available on iTunes.
"Life is similar, just busier," Donnelly says. "More things are happening. We're getting some radio play, we filmed a music video, we're doing more interviews. It's a great feeling having people out there working for you."
Those "people" have not only landed the band a music video, but also placed a couple of their tracks on MTV hit shows "The Hills" and "Laguna Beach," where the Routes' hook-laden acoustic rock sound jives with the programs' teen-appeal vibes.
"On the road it's hard to keep up with any TV shows," Donnelly says. "But we'll always get text messages from our friends telling us that our song was just on 'Laguna Beach' or something. It's cool, but it's usually some 20-something guy doing the texting. I usually text back 'Thanks and what are you doing watching 'Laguna Beach?''"
Their current situation is a far cry from a time back when Warren and Donnelly tried to orchestrate a college tour. They made up a press kit and spent days calling colleges across the country. Weeks later, they hadn't received a single phone call back. Now they're on tour with Everclear and set to hit 9:30 Club in D.C. this Saturday.
Perseverance, and a little luck, paid off for The Alternate Routes. Even when things looked bleak, they never thought about abandoning their dreams.
"When people say to 'follow your dreams' they always tell you to have a back up plan," Warren says. "I've never had a backup plan. I just worked other jobs to help the band so I wouldn't have to work those jobs anymore."