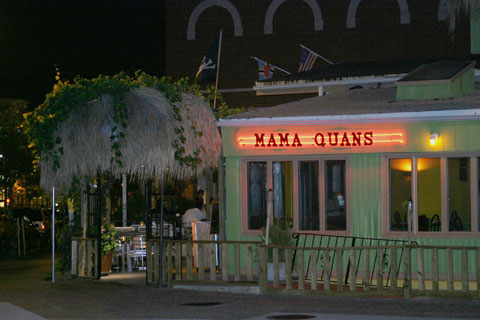 Sometimes the best things in life come from the most unexpected places. And sometimes you have to go looking for them.
This is certainly the case with Café Rose, a small but unique restaurant focusing on traditional Persian fare. Falls Church residents may recognize the name from its previous location on West Broad Street, and many may be wondering what happened to the favorite establishment since it disappeared from that location in late 2005. Now located in an unassuming strip mall in Vienna, Café Rose has expanded its relaxed dining area while continuing to focus on time-honored Persian recipes, cooking methods, quick service and the attentive atmosphere that one can only expect in a family-run business. The ambiance is neither fancy nor pretentious and the food itself makes the trip worth taking.
Still, owned and operated by its original proprietor of 13 years and his immediate family, one feels comfortable at once, even when ordering unfamiliar dishes. The staff is patient and attentive, as well as willing to describe exotic dishes in terms that most anyone could understand. Tradition is assured by the plain fact that all recipes come directly from the owner's cousin, a proprietor of an establishment of the same name in Tehran, Iran.
All meals include an appetizer of traditional Persian flat bread, fresh-baked to order, as are all of Café Rose's dishes. The bread can be eaten with simple butter, but it is recommended that one try the Maust-o-Khiyar, a sauce of yogurt (another staple Persian ingredient) and cucumber flavored with mint and onion that can only be described as highly addictive. It is a fresh and light alternative to heavy Western-style breads and a perfect starter before your heavier entrée arrives.
The entrée portion of the menu focuses on the basics of Persian cuisine — beef, chicken, and lamb — served kabob-style with rice and traditional Persian spinach, beef, and bean stew known as "Ghormeh Sabzi." These well-known items are transformed to the Western palate by a liberal use of Middle Eastern spices such as saffron and cilantro. That tandem is used to flavor everything from the meats and stews to the ice cream dessert (a unique dish that you must try, if you still have room). Marinating and slow-cooking methods guarantee that your meal will be of the highest quality, despite its inexpensiveness and the staff's speedy service. Ideal dishes to sample include the lamb and chicken combination platter, as well as the aforementioned traditional stew, served atop a bed of white rice.
The goal of Café Rose is not only to be the highest quality Persian food in the area, but also the most reasonable in price. Available for both dine-in and carry out, appetizers begin at $2.95 and main dishes run from $7.95 for stew to $13.95 for a gargantuan kabob platter of beef, chicken, and lamb with rice. Café Rose satisfies the greatest of appetites at a most moderate expense.
Embracing the basic components that make any restaurant superior — fresh ingredients, careful cooking, and a gracious and accommodating staff — Café Rose makes what might be an average lunch or dinner something to be remembered. One may likely see the owner and his family sitting down to a meal at one of the larger tables, speaking in Farsi and enjoying a more relaxed moment in the occasionally hectic restaurant.
As Café Rose is planning on expanding from its current location across Northern Virginia, we can only hope that we will soon be able to partake in this unique cuisine and exemplary service in more places than just Vienna.
Café Rose Restaurant
126 Maple Ave. W., Vienna, Va.
703-255-2557
11 a.m. – 9 p.m., seven days a week