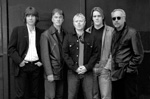 It started with shopping carts and lots of CDs. Then Pandora.com founder Tim Westergren and his team of trained music enthusiasts simply listened. A lot.
Seven years and more than 20,000 artists and 500,000 songs later, Westergren and the other members of the Music Genome Project have compiled an excruciatingly detailed database linking songs based on aspects of their composition and are offering it up to listeners on their website, Pandora.com. Now in their second full year after launching the personal-genre-generating, music-streaming site, Westergren and his team are not only helping to revolutionize the music industry, but also aiding a plethora of otherwise anonymous artists gain valuable exposure.
The premise behind the project is a simple one. Westergren and his mates in the Music Genome Project have dissected every song on the site by categories such as melody, harmony, rhythm timbre and a slew of aspects only music theorists can appreciate. When listeners choose a song or artist on Pandora, the program matches the choice to other artists and songs in their database, stringing them together to form a stream of music suited to your tastes. Hopefully, according to Westergren, the stream will expose listeners to a wide variety of new musicians you'll enjoy. This, as opposed to the thinking of Top 40 radio stations that believe listeners want to hear the same songs over an over.
"The idea of Top 40 is one of the most devastating myths of all time," Westergren says. His statement slightly ironic in that the myth of Pandora tells of how she unleashed all of the miseries on mankind. Talk about devastating myths …
Westergren, however, focuses on the namesake's curious nature. "Through Pandora, people re-discover discovery," Westergren says, mentioning how his nationwide tour of town meetings has blossomed from audiences of three to roughly 200. "Pandora sort of reconnected these people to music. They're back in the game again."
He also emphasizes the latter part of the Pandora myth — after the miseries went flying off to plague humanity for eternity (much like Top 40 radio), Hope remained in Pandora's box.
Pandora.com doesn't just foster hope for listeners starved for new music, it also helps artists lacking the benefits of a record deal to gain exposure.
"I wanted to create a kind of music middle class," says Westergren, once part of a band that never caught its big break.
Thus on Pandora, even when listeners come looking for a Top 40 act like Coldplay, relative unknowns like Monte Cassino or Murdocks, two bands that followed British superstars on a newly-generated "Coldplay Station," might benefit from Chris Martin's coattails. Think of the beneficiaries as a kind of Pandora Proletariat.
Due to a federal mandate, Pandora is allowed to stream essentially anything they want, so licensing famous artists through their record companies is not an issue. However, every time an artist gets air play on Pandora, the company shills out to SoundExchange, BMI, American Society of Composers, Authors and Publishers and SESAC, money the site says eventually finds its way back to artists. Furthermore, if listeners like a song or artist and click on the album art, you can purchase it from Amazon or iTunes.
Though Westergren's motives are in part altruistic, and he gets, as he says, very "kum bay ya" when he discusses the impact his project has had, Pandora does generate revenue. Pandora receives a small commission on every referral to those music vendors and also cashes in from advertising sold around the player. The revenue stream helps Pandora continue to expand, with Westergren saying they want to go mobile and also grow the brand internationally. Then there's the simply fact that the cash helps avoid periods like the one that hit in 2000 after the dot-com fall off, just as Westergren and the other pioneers were just getting off the ground.
"'Fall off' is probably the gentlest term I've heard used to describe that period," Westergren says. "'Nuclear winter' is probably more like it. There were times when I was literally not taking any salary. But we survived because we improvised." And a grateful listener base applauds them.
Not every track found on Pandora is a gem or an instant favorite, but listeners get options and artists get exposure. Even Westergren's old act, Yellowwood Junction, is in the database as of a few months ago. "Your life will not improve substantially for knowing that," Westergren says.
Checking out Pandora, on the other hand, almost certainly will.