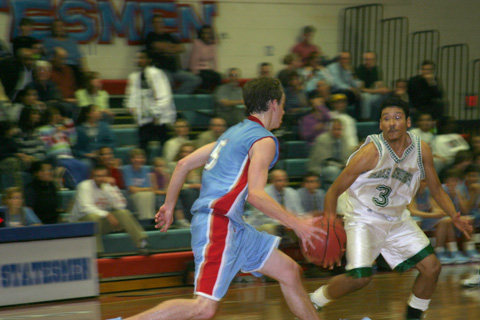 For the first 16 minutes Tuesday night, the McLean High School boys varsity basketball team could not shake a persistent opponent in the Marshall High School Statesmen.

Coming out of the locker room after halftime however, McLean junior Tarek Ammoury scored 13 of his team's 17 third-quarter points, as the Highlanders opened up a 13-point lead they would not relinquish en route to a 57-47 victory.
Ammoury finished the game with 24 points, including 12 from behind the three-point arc. Three of those three-pointers came during the third quarter when the Highlanders used a 13-1 run to turn a one-point lead at the 6:10 mark into a 12 point cushion. Pressure defense by McLean in the form of a half-court trap limited the Statesmen to just six points in the quarter.
The Statesmen attempted to rally in the fourth quarter, scoring four consecutive points to start the fourth quarter while Ammoury and the McLean starters sat on the bench. That spurt ended when the starters returned with 6:15 left in the game. On the first Marshall possession after their re-entry, McLean immediately forced a turnover leading to a transition layup by senior James Pascoe.
Prior to halftime the game was a closely fought affair, as Ammoury remained largely quiet. An old-fashioned three-point play by McLean senior center Eric Fitzgerald broke a 14-14 tie at 6:31 in the second quarter, but a hoop by Marshall senior Qaiser Ahmed drew the Statesmen back within one. Baskets by Brian McElhaney and Fitzgerald pushed the McLean lead to five, but Ahmed followed again with a basket. Every time the Highlanders tried to pull away, Ahmed was there to answer, including a pair of three-pointers in the final 1:30 to pull his team within two at the break.
Ahmed finished with a game-high 33 points. In the process he eclipsed the Marshall High School scoring record of 782 points. After the night, Ahmed had raised that mark to 797 and still has at least two more games left in his high school career, including the Statesmen's regular season finale this Thursday night at home against Langley. Marshall is currently 6-15 overall and 2-11 in the Liberty District. Regardless of Thursday's outcome, the Statesmen will finish the season in seventh place in the district.
For McLean, Pascoe joined Ammoury in double digits with 11 points, while Fitzgerald finished the game with eight.
McLean (12-9, 6-7 Liberty) will look to pull to .500 in the district with its game at home against Stone Bridge this Thursday.