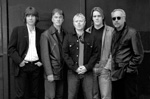 Brett Dennen cares. That's just who he is. At the holidays, he always feels sad because the gifts he gives to those closest to him, his friends and family in California, never feel like enough. When a recent sold-out show at the Hotel Café left a long line of fans waiting outside, while a number of invited guests from the music industry went on in, he posted a 300-word apology on his MySpace page.
Brett Dennen feels you. That's just what he does. And that sympathetic quality is echoed and amplified throughout his music.
His are the tunes you hum to warm you from a chill of winter or worry. His are the words you speak to the setting sun, wishing away grief and welcoming the better days beyond. His is the voice that steers you through the night and the guitar you hear at sunrise.
"I only know how to write one kind of song, and that's about finding hope through desperation," Dennen says. "I want to be that voice that comes in and pats you on the head and says, 'Hey, it's going to be hard, but it's going to be okay.' Like the grandpa that comes and puts his arm around a child that skinned his knee."
He started writing, he says, because of his own hard times. Music helped him through that and now he wants to share it with anyone who is willing to listen — and as the recent Hotel Café sellout indicates, that "anyone" has been growing in number quite rapidly of late.
In the September 2006 issue of Rolling Stone, Dennen received a nod from John Mayer, who said he would often use Dennen's music as a "head clearer" and dubbed his sound "timeless."
His music shares the bubbly, strum-and-arpeggiate tones of Jack Johnson, with a healthy infusion of African and South American rhythms that weaving through latest release So Much More. But Dennen aims to go deeper than the bare-foot-on-the-beach vibe. Foremost, he wants his songs to be that helpful hand.
"I want to be the voice of hope and help people through hard times," Dennen says.
In a recent instance when one of his songs achieved that sympathetic connection, Dennen's reaction was not subtle.
"Whoa! That's awesome," Dennen says as he excitedly relays to his tour mates the news that his song "Ain't No Reason" was used by ESPN during a Jan. 13 video tribute to slain Denver Broncos player Darrent Williams. "That's so cool. Well, no, it's horrible, anybody dying is horrible … but to be part of the respect paid to [Williams], that's heavy."
It's not the first time Dennen's art has been used in tribute to the departed. He recalls a woman who told him that she had buried her mother with some of Denne's lyrics inside the coffin.
"Some people might not want to be linked to that stuff, but it's a celebration. That's what it is," Dennen says. "I want to be the kind of musician that contributes. I want to write songs that help, songs with some kind of substance. I'd much rather have someone compliment me that way than by saying I'm good on guitar or write clever lyrics."
The notion of the helping hand is not only in his music, it's also in his politics. He has been heavily involved in activism ever since his days at University of California-Santa Clara, and many of his tunes carry the themes of looking out for your fellow man and advancing a common good. Needless to say, he's not terribly wild about the current global condition. Just as you would expect though, Dennen sees hope on the horizon.
"We always go through periods … ice ages, dry spells … we're in the thick of it right now," Dennen says. "Just like in the '60s, art is going through a transition and a lot more people are speaking out. I believe we're on the brink of an artistic renaissance — art with a message."
Sometimes his message is a humorous one however. In a break from the weightier issues that usually dominate his young career, Dennen posted a perfectly-scripted, though fictitious, interview with "Vampire Magazine" on his MySpace page. An excerpt: "Vampire Magazine: You really give the listener something they can sink their teeth into. When I hear your music, I get a sense that you are really tapped into something. Brett Dennen: Well I am just following my heart. I am trying to penetrate people with my music. It's tough though. A lot of people aren't willing to open themselves up. I feel like you got to drive a stake through someone's chest just to get them to feel things."
"It was a total joke, but most people didn't get it," Dennen says, adding that a few writers took the gag literally and quoted it for their publications. "I think I was in a hotel room and I had just seen a Brad Pitt movie so it reminded me of 'Interview with a Vampire.' I always try to show that other side of me. I'm not a liar, but most of the time I'm full of s–t."
The occasional smile — just one more thing Dennen offers to his fans.
Dennen already gives so much to those around him. For some it could be hope. For others it could be a vision. Others still may simply enjoy his work as a little bit of solace from the storm around them. Whatever it is you're looking for, Dennen is right there with you.
• Brett Dennen plays Jammin' Java, Tuesday, Jan. 30. Tickets are $10. For more, visit www.brettdennen.com.