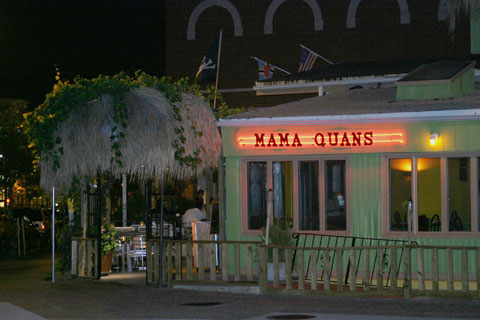 Gordon Biersch made its name in California with delicious, authentically-styled German lager beers, made under the strict rules of the Reinheitsgebot — the 1516 law dictating beer can be brewed with only four ingredients: Barley, hops, yeast and water.

Showing how serious this national chain of brewpubs takes its beer, co-founder Dan Gordon trained in Munich, where he developed the recipes for the restaurant's five signature lagers. From light to dark there's the Golden Export, a smooth refreshing lager, lightly hopped, with a dry finish. The Hefeweizen is light, with a crisp taste and refreshing flavor. The Czech Lager offers a golden-hued, medium bodied true pilsner. The Marzen, is a dry auburn-colored Bavarian beer with a mildly sweet finish (very delicious). Finally, the Schwarzbier — literally "black beer" in German — is light in body with a roasted finish. One last thing about the beers — they're served in a special half-liter glass with a fill-to line on it, which guarantees every beer has a thick, creamy head. Each 16.9-ounce glass costs $4.75.
Just don't bother the bartenders for a Bud or some funny-sounding flavored beer. As stated on the chain's website: "This isn't a pub," co-founder Dean Biersch said at the opening. "Don't get me wrong — pubs have their place. I love 'em. But we were trying to create something more."
More, as in, "more upscale." Gordon Biersch is not to be mistaken for a simple hangout. This microbrewery experience is far away from the stereotypical pub scene, with mahogany wooden décor and blown glass yellow lamps bringing a sophisticated touch to this new Tyson's Corner Center addition. The cozy atmosphere offers a calm harbor from the frenzied shoppers outside, and allows you to enjoy a full (and tasty) meal.
The menu is diverse, well-illustrated by the eclectic appetizer platter of Southwest Egg Rolls, Shrimp, Chicken Potstickers and Glazed Chicken Wings. Main dishes as American as Meatloaf are located on the menu next to Sweet and Spicy Cashew Chicken Stir Fry served with Jasmine rice.
One goal, says Biersch on the website, is teaching the bartenders how to match beer to the foods on the menu, similar to wines and cheese. The servers are very friendly and helpful when one is confused as to which beer to get. Or sip and savor a slew of free samples, then select for yourself.
While the ambience is all well and good, the draw is the beer. A wide open space around the bar and a patio that spills onto the mall concourse give you plenty of room to just enjoy a pint while resting your tired feet (and wallet) after a few hours of intense shopping. Between the high stools and small tables, there's plenty of room to stand if you're drinking, so no getting squeezed by the crowds while trying to get a glimpse of the football game.
The crowd is stylish and low key, couples sometimes can be seen splitting a piece of sinfully delicious Key Lime Cheesecake while twenty-something girls and guys gossip and enjoy some of the finest-brewed beer in the area. Don't forget to snack on Gordon Biersch's notorious 'garlic fries' the perfect accompaniment, according to Gordon, to any one of the lagers. The fries are crispy and full of flavor, just make sure to pack some breath mints. Just as the food was made to accompany the beer, the mints should certainly accompany garlic.