SEEKING THEIR "Citizenship in the Community" merit badge, three brave members of the Boy Scouts Troop 895, operating out of the Falls Church Presbyterian Church, weathered a Falls Church City Council meeting Monday night. Left to right: Matthew Rollo, Peter Ballou and Karl Johnson. (News-Press photo).
McLean Project for the Arts Needs Volunteers
McLean Project for the Arts is calling for volunteers. MPA ArtFest is an exciting new community event in McLean Central Park, featuring a juried fine art show and sale, musical performances, art demonstrations, refreshments and more. Anyone interested in volunteering for the next ArtFest is invited for the MPA Artfest Volunteer Open House on Wednesday, Jan. 31 6:30-8:30 p.m. on the upper level of the McLean Community Center (1234 Ingleside Avenue) or call 703-790-1953.
Washington Nationals' 2007 Winter Caravan Coming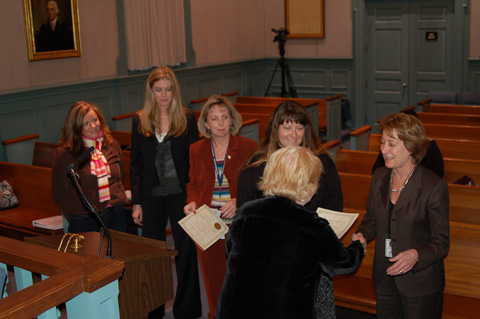 The Washington Nationals have scheduled their "2007 Winter Caravan," and will make several stops in the Washington D.C. metropolitan area. The caravan is an opportunity for the Nationals to connect with the players before they head to Viera, Fla. for the start of the Spring Training season in mid-February. Manager Manny Acta, centerfielder Nook Logan, pitcher Mike O'Connor and star third baseman Ryan Zimmerman will be on hand to participate in the team's Caravan, along with mascot "Screech" and the Racing Presidents. Nationals' television broadcaster and Hall of Famer Don Sutton, and the radio voices of Charlie Slowes and Dave Jageler will serve as moderators for the various venues to be held throughout the region. Locally, on Friday, Jan. 26 11:45 a.m. -1 p.m. meet and greet with blood donors at American Red Cross Headquarters, Fairfax, Va. 2:30 p.m. – 3 p.m.
FCHS Looking for Boys Lacrosse Coach
Falls Church High School is looking for a boys lacrosse coach for the upcoming spring season. Contact Jeanne Kelly, Director of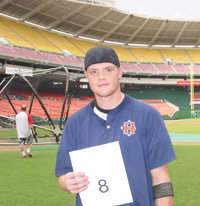 Student Activities at Falls Church High School at 703-207-4025 or jeanne.kelly@fcps.edu..
2007-08 Scholarships to be Awarded
The Army Officers' Wives' Club of the Greater Washington Area will be awarding scholarships to qualified applicants for the 2007-2008 school year. The scholarships will be awarded in three categories: High School Senior, College Students (not older than 22 years), Spouse. Eligible applicants are the children or spouses of U.S. Army personnel who are enrolled in an accredited post-secondary program during this period. Use applications printed from this web site www.fmthriftshop.org (click on AOWCGWA Scholarships and then on the appropriate forms, i.e. high school, current college or spouse forms). For questions, contact scholar@fmthriftshop.org.
Vienna Safeway Wins PRS Award
PRS, Inc. is pleased to announce that the Vienna Safeway (225 E. Maple Ave.) has won the 2006 PRS Falls Church Employer of the Year Award. PRS is a community-based nonprofit organization that provides training and support to men and women with psychiatric disabilities so that they may live independently in the community. Additional information about PRS can be found at www.prsinc.org.

Mentors Are Needed
The Naomi Project, a free, confidential, interfaith program sponsored by the Virginia Council of Churches, needs volunteers who will be trained to serve as mentors to disadvantaged women and new mothers. Mentors are matched with a client in a one-on-one relationship. They provide positive reinforcement and encouragement, help clients learn about good health during pregnancy and for the newborn, locate needed information and services, model sound parenting skills, and support their clients as they plan for healthy, stable futures. The next training session for volunteers is Saturday, March 10, from 9 a.m. to 3 p.m. at Falls Church Presbyterian Church, (225 E. Broad St., Falls Church.) Registration begins at 8:30 a.m. Spanish-speaking volunteers are especially needed. For more information, please contact Pilar Jones at 703-860-2633.
Girls Lacrosse Meeting Scheduled
All girls in Grades 1 – 7, parents, coaches and fans are invited to attend an informational meeting about the growing sport of women's lacrosse. The Falls Church Youth Lacrosse Club is sponsoring the meeting on Sunday, Feb. 4, 2007, from 2 to 3 p.m. at the Falls Church Community Center. Coaches, the club's executive committee and experienced players will be there to provide information about the sport, the equipment used, the structure of the City of Falls Church teams, the participation in the Northern Virginia Youth Lacrosse League, as well as insight into the recent growth of the sport for athletes all levels, including elementary, middle school, high school and college levels. More details on registration can be found in the Community Center's catalog or at www.fclaxclub.com. Hope to see you at the meeting, however, if you cannot attend and would like information, please call Mark Johansen at 703-623-0466.

'The Mayor' Hits 80
On Sunday, despite the first snowfall of the winter, nearly 50 people gathered to celebrate the birthday of one of the City's oldest residents, Mary Frances Hood, who celebrated her 80th Birthday in style among family and friends.
Affectionately known as the "Mayor of Laura Drive," Mary was born in Burlington, Iowa in 1927, was raised in Illinois, and married an Army recruiter, Glen D. Hood, in 1946. Following two children, Glenda and Glen D. II, and military tours in Texas, Japan, and Germany, the family settled in Falls Church in 1959.
Mary retired as an Army civilian in 1983 after 30 years as an enlisted personnel specialist. Not one to sit around, she spent time working at Lord and Taylor Customer Service and while in her 70s worked as an administrative assistant at Hillwood Condominiums where she met and maintains many friends today. She also volunteers her time for the City on the Senior Citizens Commission.
Still active today, she was seen on a jet-ski this summer, recently volunteered to "go skydiving with the Red Hats," and if the Doctors would do as she tells them, she would have her medical clearance to start flying lessons.