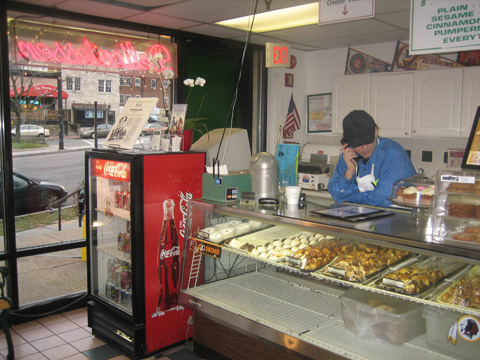 In Tenleytown, considered the business district along Wisconsin Avenue, it is more common to find American University students sipping lattes at trendy cafes or shopping at the eclectic mix of shops than ordering a hot Pastrami sandwich on rye with a side of hot Matzo ball soup. Over at the former K's Deli there is a new name on the window.

Inside is real New York deli food, pickles, corned beef — the works. And K's has a new name to show for its return to basics, Morty's, which has gained the reputation as being, perhaps, one of the only authentic delicatessens within the District's borders.
Morty's Delicatessen might be in a league of its own. Where everyone is looking for the next hottest new eatery in the nation's capital, there are some that enjoy something a little simpler — delicious deli sandwiches where the meat is piled sky high and the potato salad and coleslaw are generously added. And that doesn't even include the free bowl of Brooklyn-imported pickles at your table. Morty's is for the sandwich lover in all of us, not for the carb counter or strict vegan. Chopped liver, whitefish salad, brisket and blintzes are some of the true classics at this deli.
Eric Eun, who recently bought the old deli and decided to bring it back to life, expressed his future plans. Trying to restore it to more of a classic hangout spot, Eun has invested every penny earned back into the restaurant and continues to do so. He remembers coming to K's as a child and enjoying his time there, among the friendly customers and servers. Passionate about the concept of a New York delicatessen growing even deeper roots into the establishment that has been in Tenleytown since the 1980s. The pink neon lights illuminate the windows and a catchy caricature of Morty, who still works as general manager, grins in the window, for many empty stomachs to see on this chilly January day.
After enjoying one of Morty's deli classics, try a new creation. The delicious, eye-catching cupcakes in strawberry, mocha and chocolate butter-cream frostings are sure-fire favorites for $2.99 each.
If cupcakes aren't what you are in the mood for, why not have a slice of homemade coconut cream pie, or one of the other homemade items beneath the glass counter. Morty's is a casual place to pick up lunch on a Sunday or a day when you have the time to wind down. That's Morty's vibe.
Relax in the retro pink and green vinyl booths, and devour the New York version of comfort food. Music from the '50s and '60s resonates with the likes of Frank Sinatra and Dean Martin. How one could not help but feel relaxed? Many customers are regulars; they know the waiters and waitresses, who sport strict black slacks and collared-shirt uniforms, by first name and feel comfortable joking while they order their refills of cream soda. With some customers in their 70s, it's clear there is a wide range of ages that enjoy all the character this New York delicatessen has to offer. Walk in with $10 and you will leave feeling full and with change in your pocket.
Away from the realm of quesadillas and sushi, this delicatessen offers a less invasive approach on the concept of food, traditional New York deli cuisine. This is as close to the New York delicatessen experience as one born and raised in D.C. metropolitan area will get without a five-hour jaunt up I-95.
Morty's Delicatessen
4620 Wisconsin Ave., NW
Washington, DC 20016
202-686-1986
8 a.m. – 9 p.m.