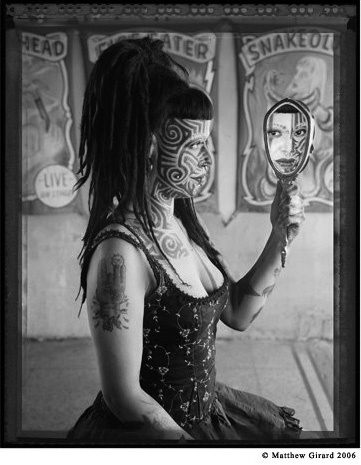 Artomatic, the biannual DC area art free-for-all, was scheduled to appear late last year. Unable to find a suitable venue, Artomatic 2006 didn't happen.

In its place, all artists on the www.Artomatic.org email list were invited to post images on www.artdc.org, from which four galleries in the Bethesda arts district would pick artists to show in a "Best of Artomatic" event. This sort of thing happens all over town after Artomatic runs its course, and reason enough to participate in the event Washington Post art critic Blake Gopnik likened to a convention of amateur dentistry, in his infamous 2004 review. In a town traditionally known for dead safe art, anything that offensive can't be all bad. Attendance soared after Gopnik's hack job. That was 2004, what will we find in 2007?
The standout at Fraser Gallery is Doug Sanford's six black and white photos of emails (printed out on paper) purportedly from a jilted girlfriend. Sanford has adroitly zeroed in on key passages by limiting the focal plane down to a single line of text, assumedly through the use of a 4×5 camera. They're artful photos shot with dappled light. It would be difficult to improve on Sanford's work. These are fabulous. You take one look at these images and you can't help but laugh at the overwrought, single minded blind rage of the author. Schadenfreude as the Germans say.
If Sanford's ex-girlfriend were in striking range this would be a scissors wielding nightmare. Shirts, pants, sports and stereo equipment would all be defenestrated post haste. His visage would be chopped out of dozens of photos. However the implied distance between the two parties in this case allows us to relax about it, and have a good chuckle at her expense. The best, and dare one say most poignant, is the photo titled "I. Hate. You." She of course expounds on Doug's many faults in the other images, but this one seems to sum it all up. Stay. Away. Doug.
I'm tempted to say that of all the Artomatic offerings this would be the one I could live with. But over time the joke may wear thin, and the significant negative energy about it would surely wear through eventually. Then again, if you're prone to over the top displays like this, it might be a good reminder to have around to help you even out those emotional peaks and valleys. Either way it's great work, and a lot of fun. Thanks for sharing Doug.
Creative Partners Gallery provided a corner of it's gallery to Artomatic artists. Notably we see Matt Sesow and Denver, Colorado based Joroko. Joroko's anti-war assemblages on canvas would give you the most artistic bang for your buck. Hopefully not literally, as several do have bullets attached. Burned holes in the canvases seem to be pathways for spent projectiles of some sort. The assorted objects attached aren't all identifiable, but we know that man's great capacity in doing ill will to his fellow man will find diabolically creative and horrible uses for them. It's serious work, and well done. The problem here is political art of this sort comes with an expiration date. The moment the US pulls out of Iraq, this stuff is so much soured milk. Ironically the pro-war propaganda that wars inevitably generate never seems to go out of style, it simply takes on a somewhat campy patina over time.
Artomatic is essentially a vehicle to get exposure for new, and hopefully worthy, talent that otherwise would have a difficult time getting seen. Matt Sesow is starting to remind me of the kids who go Trick or Treating for a few too many years. But I can't fault Matt too much, he's out there hustling. Hardly new, or emerging, Sesow recently estimated his sold works at roughly 2,000. Anybody questioning this factoid can check out his web site www.sesow.com, I'd dare say they may all be on view right there. It's the most mind boggling artist website I've ever seen. The guy is certainly prolific. He had a wonderful cow painting posted on artdc.org, but that sold long before the Artomatic picks were made. Like most artists working in a mature style, some of his works feel formulaic, but when he's good, his brutalist work is spot on. I have one, doesn't everybody?
With a couple of exceptions, the artists at Washington School of Photography seemed to need more time in the incubator before emerging. This was Gopnik's main problem with Artomatic to begin with. It goes with the territory. Raymond Rozycki, a graphic artist with the FBI in the daytime, is hardly young but rarely shows his work, so it's new to most people. One of many excellent artists who attend the Tuesday night open figure drawing sessions at McLean Community Center, Ray does strong punchy figure drawings with compressed charcoal. It's good to see his work on the wall. Additionally, Joseph Virgillo has a series of eight black and white photos. A couple of which mimic the absurdly bold sexuality of Helmut Newton's work. My favorite titled "Lipstick," is more along the lines of Erwin Blumenfeld's work for Vogue in the 1950s. Here we have a slightly shaky cam image of a beautiful brunette about to apply her lipstick. It has such a genuinely natural look about it, it seems almost voyeuristic.
Neptune Gallery seems to have done the best job of selecting young, vibrant talent on the cusp of something bigger. Cherie Lester has 22 small paper collages on canvas. These assemblages have a definite 50's feel to them, often using tiny line drawings that look like they were cut from the flaps of dress pattern packaging. Over and over again we're presented with almond shaped ellipses, many bifurcated with a single vertical line. Clearly she wants to tell us something about women, exactly what her message is though is going past me. The 50s were an odd time for women. After the testosterone laden 40s, the 50s was about as estrogen infused a decade as you can get. It's the only time Detroit painted cars variations of pink on regular basis. Family life was the order of the day. The downside was that women who had been called to do man's work during the war, were now expected to resume the woman's role. It took a while for that pot to boil over, but we all know how that story turned out, so it's an odd period to reference in such a way as Cherie does. In any event the collages look cool, but I think they might benefit from a wash of varnish, or acrylic medium to finish them off. They feel more like works in progress in this raw unprotected state.
The best of show may in fact be the tiny tableau buildings of Baltimore Based artist Mars Tokyo (a.k.a. Sally Mericle). Here we see surrealistic tableaus of alienation and disorientation, among other things. One of my favorites is 'Teatro Della Stia Di Gallina'. This one features, by scale, a giant chicken coup with roosting hens on raised platforms, with droppings spattering the floor beneath them. Amidst this filth is a tiny stocky woman we imagine as the cleaning woman. Walking out, bags in hand, she's had enough of this scene. Mars Tokyo works some sort of magical visual voodoo that gives these tableaus a seemingly impossible depth of field. They seem very real for plastic objects so obscenely small. It's great work. She also has photos of the sculptures which, to my eye, don't quite capture the magic of the original sculptures. Check out her website teenytheaters.com

Fraser Gallery, 7700 Wisconsin Avenue, Suite E, Bethesda, MD (301) 718-9651 www.thefrasergallery.com through February 3. Gallery Hours: Tuesday – Saturday: 11:30 a.m. – 6 p.m.
Creative Partners, 4600 East-West Highway, Bethesda, MD (301) 951-9441 www.creativepartnersart.com through February 3. Gallery Hours: Tuesday – Saturday 12 p.m. – 6 p.m.
Washington School of Photography, 4850 Rugby Avenue, Bethesda MD (301) 654-1998 www.capitolartsnetwork.com, or www.wsp-photo.com through Feb 6. Call for times.
Gallery Neptune, 4808 Auburn Ave, Bethesda, MD (301) 718-0809 www.galleryneptune.com through January 27. Gallery Hours: Wed-Sat 12-4 p.m. or by appointment