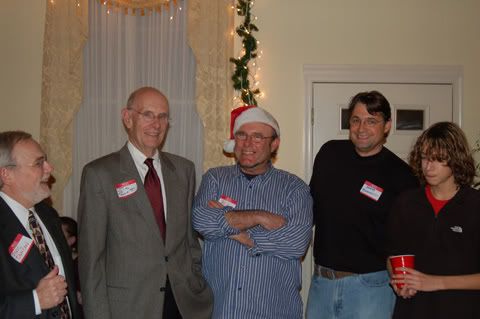 Celebrities once again highlighted the annual Falls Church News-Press holiday party, which drew almost 200 friends of the paper to its 17th annual event last week.
In addition to Santa Claus and some touted regional political heavyweights, nine all-star musicians from the award-winning program at George Mason High School made the night sparkle with live seasonal sounds.
Nathan Ward, Jack Western, Samuel Jackson, Morgan Moscati and Rachel Taylor combined for a brass quintet, and they took turns with Emily Perry, Will Cunningham, Yusof Becker and Seth Ensign, who made up a saxophone quartet.
Falls Church's Len Michalowski set a record for appearing at 16 consecutive parties without ever being in the room at the same time as Santa Claus. Experts are still trying to figure out the meaning of that statistic.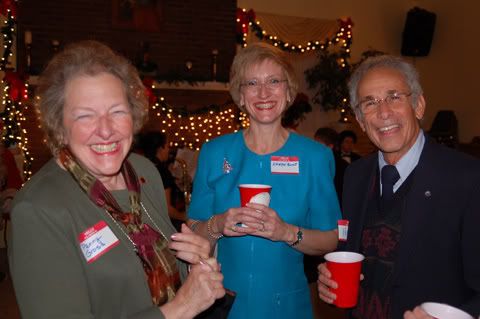 But it was another big year for kids at the party who came in the door, scribbled their names on the guest book, and made a bee-line for Santa. Amazingly, some even passed the abundant tables of food provided by Ledo Pizza to get to the Big Red One first.
In addition to a monster turnout of present and past News-Press crewmembers, led by founder, owner and editor Nicholas Benton joined by managing editor Jody Fellows, sports editor Mike Hume, advertising team Blackwell Hawthorne and Joe Fridling, office manager Nancy Davis and office clerk Sean Nannery. Other A-List celebrities included State Senator Mary Margaret Whipple, State Delegate Jim Scott, Falls Church Mayor Robin Gardner, Vice Mayor Lindy Hockenberry, Acting City Manager Wyatt Shields, City Council members Hal Lippman, David Snyder and Dan Maller, and Schools Superintendent Dr. Lois Berlin. Also, Penny Gross.
Spouses, family, in-laws and significant others of the above included the incomparable Eileen Levy, Megan Strange, Lilli Vincenz, City Democratic Committee chief Mike Gardner, Holly and Emily Fellows, Patty Shields, Gordon Phelps, Karen Maller and Ed Christensen. Your job is to match the names in this paragraph with the one above it.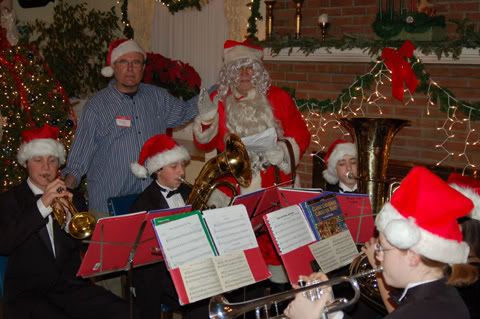 Other top-drawer celebrities included Judge Karen Henenberg, with husband David Lasso, former Falls Church City Manager and City Attorney, and F.C. City resident, former editor of The Hill newspaper, Al Eisele. There was City Revenue Commish Tom Clinton and young 'un Eric and former City Treasurer Bob Morrison and wife Meredith, Mike Curtin, head of the D.C. Central Kitchen, Washington Times reporter Julia Duin and, of course, the formidable U.S. Navy Commander (ret.) Robert S. "Hap" Day, co-host of the 16-year-running weekly live half-hour TV newscast, "Falls Church News-Press Live." There was Angus Twombly of the Times Community Newspapers and Brian Scott of the Maryland-based printer of the News-Press, Comprint.
By the way, there are missing names throughout this report, because people were very bad about signing in this year. People were not as harshly policed as in the past to make sure they signed, so scores didn't, and reconstructive memories are otherwise notoriously bad. So if you were there, and don't see your name here, it's because you didn't sign in.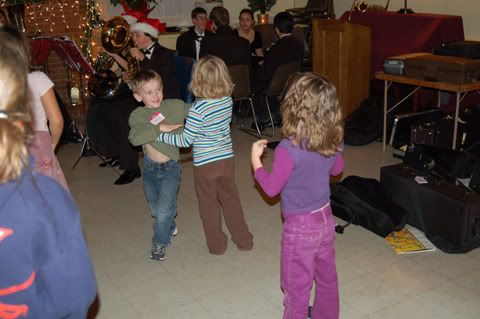 Among the many names associated with the News-Press over the years who were home for vacation or otherwise in the neighborhood included Dan Arnaudo, Drew Maier, Beau Fay, Michael Cary, Nathan Hamme, Simon Van Steyn, Julio Idrobo, Chris Geurtsen, Andrew Goetting and arts beat columnist Kevin Mellema. Arriving just a tad late to make it to the party were David Sprankle and Teddy Wiant. Full-time News-Press staffer Jonathan Harper was also absent, in London.
The Greater Falls Church Chamber of Commerce was well represented, including by outgoing president Helene Safford, with husband Larry, and incoming chief Gary LaPorta, along with renowned board member and City-based architect Paul Barkley and wife Jeanette, Tom Gittins of First Friday fame, Phil Duncan and executive director extraordinaire Sally Cole. Stident advocates of affordable housing in Falls Church were present, including Dr. Steve Rogers and Carol Jackson of the Falls Church Housing Corporation. Donna Englander was there representing the Falls Church Education Foundation.
Familiar names to friends of the News-Press because of their prominent ads in the paper included Leslie Hutchison, Dr. Ray Solano, Michael Diener, CPA, Joe Wetzel of the Young Group, Win and Carroll Schwab of Tradition House, Juanita Lopez representing the Medicine Shoppe.
Happy Jim Trollinger was there with his newly-wed squeeze, Claire. So was the Burnett clan, Bob, about to depart the F.C. Planning Commission, Susan, Thomas and Jenna. So was Cay Wiant, long-time head of the local teachers' association (we don't call them unions in Virginia), Gina Coconello of Homestretch, James Schulman, Dem activist Ken Bernstein, longtime F.C. Dem Committee boss Edna Frady, Joan Huber, the Goetting family, Karen Bune, Mike Gill of Akridge, Alma Kasulaitis, Rebecca Prather, Bob Beach, Merrilee Miller, Jill Salo, Phil LaBonte, Mark Werblood, Gary Fletcher, Marina Westbrook, Gordon Theisz, Melissa Teates, Doug Formage, Jennifer Tabola, Ted Adams, Art DeCelle, Liz Day, Shaun Van Steyn, Roy Tesler, John Maier, Jean and Alex Lewis, Lucille Mellema, Habibe Krasniqi, Rita O'Connor, Marybeth and Andrew Connelly, Alan Bishop, Gregory Prozati, Sharon Finley, Earl, Carol and Jason Wippich, John Butler and Marie Himel, Al and Julie Krachman, Keith Thurston, Daniel Clark, Betty Coll, Bridget, Kerry and Laura Hull, Robert E. Beach, Kathy and Barry Buschow and Webster and Leah Tarpley.
The catering team from Ledo was led by the incomparable Osura. The food was fantastic.
We know there were many more, but, alas, so many did not sign the guest book. Nonetheless, what we have documented here is an all-star cast, indeed. The event was held again this year at the Center for Spiritual Enlightenment meeting hall adjacent the State Theatre. The Center's people decorated the hall magnificently. The site was originally a congregational church, then became Falls Church's first city hall before being acquired by the Womans Club, which dubbed it The Washington House.