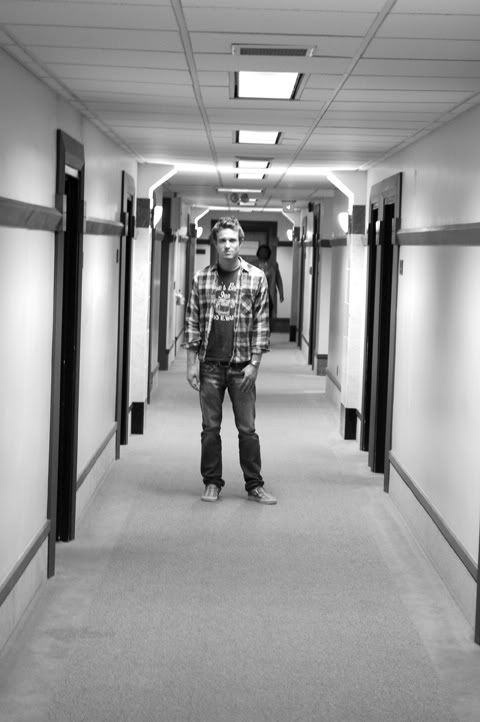 JAMES BRANAMAN, co-winner of the latest season of CBS-TV's reality show, "The Amazing Race," was in Falls Church visiting his mom and step-dad over the holidays, and wandered to the office of the News-Press for an interview. (News-Press photo)
So you win a million dollars on a popular major network TV reality show.
Before it, you were a part-time waiter and part-time model in Hollywood. But what now?
For James Branaman, visiting his mom and step-dad in Falls Church over the holidays, just days after the final episode of CBS's popular TV show, "The Amazing Race," revealed that while he and his sidekick had won it all, life goes on.
In particular, he's back waiting tables at the Porta Via bistro in Beverly Hills, where he's worked for the last three years, and waiting for a call from his agent at L.A. Models.
Aside from the experience of racing through 13 countries covering 40,000 miles to win the "Amazing Race" last spring, "a million dollars isn't what it used to be," the handsome young Branaman, 28, visiting the office of the News-Press for an exclusive interview Tuesday, shrugged.
First, he has to split it with his buddy, Tyler Denk. Then he has to pay taxes on it. After that, there's certainly not enough money to buy a house.
"I'm looking at school, but otherwise I plan to invest it," he said. The money hasn't actually hit his hot hands yet, and he's not sure exactly what form its arrival will take.
Aside from winning the grueling race that was taped last spring, the final episode completed in June, James' biggest challenge has been keeping the outcome a secret for almost six months.
There's a very strict condition in the contract all contestants agree too before signing on for such a thing, which is secrecy until all the episodes have actually been aired on TV.
"All my friends were trying to scope out my body language to tell if I'd won or not," he said. "I knew how important it was to keep my mouth shut. I have a pretty good poker face."
He was in New York City for a network celebration party the night the final episode aired on Sunday, Dec. 10, and the minute it was over, he said his cell phone "blew up" with calls from his friends in his hometown L.A.
That night, when he arrived at the special party organized to conclude each of the 10 seasons of "The Amazing Race," he and Tyler, a close friend for 10 years, were mobbed by adoring fans seeking autographs and photos.
The next couple of days in New York, he said, especially when he and Tyler were walking around together, he'd be recognized and asked to sign more autographs.
But that's already faded. Arriving in Falls Church last week to visit his mom and step-dad Tim O'Connell, a Mt. Daniel School employee who helped raise James since he was four, he's been recognized once.
The first time he walked into a Starbucks on Broad Street, he said, someone came up screaming to him. But it turned out to be a family friend who babysat for James' little brother, Liam.
Of course, James is a hero at Liam's middle school, but not being from Falls Church, he doesn't know many people here.
James' mom and O'Connell married in New York before moving to L.A., and about seven years ago they came to Falls Church. James, 21 by then, stayed in L.A. James prefers being called James. Only his older brother gets away with calling him Jimmy.
James is the second person with a Falls Church connection who starred in a Hollywood reality TV show this year. The first is Chris Jones, a Falls Church native who made it to the second season as a model in the Oxygen Network's "Janice Dickenson Modeling Agency" show. That second season begins airing Jan. 11. Jones did an exclusive interview with the News-Press last September.
In "The Amazing Race," James and Tyler tromped from Seattle through Beijing, Mongolia, Vietnam, India, Kuwait, Mauritius, Madagascar, Finland, Ukraine, Morocco, Spain and France before fighting to get the final two seats on standby for a flight to New York in the final episode.
Getting on that flight was the most stressful moment of the race, he said. He and Tyler knew that another of the three final teams made it onto the flight, and they were leaning on the ticket counter pleading with the agents when a final two tickets popped up for them minutes before takeoff.
Once in New York, they gained a decisive edge when the taxi driver they hailed at JFK Airport wound up having an E-Z Pass to sail through a toll booth into Manhattan, while their rivals wound up in a cab that had to wait in line to pay the toll with cash.
The demands caused by sleep depravation and lack of food do not show up on camera, James said. They're accumulated in the travel between stops. In Vietnam, the two physically-toughest stints occurred, mainly the result of blazing heat. One contestant fainted from the head trying to mould 30 perfect heating bricks in a rural part of the country, he said. That came right after having to sell flowers at a plaza in downtown Hanoi.
"If anything, what I came away from this adventure with was a sense of gratitude," James told the News-Press. "I am more grateful than ever for everything we having living in the U.S. We are very fortunate here. He said he's also pleased that he was able to overcome all his anxieties and fears of failure. "I exceeded my potential. That was an accomplishment," the soft-spoken James said.
The bonding experience with other contestants also meant a lot, he added. During the airing of the series this fall, he, Tyler and two of the other finalist contestants all got together to watch each show.
"There's kind of a fraternity of all 'Amazing Race' contestants over the 10 seasons," he said. The 10 seasons cover a five-year period, with two rounds each year.
How did James wind up in the race? Well, that's just due to Hollywood. He said he was just sitting at a restaurant when he was approached by a talent scout who encouraged him to sign on. The scout said she wanted him for "Survivor," but when he said he and Tyler had talked about how they might like to try the "Amazing Race," she said, "You're on."
Actually winning the spot from that point on wasn't that easy, but they did it, and the rest is history.
James said he can't really think of using his money to travel, since he's already seen so much so recently. But if he did, he said, it would be to visit places he missed earlier this year.
On the other hand, there is the thought of film school and a career in cinematography.