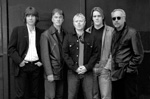 The first thing you'll notice about D.C.-based Exit Clov is their deeper-than-most lyrics. That's saying something too, given that the band is fronted by the lovely twins, Emily and Susan Hsu.
"Being in D.C., it's hard to get away from that stuff," says Emily Hsu, who, along with her sister, just finished up a masters degree from Georgetown University. "But we also want to open things up for people to learn about."
But it was neither their sharp minds, nor their beguiling beauty that first charmed fellow bandmates Brett Niederman and John Thayer.
"We were playing with our former band in Arlington [at Rhodeside Grille], enjoying our beverage and waiting for what we thought would be a s—ty opening band to take the stage," says bassist Niederman about his first encounter with the Hsus. "When they got up there we were blown away. Everything they sang was in such perfect harmony. John and I immediately broke up our band and started playing with Susan and Emily."
Those harmonies will suck you in, even if the lyrics sometimes make you wish you had spent a little more time in your college library. The band, which also consists of guitarist Aaron Leeder, deals with some pretty heavy topics on their latest EP release, Respond Respond, Clov's first on new label Livewire Records. Among the subjects are a CIA brainwashing program dubbed "MK Ultra," and another track titled "Communist BBQ," a humorous little ditty about the world's communist leaders yukking it up around the barbie.
"Some people misunderstand our songs and take them to be stuffy, but that's just who we are," Susan Hsu says about the political overtones.
"We want to stay away from any particular platform. We don't want to point fingers. We don't think it's our place to," Emily adds. "They're not that serious."
They're right about that. After a listen to "Communist BBQ," which includes the lyrics "quit your Stalin, go buy yer Che shirts now / Petro Caribe! We'll bring the gringos down / 50 years have brought us to this commie bbq / so quit yer Stalin, you know the time is Mao," I was more curious about exactly what type of meat they were grilling up than in any possible political ramifications. (For those curious, I think the answer is obviously burgers, steaks, or really anything, so long as it's red meat.)
Similarly obvious is that Clov is making significant strides forward as a band. As mentioned, the group recently signed with Livewire Records, with Respond Respond hitting stores last Tuesday and a release party slated for Rock & Roll Hotel in D.C. on Oct. 20.
There are plenty of obstacles still to overcome however. A series of tour dates recently fell through and, to add insult to injury, the group's van recently encountered major engine trouble.
"We took it to a pair of shady mechanics and when we got it back it was all messed up," Niederman says. "I tried to take it to my mechanic at home in New Jersey and the van broke down seven times along the way. Worst trip ever."
Once they get their wheels back, the band is hoping to impress some booking agents at their upcoming shows and get back on the road to "tour the hell out of the album" across the country. First up on that trip is the CMJ Showcase at the Alphabet Lounge in New York on Nov. 1. Aside from the Hotel Rock & Roll show, no other local dates are planned. Of course, potential fans could use that respite to study up by spending some quality time with Encyclopedia Britannica.