Since ending his eligible skating career in January, three-time U.S. Men's Champion, two-time World bronze medalist and two-time Olympian Michael Weiss has been enjoying time at home in Northern Virginia with wife Lisa, daughter Annie Mae and son Christopher. This fall he will embark on the next phase of his skating life with appearances in several television specials as well as taking part in one of the few remaining pro skating competitions, Ice Wars. In November, he will join the famed Stars on Ice tour, which will keep him on the road into spring.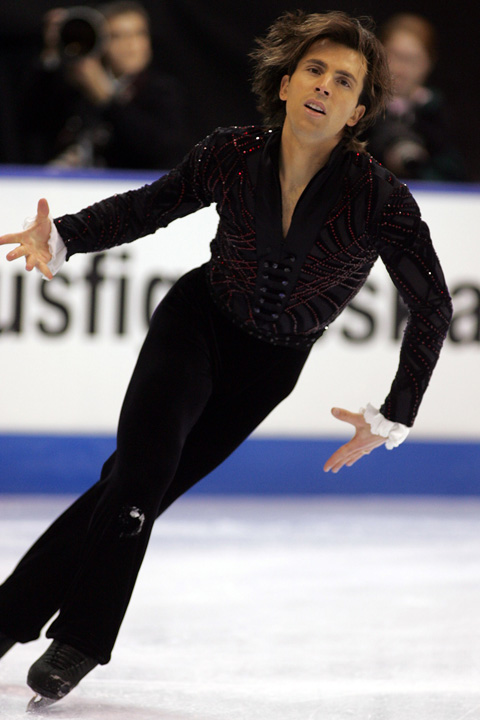 "I had six months of relaxing. Now, this fall and winter are going to be busier than I've ever been in my entire life," said Weiss, who was by no means idle during the downtime. He has continued to practice and workout and he has put considerable energy into preparing for the second annual fundraiser for the Michael Weiss Foundation, which will take place at Skatequest of Reston on Sept. 9.
"When I was younger, it was a big struggle for my parents to put two skaters through figure skating," said Weiss, 30, whose older sister Geremi was also a national competitor. "It's like that with a lot of families. Now that I'm in a position where I can enlist my friends and myself to help raise money, I give back."
In 2004 he and Lisa created the Michael Weiss Foundation, which gives training grants to deserving young skaters. One of the first recipients was Christine Zukowski, who this year will be among the show's headliners. She finished sixth in the senior women's competition at the 2006 U.S. Championships and won the bronze medal at the World Junior Championships.
"She needed some help with training expenses," Weiss recalled. "It's nice to see her be successful now."
Other skaters joining Weiss for the Sept. 9 performance — all of whom are donating their time — will be six-time U.S. Men's Champion, 1996 World Champion and three-time Olympian Todd Eldredge, U.S. Women's bronze medalist and 2006 Olympian Emily Hughes, three-time U.S. Pair Champions and 2002 Olympians Kyoko Ina & John Zimmerman, five-time U.S. Ice Dance Champions and 2002 Olympians Naomi Lang & Peter Tchernyshev, two-time U.S. Pair Champions, 2006 Olympians and the only pair to perform the throw triple axel in competition Rena Inoue & John Baldwin, Italian Women's Champion and two-time Olympian Silvia Fontana and 2005 World Junior Ice Dance Champions and U.S. pewter medalists Morgan Matthews & Maxim Zavozin, who live and train in Ashburn.
"Everybody will stay at our house," said Weiss. "We'll all go out and have a good time and we'll raise money for the foundation. It's cool to see everybody willing to do that. Over the years, I've been able to establish some good friendships in the sport."
Not only are the skaters donating their time, but also so is the Skatequest rink, where Weiss now does most of his on-ice training. For the performance, there will be about 200 on-ice seats as well as the bleachers.
There will be a silent auction prior to show time. In addition to various skating memorabilia as well as an original Tania Bass skating costume, Weiss has also worked hard the past few months getting local businesses to donate everything from bottles of wine, to free tickets, to things like an autographed team poster from the DC United. There will also be an online auction on eBay with figure skating memorabilia.
"We have autographed pictures from everybody, even from people who aren't participating in the show, like Michelle Kwan and Sasha Cohen," Weiss said. "I looked up to a lot of skaters when I was young. The amount of impact these skaters can have on inspiring our next generation, just by setting a good example, is great. I want to show people you get helped and you help out the next guy."
Weiss' two children, Annie Mae, who turns 8 in September, and Christopher, who'll be 7 in October, will participate on and off the ice. "They're anxious to give out autographs," Weiss said. "I told them, 'You have to wait until someone asks you.'"
For tickets to the show, call 703-709-1010 or log onto www.MichaelWeiss.org. A link to the eBay auction will be on the Web site.