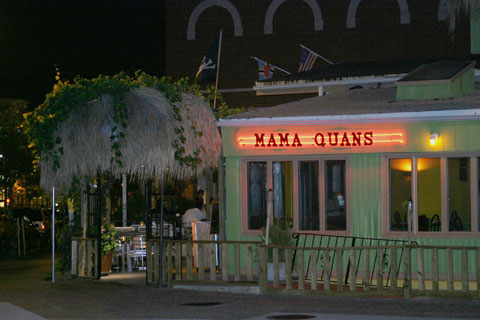 The days of summer are waning, and so too are the days of Mama Quan's Tiki Hut in Clarendon.

Though the restaurant and Tiki bar located at the intersection of Clarendon Blvd. and N. Garfield St. just opened in June when it replaced Aegean Taverna, Mama Quan's was never long for this world.
The space it currently occupies is slated to become a fine dining establishment, opening in February. However, with renovations unable to begin until November, the ownership threw up some surfboards, caged some cloth parrots and opened up a spacious, thatched-roof patio to lure passers by from the Clarendon Metro over the summer interval. The result has been an enjoyable outdoor eating/drinking environment for patrons and a temporary cash cow for the owners.
One drawback to the venue's temporary Tiki status: In addition to the after-work crowd and the late night loungers, the setup also attracted a number of hut heads a tad over-obsessed with Tiki tavern culture. This lot was disappointed by the sparse decorations, and more so with the plastic 24-ounce Mai Tai tumblers that bare the likeness of some Polynesian god or another. Apparently true Tiki joints require ceramic glasses to house the various blends of Mai Tais.
Let me say this, glass or plastic, they get the job done, as do Mama Quan's bevy of beverages served inside said vessels.
The most colorfully named of these, is the Suffering Bastard, a blend of gin, bourbon, lime juice and ginger ale. There's also a drink named for the bar's namesake, the Mama Quan (light rum, coconut rum, various fruit juices) and several of her relations. All such beverages are priced at $8, reasonable, considering that same price can fetch you a meager mojito at some D.C. area institutions.
Mama Quan's also offers up frozen drinks and bottled beers — Corona or Red Stripe fit the vibe well here, though $2 Bud Light and Miller Lite during a 5 – 7 p.m. happy hour are tempting too.
On the food side of the menu, $10 or less can net you some tasty fare. The menu primarily consists of American cuisine, with an emphasis on seafood. They offer the old stand-by burger, but venturing out a little pays dividends. Try the Mahi Club Sandwich, fresh Mahi, bacon, lettuce and tomato on a sourdough roll, or the Hawaiian Po' Boy, flash-fried Tilapia with a zesty island remoulade on a sub roll.
More robust appetites can be sated with an order of the Red Stripe Ribs, smothered in the Jamaican beer's barbeque sauce, or the Bamboo Skewer Platter, your choice of chicken, steak or shrimp drenched in island spices and Polynesian sauces. Polynesian chicken wings, peel and eat shrimp, chicken fritters and crab dip are apt appetizers to get the night started.
While true Tiki afficionados might not approve of the bar's environs, the atmosphere is warm and relaxed enough. Yellow walls and hanging surfboards help to bleed away a long day at the office, while out on the patio, the night air helps you to forget the never-ending work week. Of course, the 24-oz. Mai Tais don't hurt that process either. Fans of nighttime gallivanting will approve of the draped lantern lighting near the bar, as well as the open-air climes. As a whole, the establishment has no problem luring patrons from the just-over-21 bar hopper to the 40-something crowd looking for a brief respite in the summer air.
For those looking to unwind with some bar competition, "traditional" golf and bowling arcade games are available, while pool tables adorn an annex to the right of the bar.
Enjoy it all while it lasts. Mama Quan's closes its doors at the end of September reopening as a completely new restaurant in February.
Mama Quan's Tiki Hut
2950 Clarendon Blvd., Arlington
703-812-9283
Mon. – Wed. 5 p.m. – 12:30 a.m.; Fri. 5 p.m. – 2 a.m.; Sat. 11:30 a.m. – 2 a.m.; Sun. 11:30 a.m. -11:30 p.m.