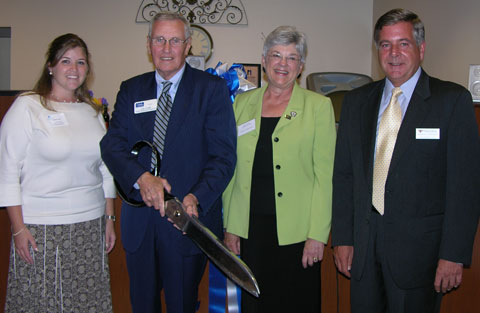 The Central Fairfax Chamber of Commerce welcomes 1st Service Bank at a ribbon cutting ceremony on August 22. From left to right: Melissa Choate, President and CEO of the Central Fairfax Chamber of Commerce; Jim Lamb, Chairman of the Central Fairfax Chamber of Commerce; Joan Cross, Fairfax City Council Member; and Ernest L. Tressler, President and CEO of 1st Service Bank.
Check out more news & notes inside this week!
Editorial Cartoonist's Work to Be Put on Exhibit
The Walters Art Museum will be exhibiting the work of cartoonist Kevin Kallaugher through Sept. 3. In this exhibition, the Walters celebrates his 17 years as the editorial cartoonist at The Baltimore Sun and his 26 years at the London news magazine The Economist. KAL, as he is known among his peers, is one of the leading practitioners of the craft of cartooning. The show will include the cartoons and caricatures for which KAL is renowned as well as other works, such as sculpture, film, and 3-D animation. There will also be a significant educational component to the exhibition where visitors will observe how KAL composes his characters. The Walters Art Museum is located at 600 N. Charles St., Baltimore. For more information on the exhibit contact Amy Mannarino at 401-547-9000.
Falls Church Military History Forum Celebrates its 26th Anniversary
On Friday, September 8 and 22, the Falls Church Military History Forum will commence its twenty-sixth year of exploring the serious but fascinating nature of war and society through the ages. The opening session will be on the 8th, on the 144th anniversary of the Battle of Antietam. The program speaker will be Kim Holien, a noted scholar and author who serves as the US Army's Historian for the Fort Myer Military Community. The lecture will discuss the battle from the viewpoint of Union General George McClellan. On the 22nd, US Army journalist Phil Kiver will discuss the risky task of reporting and interpreting the current struggle in the Middle East. The forum will be held at the Falls Church Community Center, from 10 a.m. until noon, and the public is invited.
Young Actress Needed for Role in Local Movie
Cavalier Films, a Virginia based film production company, has scheduled an open call audition to search for candidates to play the role of Maddy, a precocious and outgoing female child supporting role in their upcoming production of the feature film "Disconnected". In the film, Maddy is eight years old. The film is scheduled to be shot in Virginia during the month of October. Interviews will be held in Charlottesville, Virginia on Saturday, Sept. 9. Anyone interested should visit www.cavalierfilms.com for specific details.
Volunteers Needed for Wine Festival
The Make-A-Wish Foundation of the Mid-Atlantic is seeking volunteers for the Virginia Wine Festival on Sept. 30 and Oct. 1 at Morven Park Equestrian Center in Leesburg, Va. For each volunteer, the Virginia Wine festival will make a donation to the Make-A-Wish Foundation, a non-profit organization that fufills the wishes of children with life-threatening medial conditions. Volunteers are needed in shifts to help collect tickets, check IDs, hand out wine glasses, and assist with other tasks. Volunteers will receive a t-shirt, wine glass, and free admission to the event on the day they do not volunteer. For more information call 301-962-9474 or e-mail jcohen@midatlantic.wish.org.
Stream Cleanup Crew Looking for Helpers
Volunteers are needed to clean up a section of Four Mile Run in a beautiful park. Anyone interested will meet at Barcroft park, 4200 S. Four Mile Run Drive, Arlington. The event includes a tally of the trash collected. Following the stream cleanup, volunteers will celebrate at a happy hour at the Energy Club in Shirlington, 2900 S. Quincy St. A $10 donation is suggested. The cleanup will take place on Sat., Sept. 9 at 3:00 p.m. For more information or to register contact Margaret Kertess at 703-228-6406 or look on the web at www.arlingtonenvironment.com.
Local Lifeguards Receive World Class Safety Rating
Recently, the Northern Virginia Regional Park Authority (NVRPA) aquatics facilities and water parks recently received a "world-class' rating for safety from the National Aquatic Safety Company (NASCO). The lifeguards were evaluated on a number of criteria including vigilance, appearance of professionalism, and posture. According to NASCO, any facility scoring above 70 on the NASCO scale is considered in the upper tier of the facilities they evaluate. Park wide, NVRPA facilities scored in the mid-80's and received the rating of "world class". For more information or to learn more about other NVRPA pool and facilities visit www.nvrpa.org.
Annual Falls Church Fall Festival to be Held Soon
The City of Falls Church Recreation & Parks Division will present the City's 31st annual Fall Festival on Sat, Sept. 16, from 10 a.m. to 5 p.m. in Cherry Hill Park (312 Park Ave., Falls Church). The event will feature live entertainment, amusement rides, pony rides, crafters, businesses, and civic organizations. A children's activity tent will be open from 11 a.m. to 3 p.m. with free face painting. Admission is free. For more information about the festival regarding performances, rides, etc. call 703-248-5178.
Anti-Drug Program Presents its New Program for Council
The Partnership for a Drug-Free America's new program, Meth 360, will be presenting its new methamphetamine prevention program before the Northern Virginia Regional Preinatal Council on Sept. 8 at 11 a.m. The presentation will take place at the Inova Hospital Coference Center at 2990 Telestar Court. Northern Virginia is one of the four areas of the country in which the Meth 260 program is being piloted, in partnership with police forces in the area. Trained teams of law enforcement personnel and treatment and prevention experts are now speaking to community organizations in Northern Virginia about the risks of meth use. For more information call 703-683-4213 or visit www.atwatercommunications.com.
Falls Church Youth Lacrosse to Hold Instructional Clinics
The Falls Church Youth Lacrosse has just announced its annual instructional clinics. Lacrosse players of all skill levels, grades 1-8 are invited to join the FCYLC for the clinics on Saturday afternoons (girls 1 p.m.-3 p.m. and boys 3 p.m.-5 p.m.) The clinics will begin on Sept. 16 and end on Nov. 11. The clinics are designed to introduce the game to new players and improve the play of experienced players. Clinics are coached by the Marymount University coaches and players. For more information and online registration, please visit www.fclaxclub.com, or call 703-623-0466.

Television Star to Make Appearance at Local Charity Golf Event
The first ever SemperComm Golf Classic at the Fort Belvoir Golf Club will take place on Friday, Sept. 15. Among the celebrities in attendance will be actress Karri Turner, best known for her role on the series "JAG". Turner is participating in the fundraising tournament as a goodwill celebrity ambassador. As part of her ambassadorial role, Turner will be signing autographs, taking pictures, and a dinner with her will be raffled off o the highest bidder. Registration starts at 12:30 p.m. for the 2 p.m. shotgun start. A $10,000 putting contest is open to all tournament participants, and prizes will be awarded including a grand prize of four round-trip tickets to anywhere in the U.S. For more information, call SemperComm at 703-923-7611 or go to www.sempercomm.org.

Young Falls Church Actor to Star in Kennedy Center Production
Local actor Miles Butler will have a major role with Taffety Punk Theatre Company at the Kennedy Center in a staged reading of "Pangea" this Monday at 2 p.m. The play follows a team of scientists in Antartica as they unravel a conspiracy that threatens the entire world. For more information about "Pangea," call 202-467-4600 or visit www.kennedy-center.org.
Local Student Admitted to American University, Receives Dean's Scholarship
Azadeh Malek, a 2006 graduate of Bishop Denis J. O'Connell High School, has been accepted to American University. Malek was awarded the Dean's Scholarship, typically given to freshman in the top 20 percent of the applicant pool based on past accomplishments and ability. Malek will be one of the 1449 students in the Freshman Class of 2010 that will begin their college studies later this month. Malek is a resident of Falls Church, Va.
Volunteers Requested for Domestic Violence Intervention Group
The Fairfax County Anger & Domestic Abuse Prevention & Treatment Team (ADAPT), a program of the Fairfax-Falls church Community Services Board, is requesting volunteers to help facilitate their 18-week domestic violence intervention group. The groups are held at four locations: Chantilly, Reston, Woodburn (Annandale) and South County (Alexandria). The next two volunteer training sessions will be held on Oct. 7 and 14. For more information call 703-968-4017.

Falls Church Receives Second Historical State Marker
The City of Falls Church will receive its second Virginia State Historical Marker on Saturday, Sept. 16, 2006 at Tinner Hill. The marker commemorates the civil rights pioneers of Tinner Hill and the site where the first rural branch of the National Association for the Advancement of Colored People (NAACP) in the nation was founded in 1915. The unveiling and dedication will take place at 1 p.m. at the site of the future home of the Tinner Hill Cultural Center, located at 106 Tinner Hill Rd. A reception and open house will follow at 1:30 p.m. For more information, contact the Tinner Hill Heritage Foundation at 703-241-4109 or visit www.tinnerhill.org.
Submissions Are Being Accepted for Local Art Contest
The City of Falls Church Office of Communications is now accepting submissions to its 6th Annual Student Art Contest. The twist is that all submissions must illustrate one or more elements of this year's theme: Falls Church City – Past, Present, and Future! Students kindergarten through grade 12 are eligible to enter, but must attend a City of Falls Church or reside in the City. The deadline for entries is Friday, Oct. 6, 2006. Judges will select 13 entries to feature in the City's 2007 Calendar, Annual Report, and Services Guide for distribution this December. A special reception will be held at the Dec. 1 event at Art & Frame of Falls Church where entries will remain on display. For more information, as well as submission requirements, please call 703-248-5003 or e-mail publicinfo@fallschurchva.gov.

Mason Student Participates in Leadership Conference
John Erenzeller, a rising senior at George Mason High School, was selected to attend the 2006 Congressional Student Leadership Conference in Engineering, Science and Robotics. The 10-day conference was held in July at Olin college of Engineering in Needham, Mass. The CSLC is a college-accredited invitational leadership program for academically talented and promising young leaders from across the U.S. and internationally.

Optimist Club to Host Fundraising Walk for Cancer Research
The Optimist Club of Vienna is proud to sponsor their first annual fundraising walk to raise money for Growing Hope and the Childhood Cancer Campaign. This year's event will be on Saturday, October 7, 2006 on the W&OD Trail. It will begin and end at the Mural/Train Station parking lot with registration between 8:30 a.m and 10 a.m. and closing ceremonies at 11:30 a.m. with refreshments. Participants are invited to walk at their own pace or sponsor others. One hundred percent of the proceeds will go to the organization for childhood cancer research. For more information, please call 703-242-0564 or visit www.viennaoptimist.org.
Dulin United Methodist Cooperative Preschool Celebrates 40th Anniversary
Dulin United Methodist Cooperative Preschool will begin celebrating its 40th anniversary this school year, with celebratory events in the works for current and alumni families alike. As a cooperative preschool, Dulin preschool is run by the parents, and as it enters its 40th year, generations of Falls Church, Arlington, and McLean residents have passed through Dulin Preschool as students, teachers, parents, caregivers, and even grandparents. For more information about Dulin Cooperative Preschool, please visit www.dulinpreschool.org or call 703-532-3790.