Looking for fun things to do this fall season? The City of Falls Church and neighboring areas offer an abundance of fun shows, festivals, art galleries and events for people of all ages!
Shows/Concerts
• "Sweat" at Keegan Theatre: Filled with humor and heart, "Sweat" tells the story of a group of friends who have spent their lives sharing drinks, secrets and laughs while working together on the factory floor. But when layoffs and picket lines begin to chip away their trust, they find themselves pitted against each other. Performed until September 16. More information at keegantheatre.com/portfolio/sweat/.
• "Monarch: A Mexican American Musical" at Creative Cauldron: With a book and lyrics written by local writers, "Monarch" follows the journey of dreamers and undocumented immigrants who live and work in this country, but still must remain in the shadows. Running from October 5 – 29. More information at creativecauldron.org/monarch.html.
• "The Adventures of Pinocchio" at Creative Cauldron: This inventive adaptation of the classic tale begins with Pinocchio as a real boy having a nightmare. Running from November 3 – 19. More information at creativecauldron.org/pinnochio.html.
• "Deathtrap" by the Providence Players of Fairfax: In this mystery thriller, Sidney Bruhl, a successful writer of Broadway hits, is struggling with a "dry" spell which has resulted in a series of box office flops. A possible break in his fortunes occurs when he receives a script from a student. Running from October 13 — 28. More information at providenceplayers.org/about-us/production-history/2023-2024-season/.
• "The Tell-Tale Heart" at Synetic Theater: Step into the eerie world of Edgar Allan Poe's "The Tell-Tale Heart," where madness takes hold and the boundaries of sanity blur. Running from September 29 — November 5. More information at synetictheater.org/events/the-tell-tale-heart/.
• "Young Frankenstein" at the Little Theatre of Alexandria: A monster of a hit musical based on Mel Brooks' comedic film, this wicked re-imagining of the legend of Frankenstein is the story of a grandson traveling to Transylvania to complete his grandfather's experiment. Running from October 21 — November 11. More information at thelittletheatre.com/performances/.
• "Moulin Rouge! The Musical" at the Kennedy Center: Welcome to "Moulin Rouge! The Musical," and enter a world of splendor and romance, of eye-popping excess, of glitz, grandeur, and glory. Running until September 24. More information at kennedy-center.org/whats-on/explore-by-genre/theater/2022-2023/moulin-rouge/.
• "The Pirates of Penzance" at the Alden Theatre: Set sail with this classic comedy that boasts one of the most famous patter songs in musical theater history. A band of tenderhearted pirates celebrates the coming of age of Frederic, who was mistakenly apprenticed to the pirates until his 21st birthday. Performing on October 13. More information at mcleancenter.org/events/new-york-gilbert-and-sullivan-players-the-pirates-of-penzance/?occurrence=2023-10-13.
• "Mrs Doubtfire" at The National Theatre: Everyone's favorite Scottish nanny is headed to Washington, D.C. in an internationally acclaimed new hit musical critics call "wonderful, heart-warming, and laugh-out-loud funny." Running from October 10 — 15. More information at broadwayatthenational.com/show/mrs-doubtfire/.
• "The Wiz" at The National Theatre: This groundbreaking twist on "The Wizard of Oz" performs a dynamite infusion of ballet, jazz, and modern pop, bringing a whole new groove to easing down the road. Running from October 24 — 29. More information at broadwayatthenational.com/show/the-wiz/.
• "King of the Yees" at Signature Theatre: A vibrant, semi-autobiographical comedy about community, culture and the connection between fathers and daughters. Running until October 22. More information at sigtheatre.org/events/202324/king-of-the-yees/.
• "Ragtime" at Signature Theatre: The stories of three American families intertwine against the backdrop of a towering slate of historical figures. Running from October 24 — January 7. More information at sigtheatre.org/events/202324/ragtime/.
• "Romeo and Juliet" at NOVA Nightsky Theater: Shakespeare's classic tragedy of "two star-crossed lovers," entrenched in a deadly family feud. Running from September 14 — 30. More information at novanightskytheater.com/2023season.
• "Bano de luna (Bathing in Moonlight)" at Gala Hispanic Theatre: Enter a world where love's forbidden allure leads to a relationship between Father Monroe, a devout Catholic priest, and a beguiling Havana pianist from his parish. Running until October 1. More information at galatheatre.org/post/bathing-in-moonlight.
• "Picasso" at Gala Hispanic Theatre: From the lush stroke of his paintbrush to the beat of his heart, the artful canvas of Picasso's life unfolds through memories of cherished family and friends, his passion for bullfights, the circus, and the stage. Running from October 14 — 21. More information at galatheatre.org/post/picasso.
• "Leyendas de mi tierra (Stories from Home)" at Gala Hispanic Theatre: Montoya's choreography breathes life into untold Latino stories of the American Southwest. Running from October 28 — 29. More information at galatheatre.org/post/leyendas-de-mi-tierra.
• "J.A.M. the 13th!" by J.A.M the Revue: On October 13 — 15, J.A.M. the Revue will present its brand new Halloween-themed Revue, "J.A.M. the 13th!," at The Fredgren Studio Theatre at Ballet Nova. "J.A.M" is a crowd-thrilling musical spectacular featuring songs from some of music's greatest legends while paying tribute to Halloween films and icons.
• ASO at 80-oh! by the Alexandria Symphony Orchestra: ASO's season opens on September 30 — October 1 with "ASO at 80-oh!" with the commissioned piece "Toast" that is inspired by the 80th anniversary of the orchestra.
• "Selfies" by the Gay Men's Chorus of Washington: GMCW's popular cabaret returns with an all-new edition. Soloists from GMCW will tell hilarious and heartwarming stories about photos of themselves projected onstage during the show. Held on November 4 at Keegan Theatre.
• "POTUS" at Arena Stage: In this searingly funny Broadway hit, "POTUS" follows how seven women of dramatically different backgrounds minimize the damage done by male arrogance and political posturing, in an endearing homage to the women who keep things running behind the scenes. Showing from October 13 — November 12. More information at arenastage.org/tickets/2023-24-season/potus/.
• Mason Symphony Orchestra Concert by George Mason Performing Arts: The Mason Symphony Orchestra, under the direction of Dr. Soo Han, is composed of outstanding string, wind, and percussion players from throughout the School of Music. Held on October 11.
Events/Festivals
Events/Festivals
• Falls Church Festival: The 47th annual Falls Church Festival returns to The Little City. This family-fun event features The Taste of Falls Church, a beer garden, live music, children's entertainment, and booths from local crafters, businesses, and civic organizations. Held on September 23.
• Farm Day: The annual Farm Day event returns this year to Cherry Hill Park. Enjoy a day of old fashioned fun and activities for the whole family, including a petting farm, pony rides, pumpkin painting, scarecrow making (bring your own long pants and a sleeved shirt), live music, tours of the Cherry Hill Farmhouse and barn, blacksmith demonstrations, and more. Held on October 8.
• Fairfax Fiesta: Fairfax County's inaugural Hispanic Heritage Celebration, the Fairfax Fiesta, is taking place on September 23. Immerse in an unforgettable celebration that highlights Hispanic culture and embraces the diversity of the community.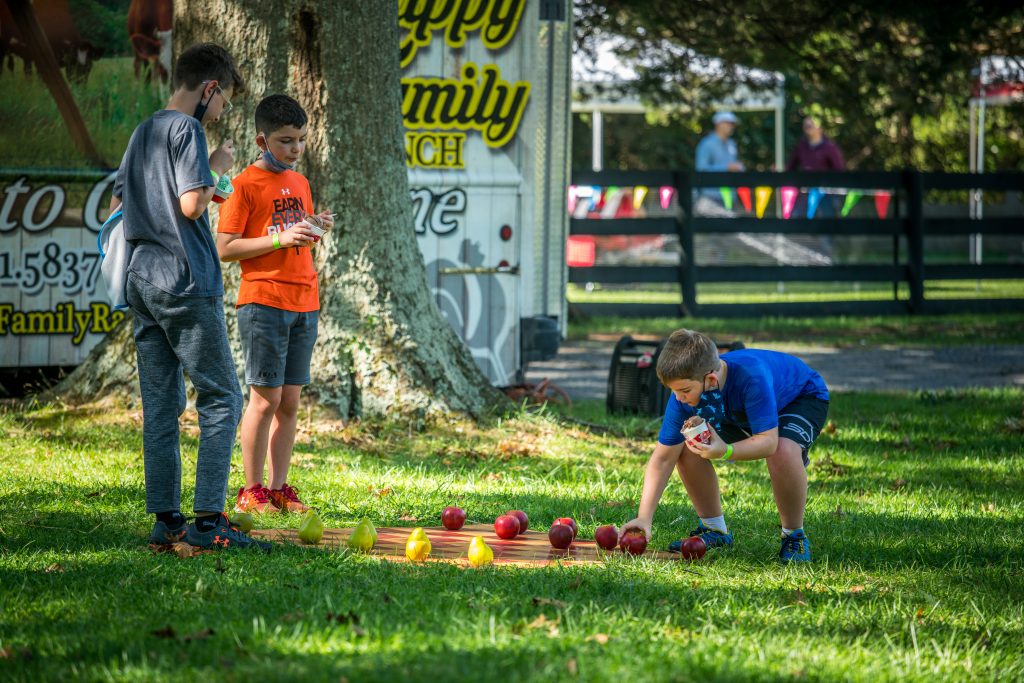 • Taste of Old Town North: Head to Montgomery Park for a celebration of greater Old Town North featuring local businesses and live music. Held on September 23.
• Fall Garden Tour: Enjoy a guided tour of Green Spring's beautiful demonstration gardens with an Extension Master Gardener docent. Held on September 16.
• Farmers Market Fall Festival: Celebrate the fall harvest at the Fairfax County Park Authority Markets with fun and free activities such as pumpkin painting, live music and more. Held on October 11 — 15.
• Mosaic Fall Festival: Join Mosaic for a weekend of fun-filled activities for the whole family. Mosaic District will transform into a vibrant outdoor festival with over 90 handmade and vintage vendors, special performances, and an array of activities for the entire family. Held on September 23 — 24.
• Saint Ann Fall Festival: The public is invited to the Saint Ann Fall Festival on September 30. This free admission multicultural family festival is open to the community and will feature rides, food, music, a beer garden, silent auction, raffles and much more.
• 19th Annual Apple Festival: Enjoy cider pressing, apple games, food trucks and cider, wine and a beer garden at Apple Festival at Loudoun Heritage Farm Museum on September 30.
• 17th Annual MPAartfest: McLean Central Park will come to life once again on October 1 when MPAartfest returns with a full day of art, music, food, and fun. MPAartfest transforms McLean Central Park into a lively landscape of mini art galleries showcasing and offering for sale the work of acclaimed artists from the Mid-Atlantic region and beyond.
• Rosslyn Jazz Fest: On Saturday, September 9, the Rosslyn BID and Arlington Arts are bringing an exciting lineup to the community's most popular free outdoor music festival: Galactic, featuring Anjelika "Jelly" Joseph, with additional performances from Pedrito Martínez Group, Oh He Dead, and DuPont Brass.
• Celebrate Virginia: Tysons Corner Center invites the public to a special Celebrate Virginia day on September 16 on The Plaza. Have some fun outdoors celebrating the talent of Virginia while enjoying live music and entertainment, shop local artisans' wares, indulge in Virginia Beer Tasting, VIP Wine Tasting, mural painting, giveaways, and more.
• Halloween Window Painting Festival: Falls Church Arts' Halloween Window Painting Festival returns for its 15th year. Young painters in the community will join forces with local businesses to paint Halloween-themed designs on storefront windows. Painting dates are October 7, 8, 9, and 14.
• Saint Katherine's Greek Fall Festival: Authentic Greek dancing, pastries, homemade Greek food and live Greek music will be held on October 6 — 8.
• Lagerfest: Come join Solace Outpost in Falls Church for a fun filled day of lagers, plus a couple of well crafted ciders. Solace Outpost in Falls Church for a fun filled day of lagers, plus a couple of well crafted ciders. Held on September 16.
• Oktoberfest 2023: This year, Settle Down Easy Brewing will order more than 200 sovereign steins to reuse over the 3 week celebration. Held from September 16 — 30.
• 2023 Falls Church Arts Plein Air Festival: On September 30, Falls Church Arts Gallery will hold their annual Plein Air Festival and Quick Draw event, which allows artists to paint outside and win prizes.
• Fall Heritage Festival: Join Arlington for a family-friendly day of fun. Step back into history and try a hand at some old-time games and crafts, make a corn husk doll, churn butter, dip candles and work the cider press. Held on October 14.
• 21st Annual Alexandria Art Festival: The annual art festival features a variety of works exemplifying the gifted artists in regions from all over the country. Held on September 30 — October 1.
• Truck & Toss: Grace Christian Academy will be hosting their 7th annual "Truck & Toss" — a food truck, corn hole, and craft brew tasting festival on Saturday, September 9th.
• The Pancakes and Booze Art Show: Join the biggest pop-up art extravaganza to shake North America in the past decade. The Pancakes and Booze Art Show in Washington D.C. on November 16 is serving up piping hot, free pancakes and unleashing the freshest talent this nation has to offer.
• Pimmit Hills Day: Come celebrate this community at their annual Pimmit Hills Day for all residents, alumni of the Hills, friends, neighbors, as well as local businesses and organizations! Pimmit Hills Day will take place on Saturday, September 9 from 11:00 a.m. to 2:00 p.m. at Olney Park. Last year had 30 vendors and sponsors, and an estimated 300-400 attendees.
Art Exhibits
• "Altar" Exhibit by the Cultural Programs of the National Academy of Sciences: Smriti Keshari intends to provide a visual and emotional understanding of the age of artificial intelligence (AI) in this installation. According to the artist, the artwork "juxtaposes our collective desire for forward progress against our fear of AI's capability to shape a society beyond our control. Exhibit open until November 22.
• Contemporary Art by Native Americans at the National Gallery of Art: This exhibition brings together works by an intergenerational group of nearly 50 living Native artists practicing across the United States. Exhibit is from September 22 — January 15
• Photogravures from the Collection, 1840 — 1940 at the National Gallery of Art: Discover an intriguing chapter in the history of photography. "Etched by Light: Photogravures from the Collection, 1840–1940" tells the story of the first 100 years of this process. Exhibit is from October 15 — February 4.
• "David Amoroso: Belleza Brutal" at the Hylton Performing Arts Center: Drawing from street mythology, "Bellezza Brutal" features artist David Amoroso's Pop Art inflected paintings of fiercely masculine models enmeshed in vibrant floral motifs and patterning. Exhibit open until November 5.
• "Between the Lines" Solo Exhibit at ARTfactory: The ARTfactory is excited to share their newest art exhibit "Between the Lines" by Manassas resident René Dickerson on display September 8 – October 21. The influence of Cubism can be seen in many of Rene's works, as he draws his inspiration from the Old Masters, modern-day artists, and everyday life.
• "The Eileen Levy & Andrzej Żmudzki Art Gallery" at Art and Frame of Falls Church: Art and Frame of Falls Church is holding an Open House on September 17 at its new, expanded location. Come see the shop in this 2-story building, check out the exhibit in "The Eileen Levy & Andrzej Żmudzki Art Gallery," and tour studiosat307, the 40+ artist studios and small business offices.