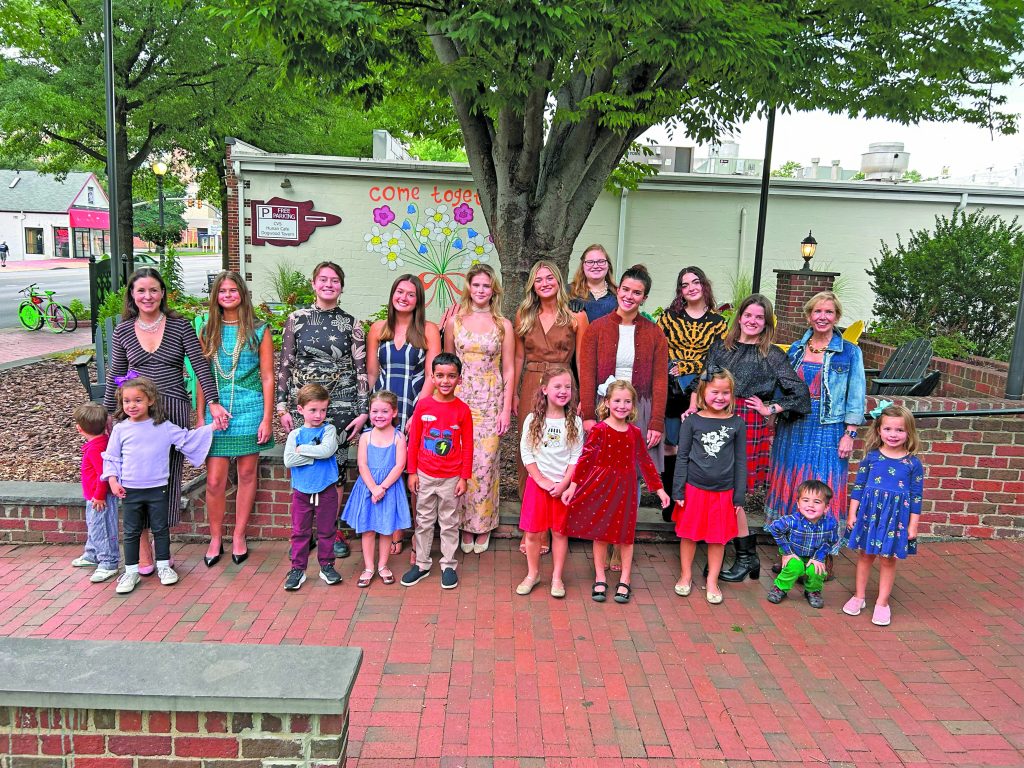 Robust Registration Underway for 2023 NV Senior Olympics
Registration opened July 6 for the 2023 Northern Virginia Senior Olympics. Registration is online at www.nvso.us through Thursday, Aug. 24. Events begin Saturday September 9 and continue until Sunday, September 24.
Most events are in five or ten year age groups and by gender. Registration is online only at www.nvso.us . Registration fee is $20 which covers unlimited events. There are additional fees for ten pin bowling, orienteering, cycling and 3 par, 9 hole golf.
Adults 50 years of age by Dec. 31 who live in a sponsoring jurisdiction are eligible to participate. Members of the general public are welcome to watch those participating. For additional information, email, nvso1982@gmail.com.
Junior League of NoVa Awards Metro DC & NoVa NonProfits
The Junior League of Northern Virginia (JLNV) is proud to announce the awarding of nearly $20,000 in grants to five nonprofit organizations in the Metro DC and Northern Virginia area.
The organizations receiving grants are Bethany House of Northern Virginia, The Salvation Army, Women Giving Back, Homestretch Inc., and Arcadia Food Inc. Each organization has a unique mission and approach to providing essential services and support to women and children in crisis.
SkyPoint FCU Celebrates 55 Years, Focusing on Goals
On Tuesday, August 8, SkyPoint Federal Credit Union (FCU), a premier, member-owned financial institution, serving Montgomery County, MD; Frederick County, MD; Arlington County, Alexandria, and Falls Church, VA; and the District of Columbia, celebrated its' 55th anniversary and focusing on near and long-term goals.
Their goals included: Placing greater emphasis and commitment to members particularly those who are underserved or marginalized. SkyPoint recently obtained the certification of Community Development Financial Institution and is dedicated to meeting each member and potential member and helping them on their financial journey; providing business solutions including business accounts, loan products to help small businesses sustain their financial security and reach their goals and contribute to the prosperity of neighborhoods; balancing technology with in-person interactions; commitment to employee satisfaction and growth including setting career goals and strategies so that each employee is an expert in their role.
Tysons Library Quarterly Book & Media Sale Coming Soon
On Thursday, September 7 through Sunday, September 10 from 10 a.m. — 5 p.m., the Tysons Pimmit Regional Library will hold its quarterly book and media sale for all ages and interests. Donations of books and media are appreciated. Volunteers are welcome and needed. Contact 703-338-3307 or tysonslibraryfriends@gmail.com for more information.
Retired FCCPS Teacher Offers Free Math Tutoring Program
Mr. Block is a retired Falls Church City secondary school math teacher offering free group math tutoring to students in Algebra 1, Geometry and Algebra 2. Students who participate will be expected to do community service to "pay it forward." The opportunity to tutor other kids who are in lower levels/grades or other charity work will be made available.
The first session will be held on Monday, August 28 at the Starbucks on Broad Street. Students will attend one of the two sessions each week. Please contact Mr. Block at joelblockmath@gmail.com if interested in participating.
Alexandria Law Firm's Backpack Giveaway a Success
Alexandria law firm Blaszkow Legal, PLLC, held their inaugural Project Backpack event on the campus of John Adams Elementary School, in Alexandria on August 12. Approximately 2,000 people attended the event, where the Alexandria law firm distributed nearly 700 backpacks, filled with necessary school supplies to students.
Alexandria Vice Mayor Amy Jackson attended and assisted with the distribution of the free backpacks. On behalf of the law firm, Joe Blaszkow received a Certificate of Appreciation presented by School Principal Alicia Kingcade.
"Luminous," on View at F.C. Arts from August 19
Fifty-two works of art from 48 artists will be on view during "Luminous," an all-media exhibit at Falls Church Arts from August 19 — October 1. The show will open on August 19 with an opening reception from 7:00 p.m. — 9:00 p.m. The Juror's Choice Award will be announced at this time. Participating artists will be on hand to answer questions about their process and inspiration. Members of the public are invited.
The exhibit theme, "Luminous," was selected by social media followers through a bracket-type elimination. One hundred seven artists submitted 259 images.
Sunset Cinema Viewer's Choice Available to Vote for
The 20th Annual Sunset Cinema series returns this fall for three nights of family-friendly films at Cherry Hill Park on September 29, October 6, and October 13.
Cast a vote at surveymonkey.com/r/3TYSZLK for the viewer's choice movie before August 25.
Falls Church Tech Support Grows
Marcin Zmudzki announced that Ula Piotrowska, of Arlington has joined Falls Church Tech Support as a cybersecurity specialist. She brings knowledge of the most recent IT security challenges at a time when ransomware and other attacks are escalating. Marcin Zmudzki is the owner and manager of Falls Church Tech Support, providing IT consulting and IT management services.