"Beauty is truth, truth beauty," wrote the English Romantic poet John Keats. For artist Dony Mac Manus, beauty and truth are also intertwined with goodness. "If there is no objective truth and goodness, there is no beauty," the Falls Church resident declares.
Mr. Mac Manus hails from Dublin, Ireland, where he began his art studies and then became a master silversmith and sculptor. Just as art is linked to truth and goodness, so is it linked to travel for this artist who works in a variety of media.
In 1999, Mr. Mac Manus took up a scholarship to study at the New York Academy of Art in downtown Manhattan, where he earned a masters in figurative sculpture. It was this intense formation in artistic anatomy as an expressive grammar which helped him over the next decade to decode the Great Masters across Europe.
"All language comes from thought, and if we are to penetrate the depths of the Great Masters, we need to understand their language in the context of the thought that gave it form. In the case of the European masters, it was Christian humanism, stemming from the profound epoch-changing influence of St Francis of Assisi, on Giotto in the visual arts, and Dante in the written word. St Francis' emphasis on the humanity of Christ created an alternative perspective to the eastern emphases on His divinity forming the foundation of Western culture."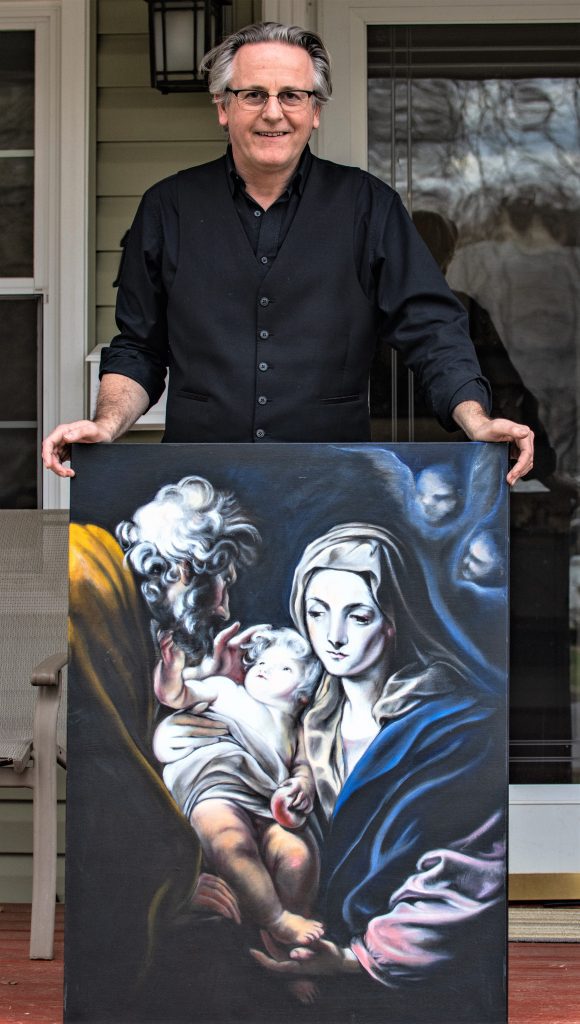 He spent twelve years in Italy, where many of his beautiful sketches of Florence, Venice, Saville and other locales on the Italian and Iberian Peninsulas were executed and are currently on exhibit at Catholic University of America's May Gallery at the Mullen Library.
In his "Italian Journey," the poet Goethe enjoins us to "imagine the admirable artist, born with an inner feeling for the grand and the pleasing, now, for the first time, forms himself by the ancients, with incredible labor, that he may be the means of reviving them." In such manner did Mr. Mac Manus spend his Italian years, sketching and sculpturing after ancient, Renaissance, and Baroque masters (for the latter, we particularly noted with admiration his sketch of "St. Longinus after Gian Lorenzo Bernini)." His goal is to pass this tradition on to future generations of his students at Catholic University, the National Gallery of Art, and elsewhere.
Professor Mac Manus, Catholic University's Artist in Residence, notes in particular how in Ancient Greek art, the human body, the incarnate, was of primary importance, for "it is the human body in its unity and variety which is the highest manifestation of beauty, the crown of creation" It is crucial, he states, that artists understand and draw anatomically —"the very grammar of figurative drawing, painting, and sculpture"—as a starting point in figurative work. In fact, "incarnation" is his philosophy of art in one word, which he notes is "true on a human level and on a sacred level."
Here we should note the religious aspect of much of his work, including an oil-on-canvas of the Virgin Mary, St Joseph, and the infant Jesus in his Falls Church home; a terracotta bust of Pope John Paul II; and a bronze statue in miniature of a commission for an image of Archbishop Fulton J. Sheen, who mastered the art of public speaking in the early days of television in his "Life Is Worth Living" series on the legendary though short-lived DuMont Network.
As for his lessons at the National Gallery of Art, Mr. Mac Manus blends his role as art instructor and art history professor: "We do a one-hour tour of the National Gallery followed by two hour of drawing lessons from the collection every Saturday morning from 10-1, which is open to all."
Mr. Mac Manus is enjoying his life in Falls Church and shares this thought with Falls Church News Press readers: "There was recently a lot of interest in me also providing the fundamental instruction of life drawing lessons at the Falls Church Art Center, but Covid got in the way. Maybe we can revisit that option, because there is a lot of local interest in serious artistic instruction." We indeed hope this will come to fruition, for Falls Church resident Dony Mac Manus has much to share in terms of synthesizing truth and goodness through beauty in aesthetics and his philosophy of life itself.