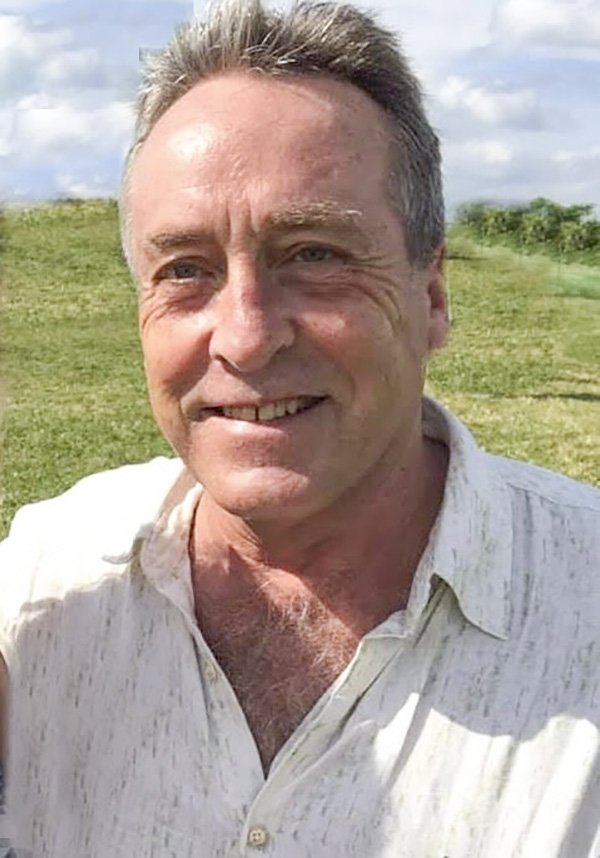 Our dad, brother, husband, uncle, cousin, dearest friend and great salesman, David "Dave" Lewis Butts, Sr., left the building without warning and much too early —but he never was one to make a fuss about long goodbyes. He passed away in the wee hours of Monday, June 24, but we'd like to remember his passing as the 23rd, the day he renewed his faith in Jesus Christ, asked forgiveness of his sins, spent the day with dear friends, and told his family again how much he loved them.
David was born on May 23, 1954 in Wiesbaden, Germany during his Dad's tour of duty at the Air Force European Command. He is preceded in death by his parents, Geoffrey and Ruth (Usry) Butts, Sr. and was the youngest of three. His family's Air Force travels took him to Austin, Atlanta, Bermuda, finally his best "tour of duty," Columbus, Mississippi where he met many of his lifelong friends. He attended Millsaps College, received his undergraduate degree in accounting from Mississippi State University, and his MBA from the University of Georgia.
Although he had a business background, David was a salesman at heart. His 40 years in sales started with his college summer job selling encyclopedias door-to-door for Southwestern Publishing. Upon receiving his MBA, he joined the sales force of CalComp, a maker of digital graphic plotters, managed a personnel agency in Atlanta, but his life-long sales opportunity came his way in 1992 when he joined Virginia-based Core Engineered Solutions, where he served as Vice President/Sales, until his death. Company President Frank Evans shared this, "Dave excelled in supporting engineers, contractors and facility managers in designing systems to store/transfer fuel vital for mission-critical emergency power systems. He was the consummate professional and was well known and respected throughout the engineering community and government officials within the Department of Defense and county and municipal management throughout Northern Virginia. He will be greatly missed by all."
While working in his mother's hometown of Atlanta, he met Brooklynite Barbara Millwater, and in November 1985 he and Barbara were blessed with beautiful daughter Amanda Ann. True to the love of a father, when Amanda Ann moved with her mother to Pennsylvania, David moved to Washington, D.C. to be closer to his daughter. Love found him again in the form of a Minnesotan lady, Nancy Pierce, whom he married and in October 1992 once again was blessed with a beautiful daughter named after her two grandmothers, Katja Ruth Butts. In July of 1995, their son, an undeniable David "mini-me," was welcomed into this world, David "Beau" Butts.
David enjoyed the outdoors, he loved hiking and skiing which he said he never found enough time to do. He loved the Rocky Mountain states but wanted to retire in the Blue Ridge Mountains. He was an avid reader of the Washington Post. He stayed connected to his friends in Columbus, Mississippi and in recent years, he and Columbus friend Cindy Wiygul were very close. David's love of family, especially his children, and his friends was undeniable. Because of this love, David knows how much we will miss him – our dad, brother, husband, uncle, cousin, love, dearest friend and extraordinary salesman.
David is survived by his daughter, Amanda Ann Butts Price (Kyle); daughter, Katja Ruth Butts,; son, David Lewis "Beau" Butts, Jr.,; grandchild Price-to-be; brother Jeff Butts (Martha); sister Connie Kay Cooper (Bryan Klein); Nancy Pierce; Barbara Millwater Vaughn (Glenn); niece Allison Butts Chambless (Chase) and great nephew, Chance Chambless; nephew Geoffrey Butts (Kimi); his cousins, Barbara Ann Irby Atkinson and children; Janalyn King Shepherd and King cousins; dearest friends, Cindy Wigul; Glenn Richardson (Kendra); Jim Besselmen (Susan); Lon Abadie (Tina); David Owen (Renee); Walt Foutz; Robert Phelps (Cynthia); Julia Durant (Dave); Frank & Karen Evans and others at Core Engineered Solutions; his friends from Falls Church, Ted Timberlake (MaryGael), Russell Riggs (Trish), Jim Darling (Sophie), David Beddoe, Rich Johnson and last but not least, David's close friends who preceded him in death, Tommy Green, Danny Gardner, and his Cousin Bobby Irby.
Services will be held at 2 p.m., Saturday, July 13, 2019 at Dulin United Methodist Church (513 E. Broad St., Falls Church), Pastor Dave Kirkland officiating. In memory of David's free spirit, the family encourages Hawaiian shirts and other island attire for those attending the celebration of David's life. In lieu of flowers, donations may be made to the Blue Ridge Parkway Foundation, 717 So. Marshall Street., Suite 105 B, Winston-Salem, NC 27101 or www.BRPFoundation.org