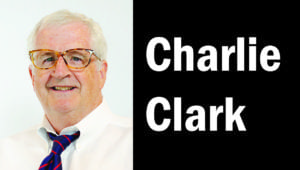 Our treasured Arlington National Cemetery is still itching to expand its boundaries to accommodate more graves. That's the word from Kim Holien, the former Ft. Myer historian who shared hard-unearthed facts about the base during a Nov. 8 talk to the Arlington Historical Society.
Before the expansion that's now underway, planners had their eyes long-term on Ft. Myer's chapels parking lot, the Marine Corps' Henderson Hall and the Sheraton Hotel, said Holien, who curated fort history for 18 years until the job was eliminated in 2013.
Holien's research into such tales as the four tours at Ft. Myer by Gen. George Patton, the fort's celebration of Buffalo Soldiers, and espionage there demonstrated how he deserved his taxpayer's paycheck.
The land we know as Joint Base Myer-Henderson Hall was originally part of the Arlington House estate built by George Washington Parke Custis, Holien began.
The 265 acres on Arlington Heights was originally called Fort Whipple (for Civil War Union Gen. Amiel Weeks Whipple, a division commander at Fort Cass, where the Ft. Myer's stables are today, and who died after the Battle of Chancellorsville in 1863).
Though the fort would become the Army's premier cavalry post, its altitude made it ideal for communications and weather balloons. Enter Dr. Albert Myer, who invented the Army Signal Corps. system and founded the National Weather Service on the grounds.
The base was renamed for Myer in 1882. (Snafus over the spelling, Holien recalls, continued even in 1969. President Nixon wanted to outfit the base's Old Guard with fancier uniforms, which were ordered from a New York-based company. It delivered them mistakenly to Ft. Myers, Fla.)
Fancy uniforms — even circus-type outfits — at Ft. Myer special events were favored by Patton as garrison commander. He used his family wealth to pay for costumes.
Holien took his audience through the famous Wright brothers flights at Ft. Myer, which in 1908 resulted in the death of Lt. Thomas Selfridge across from Spates Hall. The flight experiments were spied on by inventor Alexander Graham Bell — competing for federal contracts.
Ft. Myer also gave birth to the "tailgate party," Holien insists. In 1909, Alice Roosevelt Longworth was bored watching the flights and arranged for lemonade and Tom Collins to be served from her car's rumble seat.
Holien clarified the fate of the "Three Sisters" pioneer radio towers that stood a half-mile down Washington Blvd. from the fort from 1913-1940. President Roosevelt, a Navy man, over Patton's objections, had them moved to Annapolis, where you can see them today.
The historian bemoaned the loss of Ft. Myer's status as a major urban railroad station when, after the Depression, the automobile industry took the country by storm. He's proud that during World War II, the fort hosted the first demonstration of the Jeep to military funders.
And Holien offers a footnote to those who see Arlington's 1959 integration of Stratford Junior High as a first. He showed a 1954 photo of the base elementary school at Ft. Myer with black and white kids side by side.
To this day, Ft. Myer remains home to the chairman of the Joint Chiefs of Staff and the Army chief of staff — and their aides, Holien notes. As historian, he once tried to persuade the garrison commander to preserve a native campground dating to 12,000 B.C. Historians have only so much influence.
***
In the better-late-than-never department, the new Ballston Quarter will soon make the long wait for construction progress at Arlington's central crossroads worth our while.
During my gym visit last week (One Life Fitness, nee Sport & Health), I was impressed with the refurbished mall's warmer, open, indoor-outdoor lighting that provides easy sightlines to escalators.
Though barely a half-dozen stores are open, more are coming in time for the holidays. I peeked inside the Social Punch Bowl eatery, which already posts its price list for bowling shoe rentals.