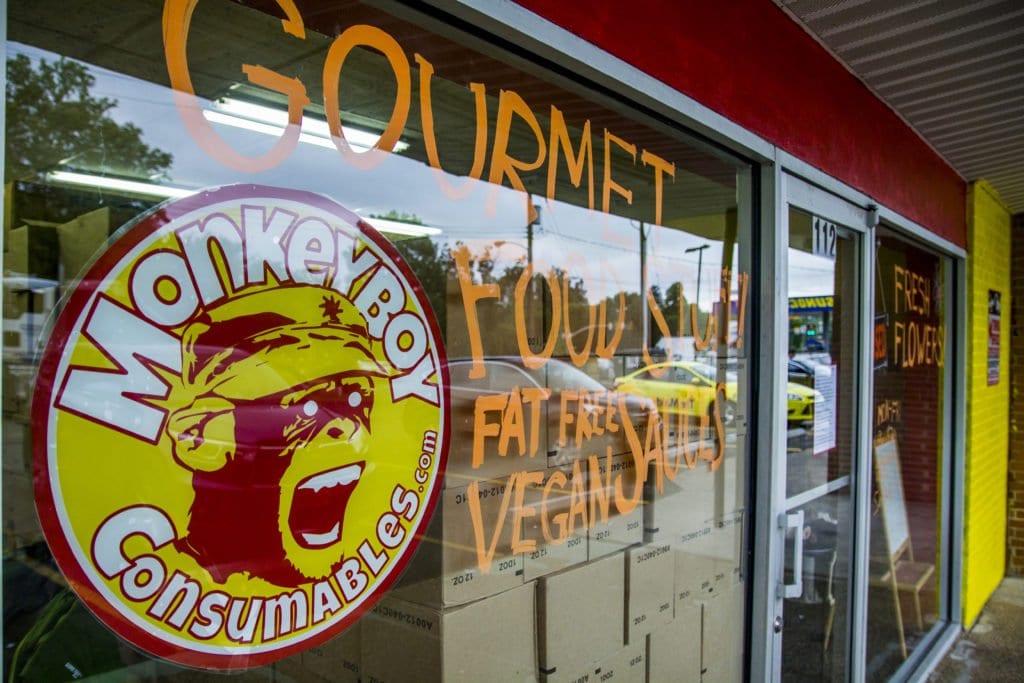 If you told me you knew what you'd find when you walked through the door at 112 N. West St., I'd probably call you a liar (well, not to your face, but I'd definitely be thinking it).
At first and even second glance, it's not clear what the business now occupying the space next to 7-Eleven, formerly home of Mike's Deli at Lazy Sundae, exactly is. The overhauled storefront sports a new facade, dressed up whimsically in red and yellow paint, the windows tagged with graffiti-like messages and, above it all, the name "Monkeyboy Consumables" alongside a logo of a screaming, hat-wearing chimpanzee calls to passersby.
Yet, even walking through the door doesn't immediately yield many answers.
Inside, there are pallets of boxes stacked to the ceiling while the rest of the the decor reflects the same whimsy as the exterior. A side wall is decked out with a menagerie of framed chimp photos above a small display of salsas, oils and hot sauces, and in the far corner of the space, an industrial-sized immersion blender hangs on the wall next to an assortment of white lab coats and hats, emblazoned with the same screaming ape logo out front. And by the blender sits a stainless-steel vat, the heart of this eccentric and enigmatic operation.
Monkeyboy Consumables is the City's first-ever pop-up food incubator as well as the home of Kalechup, Mayonot, Veggie Pop and a host of other locally made, vegetable-based sauces and food products.
Debuting last month on Memorial Day, the shop is the brainchild of Dave Forbes, a local resident who has been making veggie sauces in his home kitchen and selling them at the Falls Church Farmers Market for the past five months.
Forbes wanted to expand his operation and sell wholesale but the trip down to a co-packing facility in Virginia Beach was just too much. "At three-and-a-half hours away and 500 bucks a day," Forbes says, "I could probably find a place closer to make my sauce."
So, the software design consultant by trade started talking to Becky Witsman at the City of Falls Church Economic Development Office and she suggested the former Mike's Deli space. "I pinged the developer and he was interested," Forbes says. "If I enjoy it and get six months out of it, it's worth doing."
Kalechup, the crown jewel and star of Monkeyboy's burgeoning veggie-sauce empire, originated last spring when Forbes was throwing a high school graduation party for his son. While trying to come up with a sauce to go along with the pig he was barbecuing in his backyard, he decided on something with kale.
After an exhaustive search online came up empty ("I'm a software guy, I've got a software patent, so I'm pretty thorough in my searching," he says), Forbes thought one of two things. "It's either the stupidest idea ever or so genius, no one has ever thought of it," he says. "I like to believe it's more of the latter."
Forbes then took his favorite cream kale recipe and a standard ketchup recipe, combined the two and Kalechup was born. "My wife said of all the dumb ideas I've had, this is the least dumb. She encouraged me to proceed with it."
Forbes has since filed a patent for the kale-ketchup hybrid, which he says is extremely versatile. His ideal vision for the sauce is a condiment for a hot dog or sausage, but he says it works on much more. "It's good on fried eggs, grilled meat and grilled fish. Vegan friends put it on roasted vegetables. I'm not a vegan by any means, but putting it on food instead of ketchup, at least you're being a little bit healthier."
In addition to his original recipe, Kalechup is also available in a habanero version and Forbes says he's always experimenting with other flavors. Some other vegetable sauces he's dabbled in include varieties made from cabbage, beets and carrots. At one point, Forbes had 17 different sauces though he admits, not all of them have been successful, "I made a turnip sauce that was pretty disgusting."
"Bottom line," he says, "it's got to taste good. If it's healthy and doesn't taste good, who's going to eat that?"
Another hot-ticket item from Monkeyboy Consumables is Mayonot, a mayonnaise substitute made from cauliflower. Capitalizing on the cauliflower trend, Forbes says the no-oil, no-carb, no-calorie, paleo- and vegan-friendly sauce is great on sandwiches and a healthier alternative to mayo.
Forbes even produces a vegetable-based soda dubbed Veggie Pop that he makes using the "pot liquor" — the runoff from the liquid used to boil down his sauce creations — along with fruit juice and aromatics. "It makes for a really refreshing soda pop," he says.
Along with his own line up, Forbes also carries products from other area producers including sausages, salsas as well as fresh bouquets from a local florist. And, as a food incubator, Forbes hosts a "food lab" each Sunday for people to come in and brainstorm food ideas. He hopes other producers, most who currently make their products at home, use his shop to make their own batches. Just this week, Falls Church's Mercy Bloomgarden began producing her Oh Mercy! branded African-style hot sauces at the Monkeyboy kitchen.
"If anyone wants to make a weird food product, they should come talk to me," Forbes says."That's what we're all about."
Along with the packaged sauces at Monkeyboy, there's also a freezer filled with Stachowski sausages (the perfect compliment to Kalechup, Forbes says) as well as all-day vegan carryout from the local Borekg Catering.
Pop-ups are, by definition, only temporary. The space Monkeyboy Consumables occupies is set to be home to the future Founder's Row development currently awaiting approval by the City Council, but Forbes hopes there's life for his incubator beyond the current space.
He says he'd love to keep it in the City and has been looking around town for possible future locations. If he finds there's a market for it and he gets enough people involved, he'd like to keep it going.
"I'll stick it out as long as I can," he says.
The hours for Monkeyboy Consumables (112 N. West St.) are 11 a.m. – 6 p.m., Monday through Friday and 2 – 4 p.m. on Saturdays. Also on Saturday, a Monkeyboy Food Lab for brainstorming food product ideas is held from 2 – 4 p.m.