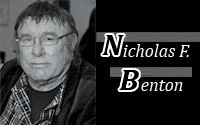 It's being left to a combination of a mission-focused U.S. intelligence community, a competent and ruthless special investigator, elected officials who have not bought into the idea of a Russian takeover of the country, and journalists and media organizations who've rediscovered why they went into the business in the first place.
These are the elements of what is beginning more and more noticeably to look like a humongous boa constrictor who's wrapped itself around the Trump White House and is beginning to squeeeeeze.
Shifting metaphors, the White House is looking more like the Hotel California. Those who've checked in (or out) any time they wanted (sans security clearances in too many cases and with proclivities to buy off or punch out porn stars or spouses) are about to find they can never leave, except in the back of a paddy wagon. And that goes for the big cheese, too.
The boss, who can't get the image out of his head of those giant, really big hands of Barack Obama exhibited in the official National Portrait Gallery portrait unveiled this week, is revving up his effort to convince fellow Republicans and their deep-pocketed patrons that he's worth the trouble to keep out of the hoosegow and in the Oval Office.
He's in a race to redouble their loyalties with a blizzard of tax cuts, assaults on the poor and disadvantaged and a huge privatization scheme in his new so-called budget, all against the looming squeeeeeze.
But for those who are dedicated to preserving our democracy, time is running short.
As underscored in the extraordinary hearing by the Senate Intelligence Committee Tuesday, even in its non-classified portion, there is a total consensus among the nation's finest intelligence operations that the Russians are actively engaged, at this very moment, in operations intended to distort the outcome of the U.S. midterm elections that begin with primaries next month with the aim of sowing discord and chaos, on the one hand, and advancing their strategic agenda, on the other.
The intelligence community leaders there not only all agreed that the Russians, and other entities hostile to the democratic values of the U.S., are engaged in "active measures" against the U.S. electoral system, among other things, but they were also unanimous in their assessment that the Trump White House is doing nothing to take this on. Our president, dear reader, if you don't already know it, is a full-blown Russian agent, a pathetic and wholly owned pawn of Vladimir Putin, ostensibly the wealthiest and most brutal oligarch on the planet.
In his opening comments at the Senate Intelligence Committee hearing Tuesday, Committee Vice Chairman Mark Warner said, "I believe you'll find a broad bipartisan consensus on this committee on a number of critical issues: first, Russia engaged in a coordinated attack to undermine our democracy; second, that the effort included the targeting of state and local election systems in 21 states; and third, the Russian effort utilized our social media platforms to push and spread misinformation at an unprecedented scale. We've had more than a year to get our act together and address the threat posed by Russia, an implement a strategy to deter future attacks. But we still do not have a plan….We are not better prepared than in 2016."
Warner went on, "Despite all this, the President inconceivably continues to deny the threat posed by Russia. He didn't increase sanctions on Russia when he had a chance to do so. He hasn't even Tweeted a single concern. This threat demands a whole-of-government response, and that needs to start with leadership at the top."
Don't hold your breath, Sen. Warner!
Instead, the President is doing the opposite. He's attacking the integrity of the FBI and the Department of Justice, even as Warner noted, "China has developed an 'all of society' approach to gain access to our sensitive technologies and intellectual property," and Russian trolls and bots continue to push divisive content in the U.S. and among its allies, including France, Germany, the Netherlands, England and Mexico.
Greedy and immoral corporate overlords still backing Trump are aiding and abetting a coup by a hostile foreign power.
---
Nicholas Benton may be emailed at nfbenton@fcnp.com.