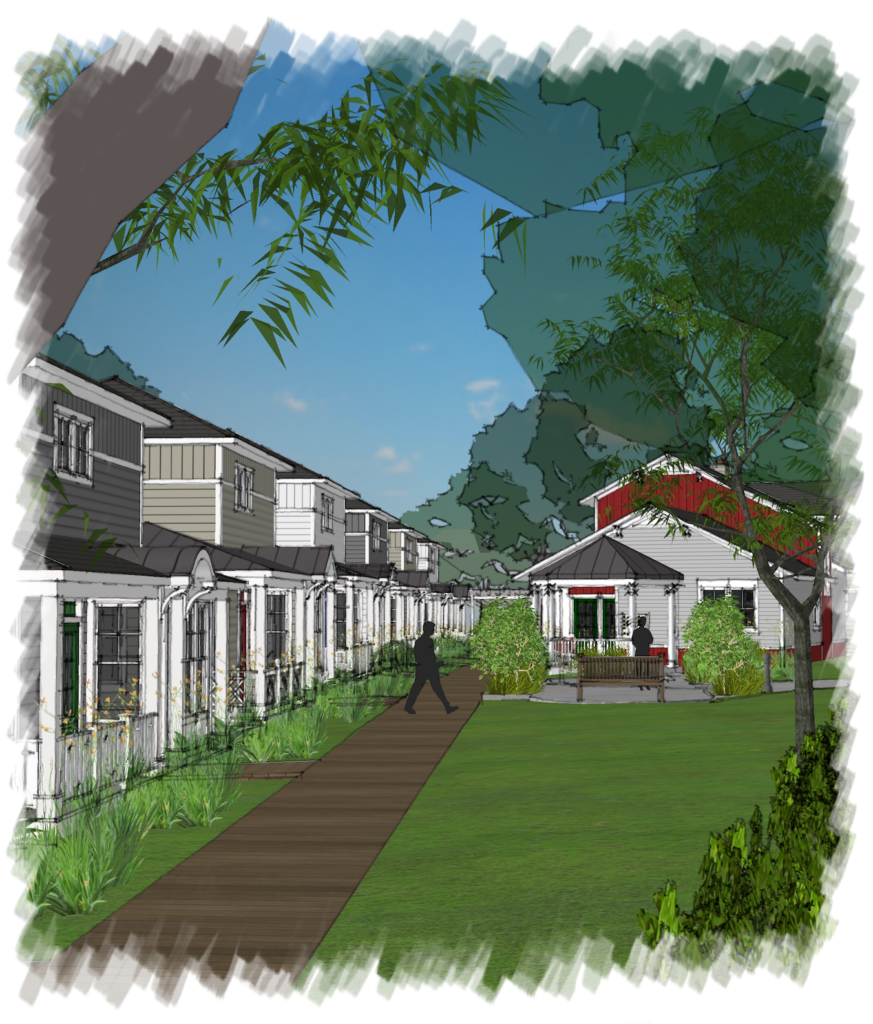 At its Feb. 13 meeting, the Falls Church City Council adopted an ordinance permitting the construction of age-restricted single-family cottage communities, designed to give older residents alternative housing options as they look to downsize but remain in the Little City.
The ordinance was approved by a 6-1 vote with Mayor David Tarter dissenting.
Four days after City Council adopted the ordinance, a team of local developers and realtors — Theresa Sullivan Twiford, Bob Young, Joe Wetzel and Butz Wilbern Architects — submitted a proposal to build 10 cottage homes and a shared community house at 1006 Railroad Avenue, alongside the Washington and Old Dominion Trail.
These "Railroad Cottages," as the developers coined them, would be single-family homes, approximately 1,500 square feet, and laid out so they all face a common grassy area. In its application to the City, the group used a projected value of $595,000 per cottage.
The developers have proposed the project as age-restricted housing for residents 55 and older, according to Twiford, real estate agent and director of land use and development at Advon Real Estate in Falls Church. This type of housing, she says, would give the City a much-needed middle option between large, million-dollar homes and apartments or condos.
Several members of the Council immediately took to this idea of a middle-ground housing choice for Falls Church residents looking to stay in the City after their kids finish school and no longer live at home.
"When this first came forward, a bunch of us on the Council saw this as a great housing option for residents who are empty-nesters," councilmember Phil Duncan said. "We hear people say, 'we want to stay in Fall Church, we love the community, and it's not just about the schools. But I don't need five bedrooms and a huge house and I'm not ready to move into a condominium.' People like to be able to walk out their front door and put their toes in the ground, similar to a single-family home, but without all the upkeep."
While residents of the Railroad Cottages would be 55 years and older, Twiford is "trying to stay away from the word 'senior.'"
"We don't want this to be a retirement community," she says. "We want it to be vital and walkable and full of life and community."
A key element of the cottage house community would be the proposed common house, a shared space for "anything from a casual gin and tonic on Friday afternoon to a large formal Thanksgiving gathering," Twiford says.
The impetus behind the cottage community ordinance came from Twiford's experience on the West Coast.
While living in Takoma, Washington, several years ago, Twiford drove by a neighborhood of quaint, bungalow-style units clustered together. She was struck by the idea of small, single-family homes in a communal setup and immediately went home to do more research.
"Pocket communities," as these developments are sometimes called, were popularized in southern California in the 1920s and '30s and appear frequently in the Pacific Northwest, but are uncommon on the East Coast.
Twiford moved to Falls Church and brought the vision of a Little City cottage community with her. She pitched it to residents and City groups over the last few years, culminating in last month's ordinance.
Due to the novelty of this type of development, City planning staff and Council took a conservative approach to the ordinance.
According to several people involved in its writing, the ordinance includes tight restrictions on how many proposals can be submitted, and where these cottage communities can be built, to allay fears that these developments would spring up all over town.
As such, the cottages are restricted to low density zoning districts and must be within 500 feet of a revitalization area (such as Broad Street or Washington Street).
In order to keep the number of projects to a minimum, the ordinance was written as a "pilot program," limiting developer applications to just one per year.
The Twiford, Young, Wetzel and Butz Wilbern Architects' application was the only one the City received, senior planner Carly Aubry said, meaning the City cannot consider any new proposals until the current application has been withdrawn, approved or denied.
The ordinance also states that within three years of enactment, the City Council will reassess the projects and decide whether to continue, amend or repeal the ordinance.
Some community members, however, are still concerned by aspects of the new project.
Mayor David Tarter, the lone member of the council to vote against it, said that while he's "not against cottage housing per se," he believes the ordinance needed more refinement to make sure there wouldn't be any "unintended consequences."
"It's a new concept," Tarter said. "It's new to Northern Virginia, new to many parts of the country. I wanted to spend some additional time before we start approving these things."
Tarter added that the council did not get time to review the "significant amount of changes" staff had made to the ordinance between the first and second readings, as well as a chance to discuss a letter from the Falls Church Village Preservation and Improvement Society (VPIS) expressing its concern over several details.
Mark Gross, president of VPIS, shared some of the mayor's qualms over a lack of parking space in the development, as well as the provision allowing cottages to be set back 20 feet from the public street while the minimum for normal residential homes is 30 feet.
VPIS also advocated that the Council "approve one project and see how it works out before approving another." The one-year-between-approval clause, the letter to the Council stated, "is simply not enough time to permit the first project to be built and significantly occupied for a period of time sufficient to see what the impacts of this sort of housing are on the neighbors and on the City generally."
Twiford has heard these reservations and misgivings and acknowledges that with a unique project like the Railroad Cottages, the pressure is on for it to be successful.
"If it's done poorly, it would ruin it for a lot of communities around here," she says. "We are approaching this with sense of responsibility that this has to really be good for the City."