In step with a growing national movement to remove symbols of the country's pro-slavery Confederacy, a movement has begun in Fairfax County to rename three of the county's schools – two named after leaders of the Confederacy and another named for a Fairfax superintendent who was opposed to the immediate integration of public schools.
But there are currently two opposing petitions circulating through the online Change.org, one calling for Fairfax County School Board member Sandy Evans to spearhead the renaming of Robert E. Lee High School, W.T. Woodson High School and Falls Church's J.E.B. Stuart High School, and another opposing the renaming of the schools.
Both petitions were started by alumni of the Fairfax school system. Lisa McQuail and Jeff Parker, two Stuart graduates, are heading up the group petitioning for the names to be changed while David Chagnon, a Lee alumnus, started the petition opposing the renaming of the schools. Another group, made up of current Stuart students, began organizing to get their school's name changed in late May.
The students – Anna Rowan, Lidia Amanuel, Cassie Marcotty, Abby Conde and Marley Finley – are rising seniors at Stuart and over the past year all began questioning the name of the school named after a Confederate general. Rowan, Amanuel and Conde produced a video soliciting the opinions of Stuart students and faculty on the school's name and posted it to YouTube in early June.
"We're such a diverse school that we shouldn't be honoring the Confederacy," Marcotty said. "For a man who [supported] slavery, it doesn't make sense for him to represent such a diverse and cultural school. So we decided to take a stand against it." The ethnic breakdown of the school for the 2013-2014 school year was 15.91 percent Asian, 11.39 percent Black, 46.45 percent Hispanic, 24.16 percent White and 2.09 percent other.
Conde said that the school's name has been a common thread throughout her and her classmate's three years at Stuart located in the Lake Barcroft area of greater Falls Church.
"I remember my freshman year at Stuart our gym teacher asked us, 'What do you feel about the school name and how it represents you guys,' and, as freshmen, were like 'Eh,'" she said, while shrugging her shoulders. "But then you learn to understand what Stuart represents, which is how we've come to what we're doing now."
The students said that they've learned about Stuart's history and have done their own research into the school's name. Amanuel said that she didn't even know who Stuart was until she learned about him in her history class this past school year. "We went into what he did in the Civil War and why our school was named what it was during the Civil Rights movement of the 1950s," she said.
This history was more recent and immediate for McQuail and Parker. They claim in their petition that the Fairfax County School Board intentionally named Stuart and Lee in 1959 as part of a massive Southern resistance to the pro-integration 1954 Supreme Court decision in Brown Vs. Board of Education.
"The apparent intent was to make black families and their children feel as uncomfortable as possible attending desegregated schools in Fairfax County," the petition says.
"The naming of J.E.B. Stuart in 1958-59 was the last gasp of the neo-Confederates who were trying desperately to stake out brand new schools in white neighborhoods and literally raise the Confederate flag over these schools by naming them J.E.B. Stuart and having the Raiders or Robert E. Lee and have some charging horse as the mascot with the underlying implication we should revere these men, who took up arms against their own government," Parker said.
A 2002 article Kathleen Riley wrote in the William & Mary Bill of Rights Journal, titled "The Long Shadow of the Confederacy in America's Schools: State-Sponsored Use of Confederate Symbols in the Wake of Brown Vs. Board," was linked to in the Stuart alumni petition. It documented the "last gasp" Parker spoke about to the News-Press.
"In the midst of school desegregation under Brown, many school districts faced the chore of consolidating separate schools for whites and African Americans into single integrated schools," Riley wrote. "State and local governments displayed their hostility toward desegregation, with schools changing their school names to honor Confederate war heroes, or making the school mascot a Confederate soldier."
McQuail and Parker both said they remembered a palpable racial tension at the school when they were there in the 1970s
"Looking back to my freshmen year there," said McQuail, who graduated in 1978. "The racial tension was so high and there was so much that the school board and the school system, the whole community, could have done…not only to lessen the racial tension, but actually make it a really great learning experience for everyone there."
Instead, McQuail and Parker said, members of the school community held on to symbols of the Confederacy and Civil War, like the Confederate flags, Civil War cannons flying the flag or school mascots dressed in Confederate regalia taking victory laps around the school's track during football games.
"These are images that young black kids who were supposed to integrated into the school saw," McQuail said. Parker, who graduated in 1975 and now lives in San Francisco, said that while the Black students he went to school with were polite he thought they held resentments because they felt unwelcome at the school. He said he could feel the anxiety of the black students.
"I thought that they felt that there was literally a Confederate flag flying over our school and it was there to make them feel unwelcome and less than us in some small way," he said. "And to me it attempted to pin a badge of inferiority on every black student attending that school."
The William & Mary Bill of Rights Journal article spoke about symbols of the Confederacy as badges of slavery or inferiority, saying the following: "When an African American athlete is forced to don a uniform emblazoned with a Confederate flag and the school's nickname of the 'Rebels,' that student is literally wearing a badge of slavery. That student is wearing something that represents the Southern ideals of the Civil War, ideals that inarguably include a defense of slavery. A student who wears such a uniform is being told by school officials and his fellow students that the enslavement of his ancestors was proper and that such enslavement might suit him as well."
Phil Thaxton, a black man and captain of Stuart's football team in the late 1980s, said that his history classes at the school covered the Civil War, but did not delve into the history of J.E.B. Stuart and why the school was named after him. He said that he did not experience the racial tension that McQuail and Parker described experiencing in the 1970s, perhaps because he attended the school during a period of "white flight."
"Stuart was a predominately white school when I arrived there in the fall of '84 and at the same time…we had a lot of refugees coming in from Asia, Africa, there were civil wars all over the place," Thaxton said. "Well a lot of the White kids that I went to Glasgow Elementary School with, by the time I got to, let's say, tenth grade, those kids were going to Bishop Ireton, O'Connell, some had transferred to Annandale…they went to schools that you would say are predominately White, because they saw a demographic change happening at Stuart."
Thaxton, who wrote about his experiences at Stuart in 2010 memoir J.E.B. Stuart's Raiders: Memoirs of a Black Captain (1987-1989), said he only learned about the significance of his school's name during a similar push to rename Fairfax schools and mascots that happened briefly in the mid-1980s.
"I [went] to a school that is named after a white, racist guy," Thaxton said. "This is what we represent, we go out there and play football and basketball, and represent this Confederate general, who fought for the right to enslave black folks."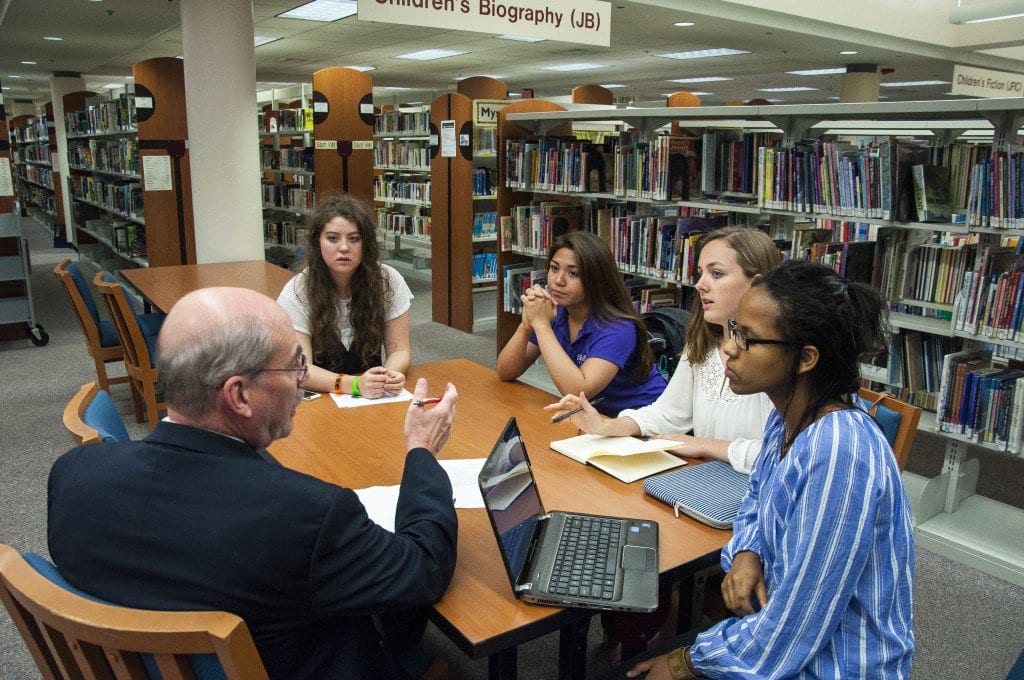 Despite all this, Thaxton, who lives Woodbridge now, had mixed feelings when asked about renaming the school. While he is for the renaming of the school, he admitted to having some sentimentality for the name of the school he went to.
He still owns his letterman jacket, which dons a Confederate flag, and other memorabilia from his days at the school. The Confederate flag has since been removed from the Raiders' athletic gear and replaced with a solid blue flag.
"God, man, Stuart's been around since, what, '59, right? God." he said as he sighed, considering his answer.
"I don't have a problem with the name change because I know the school is far for that now but I understand from reading in the papers that J.E.B. Stuart is known for being a racially-diverse, multicultural school….The school is so far away from General James Ewell Brown Stuart. I don't have a problem with it in that sense. But then again, as an alumnus, gosh, I guess I would feel kind of funny, because then I wouldn't have a school anymore."
That's part of what those opposing the effort to rid schools of links to the Confederacy and segregationists are arguing. Many of the comments on the Change.org started by Chagnon, now a Vienna resident, express nostalgia for the school's the commenters went to and a desire to keep the school's the way they remember them. Others said that changing the names of the schools and mascots, or other public facilities such as roads, would be erasing or revising history.
Marcotty said that she understands that some of the alumni opposed to renaming these schools are sentimental about their memories of grade school, but disagreed with the notion that changing the school names and mascots would change or revise history.
"I think we want to make sure that this isn't about changing history, it's about having a name that represents our school well," she said. "We're not trying to change anything, it already happened. J.E.B. Stuart may have been a great man, but he's not someone who would support how diverse our school is today."
Conde added that the school's name needs to change to future generations of students. The five students have met with Evans, the Stuart alumni supportive of the name change efforts, and other community leaders, in order to find out the process for renaming the school.
Evans, the Fairfax County School Board's vice president who represents Mason district, where Stuart's located, wouldn't take a stance on either side of the issue and said that there would have to be "substantial community engagement" going forward to gauge how the public feels about renaming the school.
First the school board would have to vote to remove Stuart's name from the school and then have a separate vote to rename the school. Both processes would include opportunities for members of the community to have input on the issue.
"The larger Stuart community should have a conversation about this," Evans said. "There certainly are different views on this. I've heard from various members of the community, some of them are supportive of a name change, some of them not, some with very strong feelings. I know this has been a topic of conversation with the alumni association.
"So I think this is something, as I suggested to the students, that should be brought to the community via a variety of ways, the PTSA, civic associations, the alumni association and I'm happy to facilitate a conversation on this."