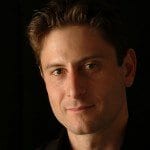 Back in the 1990's, the "ex-gay" industry worked diligently to portray itself as mainstream. These days, the disgraced movement is largely unfiltered – barely bothering to mask its weirdness and warts.
While the nation is focused on the Supreme Court's imminent decision on marriage equality, there is an "ex-gay" sideshow worth mentioning. It began last week in New Jersey, with a state Assembly committee hearing to ban "ex-gay" therapy for minors. The measure passed 5-0, with one abstention, thanks to the other side's weird witnesses.
Exhibit A was Greg Quinlan, President of Parents and Friends of Ex-Gays (PFOX) and a lobbyist with New Jersey Family First. Instead of establishing a rapport with committee members, he spent half his allotted three-minute testimony picking a fight with the committee chair. In a huff, he spit out a memorable quote so absurd, that people either dropped their jaw or rolled their eyes:
"We are raping parents of their children, not giving them the right to guide their child," said Quinlan.
Speaking of raping, the other "star" witness in New Jersey was Christopher Doyle, the Director of the Moonie-influenced International Healing Foundation (IHF). In a testimony he had previously written for PFOX, Doyle admitted some unsavory behavior he displayed as a pubescent boy:
"I tried to have sex with the little girls that my mother watched in her daycare, and eventually, one of the girls told her parents what I was doing. The shame that was placed on me by my parents was more than I could bear. Rather than rescue me, teach me, and put me in counseling, the 'bad boy' was left alone to deal with all of this shame."
Under normal circumstances, loose cannons, like Quinlan, and people with loose morals, like Doyle, would be kept a mile away from the microphones. After all, who would be foolish enough to use a lobbyist and witness who is a professed predator at a hearing to ban a form of child abuse?
But this crowd is so detached from reality, that they further spotlighted Doyle's disturbing background by labeling this bill (S2278) the "Jerry Sandusky Victimization Act." The idea behind this non sequitur of nonsense was to make the false allegation that this bill would stop sexual abuse victims from getting "legitimate" counseling.
Now that their outlandish strategy has backfired, we can only hope that they will rename the bill the "Michael Jackson Victimization Act" – allowing us to again place a spotlight on Doyle's sordid past.
On Thursday, the "ex-gay" carnival moves to Oklahoma City, on the very day the Oprah Winfrey Network (OWN) plans to air a special where Alan Chambers, the "ex-gay" head of Exodus International, is widely expected to apologize for harming his clients. In Oklahoma there will be a conference for the Restored Hope Network, a dissident group of Exodus defectors who are angry because they believe Chambers has gone soft on sin.
While RHN's hard-edged homophobia may appeal to the fanatical fringe, there is no way this bunch will ever gain momentum with the mainstream. For example, their meeting is being hosted by Cherokee Hills Baptist Church, whose pastor, Ray Ivey, posted an offensive message on Facebook in 2009. In a caption under a picture of the reverend holding a deer carcass, he writes:
"For animal rights activists out there…this guy was old, had AIDS, and no girls wanted him.
My, the Restored Hope Network should be a barrel of belly laughs with a pastor as comedic as Ivey!
Of course, the best comedy is rooted in reality, thus the chief jester is "ex-gay" activist Anne Paulk. Even as she tries to peddle this event as hopeful – she is in the midst of a painful divorce with her former "ex-gay" poster boy husband, John Paulk, who recently said:
"Today, I do not consider myself 'ex-gay' and I no longer support or promote the movement."
The challenging part of the RHN conference will be for these activists to pretend that they love LGBT people. On the group's Board of Reference is Liberty Council's Matt Barber, who once said, "there is nothing conservative about one man violently cramming his penis into another man's lower intestine and calling it love."
The group's co-founder, Andrew Comiskey, has written, "Satan delights in homosexual perversion" and claims the source of gay relationships is "demonic."
I'll be in Oklahoma working with the state group, The Cimarron Alliance, to counter the crazies. With the new "ex-gay" leadership packed with idiots and exorcists, we should have one hell of a time debunking the disinformation.
---
Wayne Besen is a columnist and author of the book "Anything But Straight: Unmasking the Scandals and Lies Behind the Ex-Gay Myth."