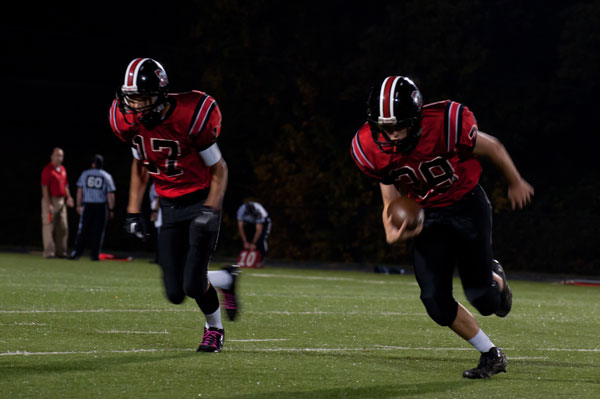 The Mustangs fell to Clarke County High School, 35-14 last Friday at home. Pictured above, sophomore Austin Clark rushes the ball up the field with sophomore Marcus Zack Russell. George Mason will host Manassas Park High School Friday for its last game of the season. (Photo: Andrew Finein)
Volleyball
The girls volleyball team faced a tough match against rivals from Clarke County High School last Thursday in playing for what could have been Mason's first-ever district championship. With a 3-1 loss, though, the team came up short of the championship title. They will move on to district competition in the postseason, which has been postponed to Thursday from Tuesday because of Hurricane Sandy. The district quarterfinals will see the team battle Central High School. The semifinals and finals are scheduled for Saturday.
Cross Country
Last Wednesday, the boys and girls cross country team competed in the Bull Run District Meet at Rappahannock County High School. The boys clinched the gold and the girls placed second, falling short of gold by one place to Strasburg High School. Runners in the top 10 on the boys team were Jesse Schaffer (first), Jeremy K. Brown (sixth), Austin Gogal (seventh), and Paul Sanders (eighth). Runners in the top 10 on the girls team were Corinne Carson (fifth) and Lauren Meinhart (ninth). Both teams advanced to the regional meet Wednesday at Panorama Farms, but results were not available at press time.
Cheer
The competitive cheer team placed fourth in Districts last Saturday. They will continue on to regional competition, a first for the girls on the cheer team.