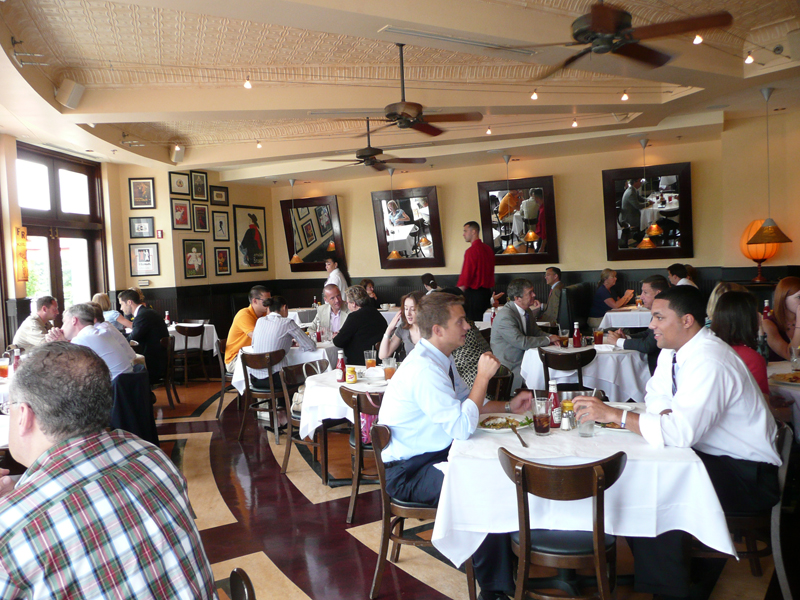 Little City diners have a new place to satisfy big city cravings with the opening of a restaurant devoted to the beloved street-cart fare of New York City and Chicago. The Windy Apple opened its doors this month, setting up shop in a portion of the now-shuttered Bangkok Blues on W. Broad Street.
Though there is fusion in the name, which splices the Windy City and Big Apple monikers of the two major metropolises, there is little on the menu. Regional divisions are pronounced on the menu, with the Chicago-Style and New York-Style hot dogs topping the list.
The Chicago-Style ($4) boasts the Windy City-made Vienna Beef hot dog, which is all but hidden to the eye beneath a mountain of toppings. Yellow mustard, green relish, chopped onion, massive tomato wedges, a pickle spear, pickled peppers, and a dash of celery salt are all packed inside a poppy seed bun. With a nice snap at the bite, the salty, savory hot dog flavor meets the vinegar-tangy and crunchy topping combination.
The New York-Style ($4) is a more manageable concoction, with a spare three toppings to the half dozen stacked onto its Midwestern contemporary. But in this case, fewer toppings don't make for a less flavor-packed dog. A red onion sauce is slathered atop the hot dog, chunky with sauteed onion bits. A bit of mustard and some sauerkraut add a zesty element, but the onion sauce makes the bigger flavor impact. The hot dog itself is also unique to the New York-styled creations, which use the all-beef Sabrett variety from the Big Apple.
A make-your-own-dog option lets diners not swayed by any one city's recommendations do what tastes right with the bevy of ingredients that The Windy Apple uses on its signature hot dogs. Hot sauce, mustard, all manner of pickled vegetables, and even French fries make the topping list.
Diners can order a la carte, but a handful of combos make selecting a meal easy. The region-spanning No. 2 ($15.99) offers up a Chicago- and New York-Style dog, along with a Vienna Italian Beef Sandwich. The Vienna Italian Beef Sandwich is one in a collection of sandwiches and burgers this hot-dog-focused joint makes. Thin, slow-cooked slices of the roast beef cozy up with giardiniera (a pickled vegetable blend) in a hoagie roll. The sandwich gets a little flavor boost from its au jus presentation, and the hoagie roll grows heavy and chewy with the sauce.
A side order of French fries rounds out the jumbo combo. The New York Potato Knish ($3), among other available side dishes, is another spot on the menu where diners can find classic street vendor eats.
The speed and affordability of push-cart food paired with the convenience and comfort of fast-casual dining makes for a winning combination. But bringing together eats that both New Yorkers and Chicagoans have fond feelings for makes the concept that much more special. Be it a homesick native, a tourist longing for a return visit, or a less traveled diner looking for something new, customers will find that these two distinct traditions, born of ball parks and late nights and lunch breaks, find harmony in the musical clatter of the grill.
The Windy Apple is located at 926A W. Broad St., Falls Church. For more information, call 703-533-7979 or visit thewindyappleva.com. Restaurant hours are Monday – Tuesday: Noon – 9:30 p.m.; Wednesday: Noon – 7 p.m.; Thursday: Noon – 9:30 p.m.; and Friday – Saturday: Noon – 11 p.m.