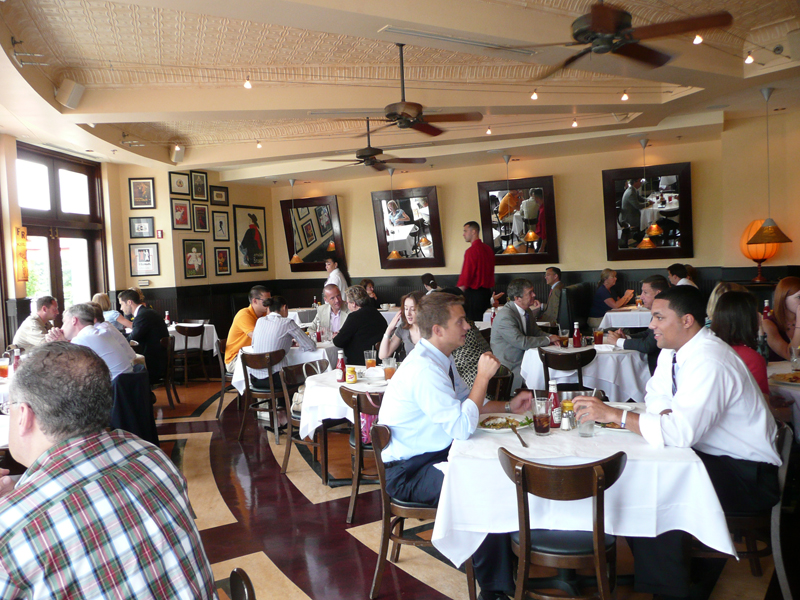 Those who don't appreciate the many culinary opportunities provided by a big bowl of leafy greens might call it "rabbit food." But for patrons of one Clarendon quick-eats restaurant, that once dismissive remark may take on a very different meaning. Rabbit Salad and Grill, opened last year by the proprietors of Red Velvet Cupcakery, offers its "slow food fast" cuisine of chef-crafted creations of organic ingredients that come to the table with surprising speed.
The three-part menu of salads, sandwiches, and entree platters offers relatively few dishes, about 20 in all, but the menu's broad reach and often inventive fare keeps things interesting.
Salads are prominent on the menu, and the selection is a gourmet showcase that makes distant any memories of dressing-doused iceberg. Even staple bistro salads like the cobb are updated, the house variety swapping out avocado slices for avocado puree and given the clever name "leafer madness" ($11). The Rabbit ($9.50) matches the restaurant's mascot – a rabbit piloting a carrot-shaped car – in both name and playfulness. Here, shaved strips of bright orange carrot pop against mixed greens, with crunchy snow peas and sweet peas tucked within the towering salad. A mild citrus vinaigrette dresses the salad, but more powerful flavor comes from a pesto that seems to conceal itself between and beneath the lettuce leaves. While some of the salads are served with meat – take the Seared Tuna Nicoise ($12.50) or the Steak + Potatoes ($10.50), for example – chicken, beef, tuna, and even tofu can be added to any salad for a few dollars more.
The sandwich selection gives meat-eaters more to, as the saying goes, sink their teeth into. Each sandwich platter is served with a heaping side salad, but the focus is on how meats, cheeses, fresh vegetables, and sauces can combine between two slices of bread. The Grilled Chicken, Prosciutto + Provolone ($10.50), as the name suggests, packs grilled chicken within a sliced hunk of chewy bread; the meat is covered in a melted layer of provolone cheese and stacked with slices of prosciutto. Lemon-dressed arugula and romesco add tangy and spicy accents to the savory meat pairing. Like the salad selection, the sandwich offerings remain vegetarian-friendly – take the Veggie-Love Sandwich ($9.50) which features roasted and grilled vegetables with pineapple and pickles.
A section of "Rabbit Hot Plates" ranges in price from the $10.50 Ratatouille + Crusted Tofu to the $14 Seared Tuna. Each platter gets the hearty dinner treatment with added salad and mashed potatoes. The Flank Steak ($13) plate of marinated and grilled slices of beef with a lightly dressed green salad and a mound of red-skinned mashed potatoes isn't the type of meal one might expect from a quick-eats establishment, but the surprise is pleasant (and delicious).
Rabbit Salad and Grill is certainly not the first restaurant in the area to embrace the fast-casual dining trend. As the pace of life increases, local restaurateurs are responding with a variety of eateries that offer fast and easy ways to satisfy hunger. Rabbit Salad and Grill's health-conscious approach sets it apart, though. This restaurant has found a way to satisfy diners on the go without sacrificing quality, flavor, or even presentation. So, should that countertop case of Red Velvet Cupcakery confections beckon, a little treat is quite easily earned after a healthy meal.
Rabbit Salad and Grill is located at 3035 Clarendon Blvd., Arlington. For more information, call 703-243-5660 or visit rabbitgrill.com. Restaurant hours are Sunday – Thursday: 11 a.m. – 9 p.m. and Friday – Saturday: 11 a.m. – 10 p.m.