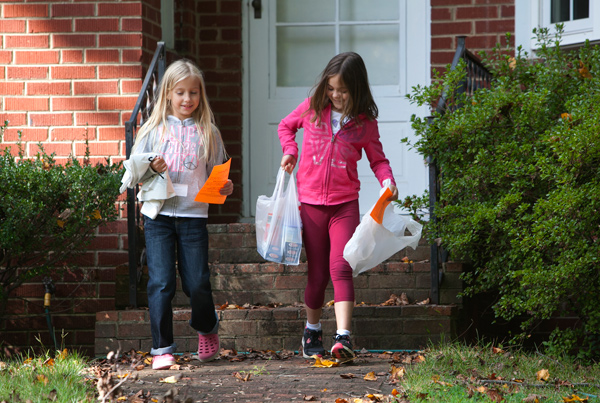 Volunteer canvassers, like Becky Rasmussen (left) and Eleanor Larsen pictured above, knocked on doors last weekend in the Falls Church area and asked that citizens make a donation of food items for local food banks and human services organizations. More than 5,000 food items were collected in this Day to Serve drive. (Photo: Todd Schvaneveldt)As part of a region-wide Day to Serve last Saturday, volunteers canvassed in and around the City of Falls Church to collect food items for food banks. Area citizens donated more than 5,000 food items during the drive.
The donations were made Tuesday to food banks run by the Falls Church Community Services Council and Columbia Baptist "Spend Yourself" Food Pantry. Other recipients were Homestretch, Winter Hill Section 8 housing, and the Falls Church Winter Homeless Shelter. HOPE received several boxes of baby items to help new mothers. Volunteers picked squash at the USDA fields in College Park and donated enough to feed 1,500 families to the Arlington Food Assistance Center.
More than 200 volunteers aided the community and interfaith effort; partners were Falls Church Presbyterian, Columbia Baptist, Knox Presbyterian, and The Church of Jesus Christ of Latter Day Saints (Falls Church Ward and Langley Young Single Adult Ward). Local business supporters included Entenmann's Bakery, CSI, Mobu Kids, Safeway and Giant Food.