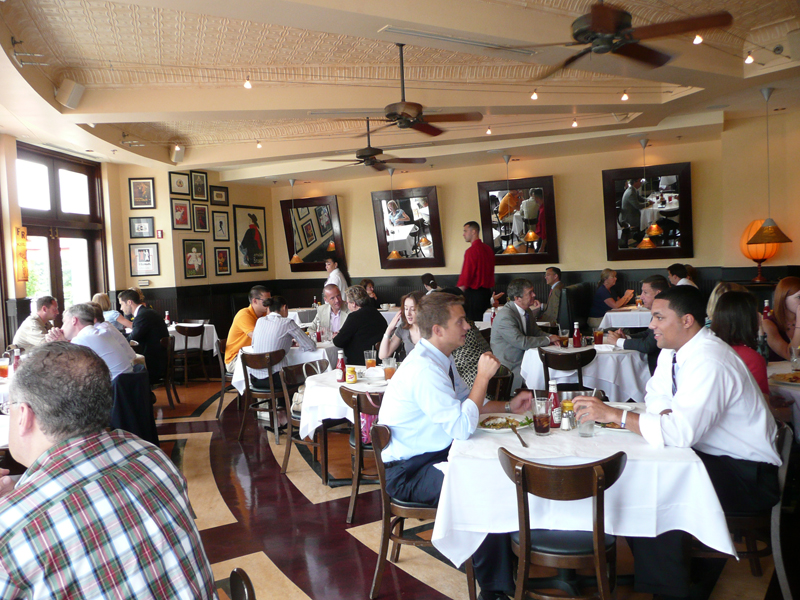 zpizza has a philosophy about food, and this restaurant chain isn't terribly shy about making it known. In fact, they're calling their philosophy a "pure pizza revolution."
Organic sauce, fresh vegetables, and additive-free meats are only some of the healthy touches zpizza has added to the much-loved pizza formula. At the chain's Falls Church location, tucked into a corner of West End Plaza on W. Broad Street, their unique take on pizza is immediately apparent. Signs scattered about the brightly painted interior of the restaurant and even the wax paper beneath the pies touts the pure-food approach, with quirky phrases like "OMG! No MSG."
The slogans do a bit to pique curiosity, but not as much as the smell of fire-baking pizza does. The scent of baking dough and melting cheese seem to bounce against the walls and waft throughout the restaurant. Pies situated in a countertop display stand at the ready to offer a slice, but customers can also order custom pies for take-out or dining in. (Delivery, too, is available).
The restaurant offers a small selection of traditional pies that includes enough of the favorites. Among them is the pepperoni pie, available in sizes ranging from a small 10-inch to an extra large 18-inch serving from $8.50 to $19.50. The signature ingredient on the pie is the "Pure Pepperoni," a lower fat, preservative-free variety of the classic deli meat. The pepperoni flavor is milder than in the standard, but the health benefits make up the difference, assisted by melted cheese and a crispy crust.
While the restaurant makes the classic pizza pies that most diners are familiar with, the zpizza creations stand out for the inventive ways they blend ingredients. The ZBQ pie adds barbecue chicken, corn, and cilantro to a barbecue sauce base. The Mexican pie places slices of avocado atop salsa and spicy lime chicken.
The Thai pizza among them (from $9.95 to $20.95), puts a layer of peanut sauce down on the hand-tossed dough, which is topped in a colorful blend of carrots, bean sprouts, mozzarella cheese, seasoned chicken, red onion, and cilantro. The fresh vegetables contribute greatly to the flavor of the pie, in a mix of ingredients quite unique for their pizza presentation. The texture of crunchy bean sprouts, crisp char-bordered crust, and soft cheese is delightful.
Salads, sandwiches, pastas and more – all made with the same attention to healthy ingredients – are also available, as are appetizer dishes like Parmesan Flatbread Sticks ($3.95). Unlike the more familiar take on the cheese-and-bread starter, these sticks are crunchy, right down to the crisp layer of melted parmesan cheese that coats the garlic-buttered breadsticks.
To take a beloved food and find ways to make it healthy for all, even vegan and gluten-free diners, is admirable. Finding a new way to render an old favorite, though, be it a healthier take or a creative topping blend, is quite impressive, and zpizza will surely have diners thinking differently about their treasured pizza pies.
zpizza is located at 1051 W. Broad St., Falls Church. For more information, call 703-536-6969 or visit fallschurch.zpizza.com. Restaurant hours are Sunday – Thursday: 11 a.m. – 9 p.m. and Friday – Saturday: 11 a.m. – 10 p.m.