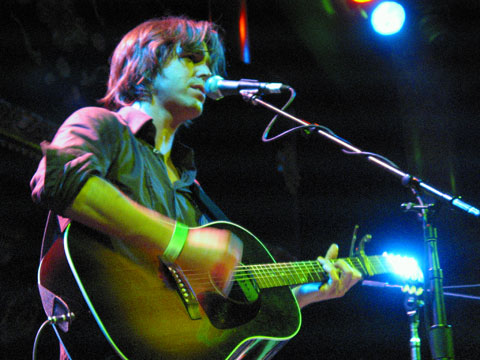 (Photo: Mike Tompkins)What if you could record a duet with a singer you greatly admire? What if you just knew her voice would fit perfectly on a song you had written? What if you just picked up the phone and asked her to join you in a song? Seem daunting? Blackie and the Rodeo Kings did just that, and not just once.
The product is the band's latest album, Kings and Queens, which features a roster of guest vocalists that reads like who's who of female folk and country stars – Rosanne Cash, Emmylou Harris, Lucinda Williams, and the list goes on.
The first few calls went out to artists close to the band. Friends and fans of the three longtime solo artists who make up Blackie and the Rodeo Kings – Colin Linden, Stephen Fearing, and Tom Wilson – signed on to the project; their support bolstered guitarist and producer Linden's faith in his enterprise.
"When you have a good crew that is being put together, it gives you a little bit more confidence in your ability to actually pull it off," Linden said.
Soon Linden was contacting artists the band had only dreamed about recording with, "cold-calling" musicians the band members had maybe met in passing or hadn't met at all, like country-punk singer Exene Cervenka and E Street Band songstress Patti Scialfa.
For some of the tracks, the band had a song in mind before the call was even made, something they felt would suit the singer's voice. For others, the band sent along a few tracks that might work and let the singer decide, giving them room to find themselves in the song.
There were some no's along the way. Recording, writing, and the other commitments of full-time musicians kept some away from the project. But Linden says the lineup that came together for Kings and Queens was better than he could have ever imagined.
"Sometimes the way a project turns out ends up defining itself in a way that is more perfect than you could have conceived," Linden said. "I feel so fortunate for every one of the women who joined us on this record. Everybody was great."
The project continues to surprise Blackie and the Rodeo Kings now that they've taken it on the road, as guest vocalists give the songs new life in front of an audience or, alternately, as the trio recreates the album's tracks in the absence of the original singer. The band will perform from its Kings and Queens album Oct. 11 at Iota Club and Café in Arlington, which may include a yet-to-be determined slate of local guest vocalists.
But the Kings and Queens venture is just the latest in a record of pleasant surprises that have made a band first intended as a one-off side project into something more.
Canadian folk musicians Linden, Fearing, and Wilson first teamed up in 1996 to make a single tribute album to Willie P. Bennett, an accomplished singer-songwriter who became a Canadian Country Music Hall of Famer in 2010, two years after his death.
For love of the band, and on the success of the first album, the group recorded another album, which contained the Canadian rock charting hit "Lean on Your Peers." The band's repertoire has expanded since its tribute album origins, including more original work in their records, but it still pays homage to the legend that inspired them. On Kings and Queens, Emmylou Harris tackles Bennett's "Step Away."
Blackie and the Rodeo Kings became an escape for the three career musicians, a way to have fun and do anything they pleased. Five more albums and a Juno Canadian national music award have followed.
"Blackie has been a blessing to all of us," Linden said. "It's given us so much more than we ever could have dreamt it would."
• For more information about Blackie and the Rodeo Kings, visit blackieandtherodeokings.com.