First Shift from Poll Deadlock In Over a Year
Slated to face off against his GOP rival George Allen in a major debate hosted by the Fairfax Chamber of Commerce and NBC-TV in McLean today at noon, Democrat Tim Kaine has opened a 51% to 44% lead among likely Virginia voters according to a new Quinnipiac University/CBS News/New York Times "swing state" poll reported on the Connecticut-based Quinnipiac University website yesterday. The result was a marked shift from over a year of deadlocks in polls.

The new eight-point lead for Kaine also mirrors a lead for President Obama over his Republican rival Mitt Romney in Virginia, considered a critical "battleground state" in the presidential race. According to the Quinnipiac poll, Obama's lead in Virginia is now 50% to 46%, with the report noting that Obama has "hit the magic 50 percent mark" among likely voters.
The poll shows that 71% of Obama voters say they "strongly favor" their candidate, compared to 55% of Romney voters. The poll shows that 91 percent have their "mind made up" already, and only 8% "might change."
Former President Bill Clinton appears, by the poll, to be an important factor in the better numbers for Obama following the Democratic National Convention, as 67% of those polled claimed a favorable opinion of him compared to only 29% unfavorable.
In another important indicator, 59% indicated that Obama "cares about the needs and problems of people like you," and only 44% felt that way about Romney. Only 7% said they felt Obama's policies would favor the rich over the poor or middle class, compared to 55% who felt Romney would favor the rich.
Asked if the Romney campaign "presents information that is accurate" 39% said just about always or most of the time, and 57% replied some of the time or almost never. Asked the same about the Obama campaign, 49% said all or most of the time and 49% said some or none of the time.
At a luncheon co-hosted by the Falls Church Chamber of Commerce and the Merrifield Business Association in Tysons Corner yesterday, U.S. Rep. Gerry Connolly told the News-Press that turnout in his 11th Congressional District, serving mostly the eastern end of Fairfax County, will be key to both Obama's and Kaine's chances. "Both have to win big in my district," he said.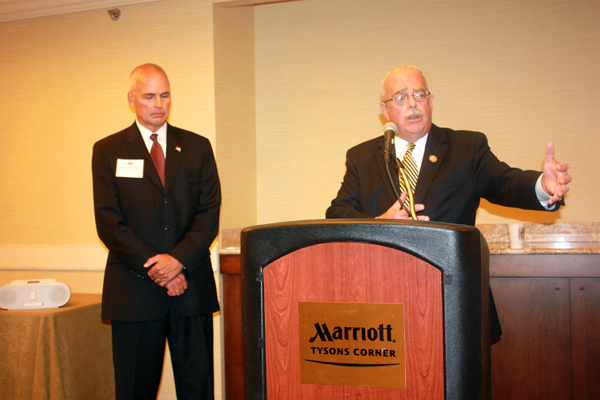 Democratic incumbent Gerry Connolly at the podium with GOP challenger Chris Perkins.
In an 11th District candidates forum at the luncheon, Connolly faced off against his rivals and called for cancelling the 7.5-week congressional recess set to begin Friday, saying that "if the threat of sequestration is a real crisis, and it is, then Congress should cancel its recess, at least in part, to resolve it."
Connolly is seeking a third Congressional term in this November's election, facing challenges from the GOP nominee, Col. (Ret.) Chris Perkins, three independents, Chris DeCarlo, Mark Gibson and Peter Marchetti, and a Green Party candidate, Joe Galdo. Following redistricting last spring, Connolly's chances are considered vastly improved over the serious challenge he faced in 2010 when he survived a stiff challenge when three other Virginia Democratic congressmen were unseated.
Perkins, DeCarlo and Gibson joined Connolly for the Tuesday, and it was noted that the looming issue of sequestration, should Congress fail to act, will hit Northern Virginia hardest, second only to Hampton Roads, as Virginia will take the brunt of $492 billion in defense budget cuts, the highest per capita cuts of any state in the U.S.
Connolly noted that the source of the threatened sequestration lies with the Republicans who failed to provide a "clean debt ceiling" for the first time in U.S. history, with some Tea Party types arguing that it would be OK with them if the U.S. defaulted on its debts. Following on Perkins' claim that sequestration would be "devastating to this area," Connolly called on his congressional colleagues to cancel "at least part" of the 7.5-week recess leading up to the November election.
Candidate Chris DeCarlo performs a rap to get his points across.Connolly became exercised in response to a questioner who claimed that the D.C. area is "only in the business of printing money." Connolly said the area is a pioneer in information technology, protecting national security efforts, developing drone technology, Internet capabilities, home to DARPA, developing GPS technology and leading the fight against the threat of IEDs, arming Humvees, and providing intelligence to avoid harm to U.S. forces and assets worldwide. "I am very proud of the contributions out companies make," Connolly said.
Perkins, Connolly's GOP challenger, stepped to the microphone and said, "Whatever the consequences of my saying this, my opponent's answer just now was spot on."
Earlier, Connolly praised the civility of all the candidates participating in the event. The presentations were led by DeCarlo, who gave his speech in the form of a rap song, one of a number that are, or soon will be, on YouTube.