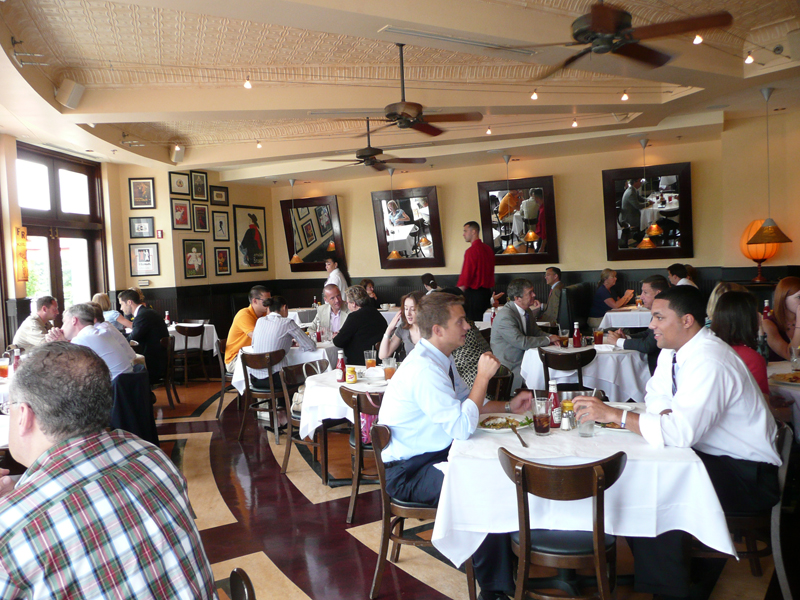 This month marked the opening of Eamonn's, the latest among a growing list of eateries setting up shop in the Penrose Square development on Columbia Pike in Arlington. The restaurant is the second to bear the name, fashioned after the original in Old Town established by Alexandria restaurateurs Cathal and Meshelle Armstrong.
Both restaurants, named for the chef's son, draw inspiration from the hole-in-the-wall fish and chip shops of Cathal's native Dublin. From the battered and fried fish, paper-wrapped, to the thick-cut and crispy chips begging for some malt vinegar or a dip in tartar sauce, the fare speaks to this fried and fabulous quick-eats tradition, but a few gourmet touches elevate the cuisine.
Eamonn's only serves up sustainable fish, so diners can eat with peace of mind regarding their environmental impact. Cod tops the list (and finds its way into the restaurant's motto, "thanks be to Cod"). The regular portion of the fish costs $8; a small portion at $5 still offers an ample palm-size serving of fish. Other fish varieties that make the menu range from the $6.50 Whiting to the $8.50 Ray. Massive planks of the fish, tucked into paper envelopes for hand-held eating, are battered and fried for a crisp – not doughy – coating over the moist, flaky fish.
Fresh hand-cut chips ensure preservative-free eating. The unadorned chips ($3 for a single serving, $4.50 for a large) are satisfying alone, but topped varieties with curry sauce, chili, and, as the Hangover Chips ($5.50), fried egg and curry sauce, are also served.
Each order of chips and fish comes with a single selection from the "Secret Seven," a septet of hand-crafted dipping sauces that are "made by humans in our own kitchen," the menu boasts. Tartar and chili sauce seem the only familiar creations among the seven. Mayonnaise combines with ketchup and Tabasco sauce (the Marie Rose), beloved seafood seasoning Old Bay (the Chesapeake), olives and capers (the Kitty O'Shea), and mustard (the Fronch) to make four thick sauces that complement the fish. A cup of curry sauce, a flavorful yellow variety with pleasant heat, rounds out the order.
An "Everything Else" menu section includes side and entree options for those looking for more than just fish or chips, among them classic Irish eats like the Shepherd's Pie ($8) and a few hamburgers for red meat eaters.
Options like deep-fried beef patties and sausages are playfully over-the-top. "Jump right in, the water's warm," as the old saying goes, seems in this case to apply to all types of batter-dipped treats bathed in hot oil. Among "Sweeties" available for dessert are fried candy bars ($3.50), which melt chocolate and filling within a doughy sugar-sprinkled pack. Bananas and dough balls also get the fried treatment. A lighter alternative – and possibly the first time this dessert has earned such a designation – is a simple vanilla soft-serve ice cream cone, spruced up with a stick of the Irish chocolate candy Flake. Eamonn's calls this concoction the "99" ($2.50).
Good food at a good price is hard to come by. Good food at a good price that still feels like a special dining experience is downright rare. But with delicious, ethical eats served with tradition, and offered at bargain prices, Eamonn's is one such rarity.
Eamonn's: A Dublin Chipper is located at 2413 Columbia Pike, Arlington. For more information, call 703-920-0315 or visit eamonnsdublinchipper.com. Restaurant hours are Monday – Thursday: 11:30 a.m. – midnight; Friday – Saturday: 11:30 a.m. – 1:30 a.m.; and Sunday: 11:30 a.m. – "whenever"