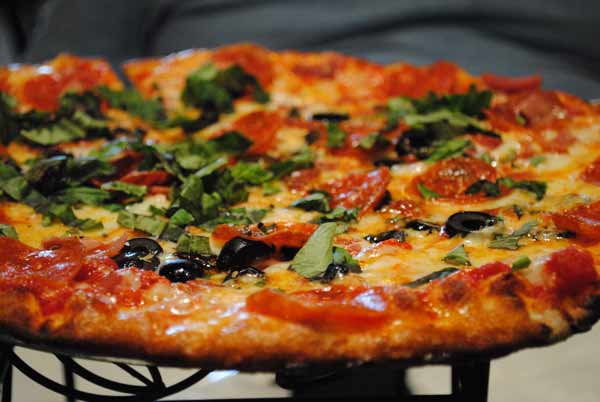 Rustic brick arches. Expansive murals, some of floating bottles of wine, others of imagined village alleyways. The repeating green, white and red of the Italian flag. At Pie-tanza, no small amount of attention has been paid to transforming a little piece of Falls Plaza into an Italian getaway. It's enough to spark the imagination and excite the taste buds with thoughts of the pizzas and pastas to come. But the piece of the restaurant that promises most for the meal, an element just barely visible from the front door amidst this playful faux-Italiano presentation, is a serious wood-burning oven that cooks up Pie-tanza's pizzas.
From that behemoth brick oven at the back of the restaurant comes the thin, crisp-crusted pies on which the restaurant has made its name, first at its North Arlington flagship and later at the Falls Church location. The restaurant offers a dozen of the 12-inch pizzas, each about $12, which boast gourmet toppings in combinations above and beyond standard pizza-house fare. Pie-tanza's answer to the plain cheese pizza is a four-cheese pie ($11.89) combining fresh mozzarella, fontina, gorgonzola crumbles and shaved parmesan. Its pepperoni pizza, the "primo pepperoni" ($11.99), tops a three-cheese blend with massive sandwich-sized pepperonis. And that's just the Pie-tanza take on classic pies. In addition to those offerings are more inventive pizzas, like the antipasto pizza ($12.29), which takes staples of the Italian starter platter (cured meats like prosciutto, salami and pepperoni, cheeses and black olives), stacks them on pizza dough, and sprinkles the whole pie in shredded basil for a creation rich with the favorite flavors of Italian cuisine. Just shy of 40 gourmet toppings (kalamata olives, grilled eggplant, pine nuts, the list goes on) allow for customers to personalize their pies or to make a pizza of their own choosing.
While pizza is the highlight of the Pie-tanza fare, those who find the mix of crunchy crust and stringy cheese less than irresistible have a wide array of salads, subs, sandwiches, wraps, calzones and other entrees to choose from – among them many pasta dishes. Spaghetti and meatballs? Of course. Lasagna? Both the ground beef variety and a vegetarian alternative packed with roasted vegetables. About 10 pasta dishes, ample in portion and each less than $12, are listed among "Pie-tanza favorites." The sweet tomato cream penne ($11.79), showcases shaved rosemary chicken, flecks of the meat bound to penne noodles by a thick, creamy and sweet tomato, garlic and parmesan sauce, all served under a lattice of melted strands of cheese.
A glass of house wine, or a carafe for the table, and appetizers like fried mozzarella planks ($6.89) and various baked breads, can make an entree into a meal, but the ending to the Italian feast beckons from the moment diners sit down, and begs that they save a bit of room for something sweet. Chalked onto the wall and printed on table-top menus, the dessert selection is surprisingly extensive – about a dozen in all, with house favorites marked with an Italian flag.
The wood-burning oven that makes such crispy pizza crusts does double duty with the wood-fired cinnamon flatbread ($3.99) dessert option. The name is a bit deceiving, though. The cracker-thin bread does have that wood-fired char and crunch, but the cinnamon seems only a decoration that hardly competes with the honey that glistens in drizzles across the bread pieces. If that hefty dose of honey isn't decadent enough, Pie-tanza has fused soufflé and sundae for an over-the-top treat ($6.29). A warm chocolate soufflé is flanked by scoops of espresso ice cream, topped with whipped cream, and sprinkled with crushed dark chocolate-covered espresso beans. In what seems equal parts suggestion and caution, the menu says this massive dessert is a good pick for sharing. After a meal of shareably-sized Italian eats, dessert may indeed need to be a team effort.
Pie-tanza is located at 1216 W. Broad St., Falls Church. For more information, call 703-237-0977 or visit pie-tanza.com. Restaurant hours are Sunday – Thursday: 11:30 a.m. – 9 p.m. and Friday – Saturday: 11:30 a.m. – 10 p.m.