Last Tuesday, Homestretch hosted a back-to-school picnic and carnival for 120 children, featuring games, raffles, arts and crafts, face painting and a visit from the Falls Church Volunteer Fire Department. Each of the children received a backpack filled with school supplies for the upcoming year. Homestretch is a Falls Church-based non-profit organization that assists homeless families with children transition to permanent housing and self-sufficiency.
In addition to providing backpacks and supplies to children enrolled in its program each year, Homestretch attempts to provide each child with a computer, but finding computers for over 100 children is a challenge. Homestretch is continuing to expand its services and is scheduled to open a licensed day care facility in the fall.
The event was organized by Homestretch, but staffed by over thirty volunteers from the community who assisted with the activities and passed out the backpacks.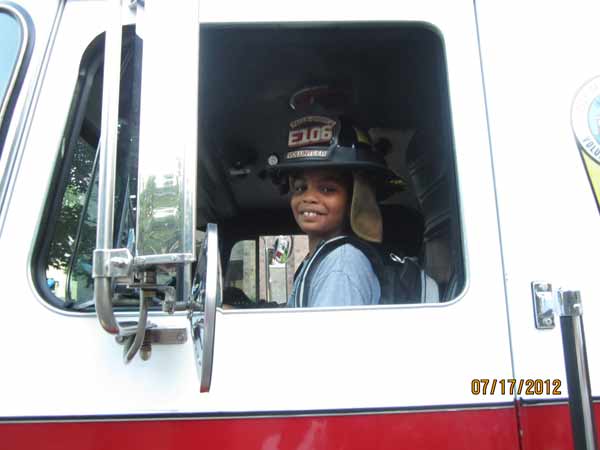 The Falls Church Volunteer Fire Department brought their fire engine and allowed children to climb inside the truck and turn on the emergency lights.
Falls Church Volunteer Firefighters Kevin Henry and Shannon Goodhue also demonstrated how firefighters use their breathing apparatus, prepare to go into a fire and use the tools on the truck when they arrive on the scene of a blaze.