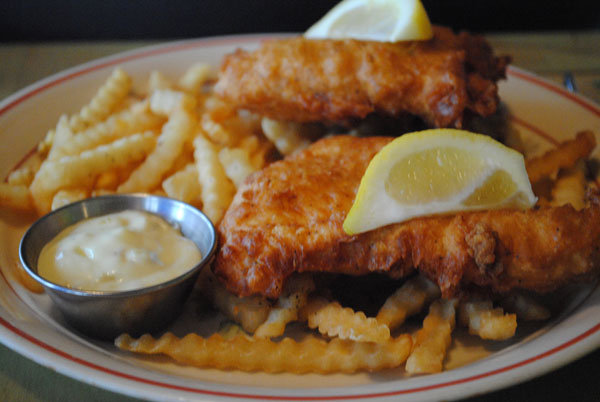 With temperatures reaching the 90s, many in the area are probably casting longing eyes toward the beach looking for some summer relief. But with work and family commitments, it's hard to find time to get away. Luckily, Clare and Don's Beach Shack offers a temporary tropical hiatus located conveniently in the City of Falls Church.
It takes just one step onto the restaurant's beloved back patio for diners to be transported to an oceanside getaway. Bright bursts of color come from tables and chairs that wrap around the restaurant's blue cabana-like exterior, the walls adorned with beachy décor. An on-site bar keeps the libations flowing for those who want to soak up the sun and wish the concrete into white sand.
The beach theme carries into the indoor dining room and bar, the space decorated with painted flip-flops walking the walls, a large mural of a beach scene, and other coastal knickknacks – many sporting some Florida pride, as Clare and Don's is, the restaurant boasts, "a taste of Florida right in the heart of Falls Church City."
As might be expected, that taste of Florida comes with a seafood-heavy menu. A chalkboard lists the catch of the day, promising a variety of fresh fish which ranges in price and is available three ways – char-grilled, pan-seared, and blackened. The spot's most popular dish is the Fish Tacos platter ($11.75). The entree serves a fillet of mahi mahi atop a bed of brown rice, alongside marinated cabbage and a savory serving of refried beans. The fish comes grilled or blackened, the latter treatment giving the fillet a powerful coating of spicy seasoning. All are meant to be wrapped to the diner's delight in three soft tortillas. From the heat of the blackened rub over the tender fish, to the cool and crunch of the cabbage, the tastes and textures blend wonderfully.
Fish gets the deep-fried treatment in the Fish 'N' Chips basket ($10). The fish is fried in a homemade beer batter, and the result is a fluffy breading, crisp on the outside, that imparts honest beer flavor and seals in moist fish.
Clare and Don's isn't just limited to fish, though. The restaurant's menu offers all sorts of delicacies from the water – shrimp, lobster, scallops, oysters and alligator. Yes, alligator.
The Lake Alice Gator Tail ($6.50) is offered up as an appetizer, listed on the menu with the promise that "yes, it's real gator!" Tiny curls of the meat, mild in flavor and slightly chewy in texture, are served seasoned, battered and fried along with a zesty dipping sauce for a crunchy treat. Fried concoctions reign supreme among the appetizers, like Dill Pickle Chips ($4), and Tater Tots ($4) that are served on their own or with a helping of chili, cheese and sour cream ($5.50).
Appetizers range in price from the $3.50 Hush Puppies to the $8.50 Clare's Crab Cake, and while diners can treat themselves to more costly seafood feasts and surf and turf combos, most entrees come in at under $15.
A plane ticket to Florida costs a few hundred dollars. With bargain prices and so many of those beachy charms, Clare and Don's is certainly a more affordable way to vacation, if only for a meal.
Clare and Don's Beach Shack is located at 130 N. Washington St., Falls Church. For more information, call 703-532-9283 or visit clareanddons.com. Restaurant hours are Sunday – Thursday: 11:30 a.m. – 11 p.m. and Friday – Saturday: 11:30 a.m. – Last Call.