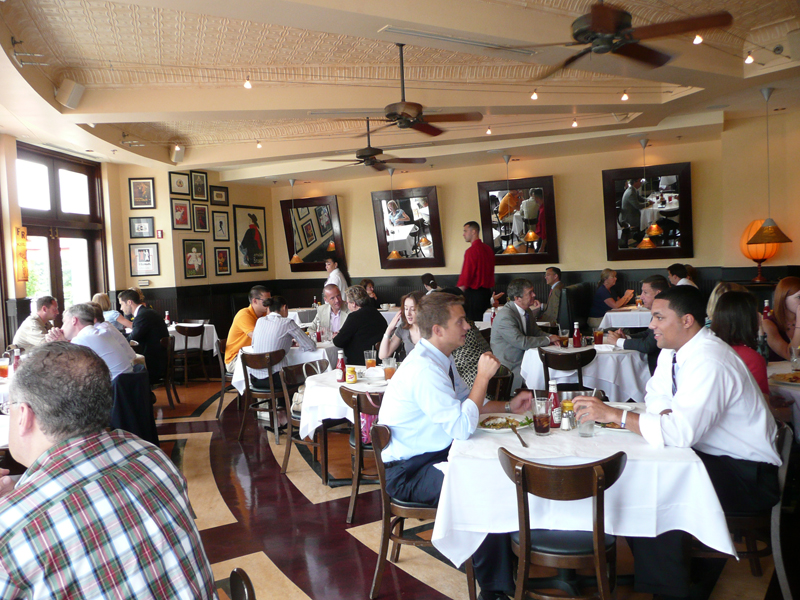 While its 130-item menu might not suggest it, Hunan Cafe, a Chinese food restaurant located on West Broad Street in the City of Falls Church, keeps things simple.
The restaurant has a few tables set up within its tiny space to accommodate eat-in diners, but those who opt to stay and eat won't find the dining experience so different from what they'd get if they had placed a carry-out or delivery order.
Save for large platters, dishes are served on Styrofoam plates, with a stack of disposable plates and plastic flatware provided for diners to grab what they need in the waitstaff-free dining room and find a table after placing their order at the cash register. They should be prepared, though, to take some time in deciding what to eat, as the 130 appetizers, soups, and dishes made with rice, noodle, egg foo young, pork, poultry, beef, seafood, and vegetable pose no small challenge for the indecisive.
A menu section of chef's specialties helps, including take-out favorites like Sesame Chicken ($9.95), but also less common fare like Yu Ling Duck and Peking Duck ($24.50). A selection of lunch specials – a mere 20 in all – also makes deciding easier. Served Monday through Saturday from 11 a.m. – 3 p.m., no lunch special costs more than $7, and all are served with an egg roll and fried rice.
It isn't long after placing the order that food will start making its way to the table, brought out from the heat and noise of the back kitchen on cafeteria trays and dropped off. The service is speedy, and appetizers like Vegetable Roll ($1.20) and Pan Fried Dumplings ($4.95) are served piping hot. The former is a crispy, flaky spring roll, small and stuffed with shredded vegetables. The latter offers up a surprising six meat-packed dumplings, made with some crunch from pan-frying but with an overall doughy covering around the ground meat ball. Among the other appetizers offered – about a dozen, most costing only about $5 – are the Beef Strips ($4.75), four long strips of savory skewered beef, tender yet crisp at their thin edges.
Generously portioned appetizers give way to massive dinner entrees. On the cheapest end of the spectrum is the $7.25 Fried Rice, and the pork variety of the dish is cooked with enough of the sizeable cubes and an assortment of mixed vegetables to make a meal of it.
Chef specialty dishes tend to be pricier, though few cost more than $12. Among them, the General Tso's Chicken ($9.95) plates moist pieces of chicken, battered and fried well enough to stand up to a thick sauce that is sweet and only slightly spicy. The Crispy Beef ($11.50) combines little slices of super-crispy fried beef with assorted vegetables in the chef's special sauce. The result is a candy-sweet concoction that, while at first exciting and unique, elicits a less enthusiastic reaction as the sweetness and crunch grows tiresome.
Fast service and variety are pluses, but the prices are most impressive. $7 lunches and $10 dinners are hard to come by without hitting a drive-through and the sizeable portions make the costs all the more remarkable. It's not fancy, but the draw of cheap and fast Chinese food is irresistible, and Hunan Cafe is a convenient spot for those in the City looking to satisfy their cravings.
Hunan Cafe is located at 126 W. Broad St., Falls Church. For more information, call 703-533-8704 or visit hunancafefallschurch.com. Restaurant hours are Monday – Thursday: 11 a.m. – 10 p.m.; Friday – Saturday: 11 a.m. – 11 p.m. and Sunday: Noon – 10 p.m.