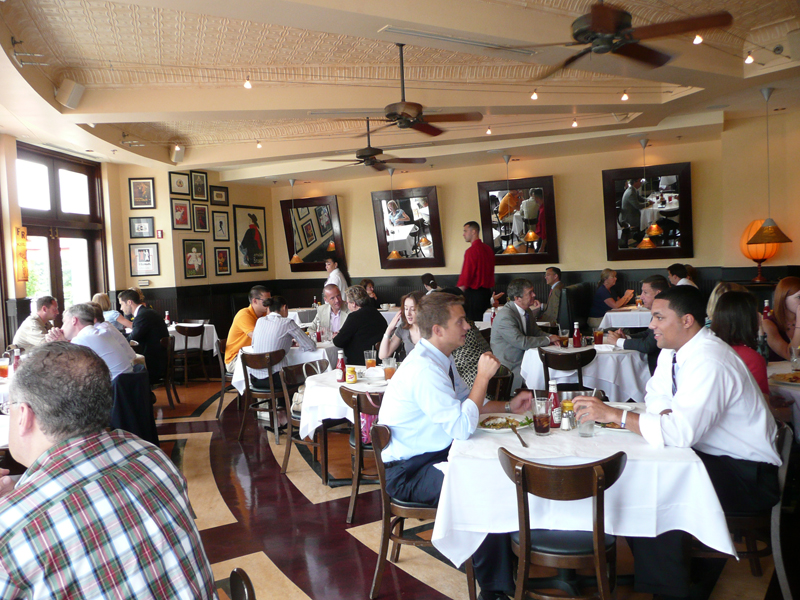 The Noodles & Company restaurant that opened recently on Leesburg Pike, situated within Idylwood Plaza, joins several located through Northern Virginia, and hundreds across the nation. The restaurant chain, founded in the mid-1990s in Denver, boasts a menu of about a dozen noodle dishes, labeled based on which region of the world its tastes are inspired by – Mediterranean, Asian or American.
Among the Mediterranean pasta dishes, hearty noodles like penne and whole-grain linguine are cooked in several different treatments. In the Pesto Cavatappi, hollow, curly noodles are coated in a basil pesto sauce, which is pleasant, but mild in flavor. Added to the mix are bits of mushroom and tomato, and the whole concoction is topped with shreds of a potent Parmesan cheese.
The Asian portion of the menu is made mostly of dishes with Thai cuisine influences – curry sauce and peanut sauce with bean sprouts are added to the vegetable blend, laid upon a bed of long rice noodles. The Bangkok Curry serves rice noodles in a coconut-milk-sweet and lightly spicy sauce, with bits of broccoli, carrots, red pepper, onion, mushroom, and even cabbage bringing bright colors and crunch to the mix. Chili pepper silhouettes on the menu denote spicy dishes, and the spiciest of them all – the Indonesian Peanut Saute, marked twice with the warning – can be found among the Asian menu dishes. In it, a spicy peanut sauce wraps around rice noodles, which set against the cool of bean sprouts and cabbage makes for an interesting combination.
As is to be expected, macaroni and cheese reigns supreme on the American section of the menu. It's offered up two ways – the Wisconsin Mac & Cheese (the top seller, the menu touts) and the Truffle Mac (much like the former, but with the addition of Parmesan cheese, portabello mushrooms and a hefty, potent dose of white truffle oil). The Wisconsin Mac & Cheese offers a creamy mix of cheddar and jack cheese poured over elbow macaroni. The dish is topped with shredded cheese, which melts delightfully into strings between the noodles as the fork finds its way through the bowl. It is a mild rendition of the dish, with cheese flavors that don't overwhelm.
Bowls of the pasta cost $5.60 for a regular portion, and $4.50 for a small serving (though a few dishes on the menu come in below and above that price point, the Steak Stroganoff topping the list at $8.25 for a regular portion). Meats and tofu pieces can be added to each menu item, for an added cost of between $2.39 and $2.65. Add-ins available are Parmesan-crusted chicken, chicken breast, marinated steak, shrimp, meatballs and organic tofu. Recommendations for meat-and-noodle combinations are listed with some dishes – like suggesting that shrimp complements the Pad Thai, and that meatballs would go well with the Buttered Noodles. A bit of protein may be welcome, but most dishes don't rely on them, making finding something to order easy for vegetarians.
While noodles may be paramount, other items have found their place on the menu, like entree salads and soups in each of the three international treatments, and side salads and soups can be added to an entree for an additional $1 charge. A set of five sandwiches strays from the noodle-bowl concept. The Wisconsin Cheesesteak puts the cheese sauce from the house macaroni and cheese to good use, serving it with chunks of steak and red bell pepper, red onion and mushroom on a chewy ciabatta roll.
Speedy service makes Noodles & Company a convenient spot for on-the-go eating, and customizable dishes, a broad variety of flavors, and mild tastes means most diners can find something that satisfies.
Noodles & Company is located at 7511 Leesburg Pike, Falls Church. For more information, call 703-442-7525 or visit noodles.com. Restaurant hours are Sunday – Thursday: 11 a.m. – 9 p.m. and Friday – Saturday: 11 a.m. – 10 p.m.