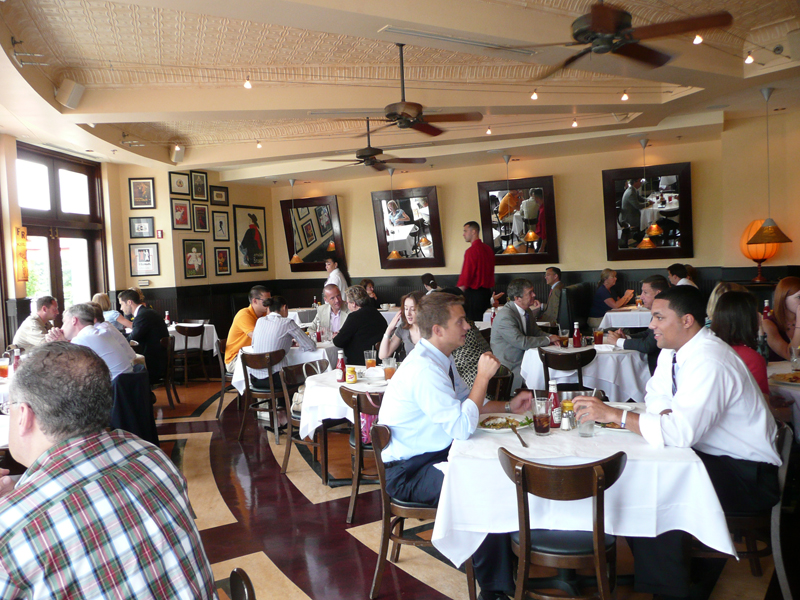 The new Chasin' Tails restaurant on N. Washington (Rt. 29) at Westmoreland, across from the La Cote D'Or restaurant and at the site of the former Bear Rock Cafe, brings something truly unique to the Falls Church area, yet in keeping with a growing diversity and selection of dining and entertainment venues.
It matches in its own unique way the Mad Fox Brew Pub on the other side of this small town, appealing to a younger, sports-oriented crowd not afraid to get their fingers dirty or ashamed to don a management-supplied bib to protect shirt fronts from all that wonderful Cajun sauce and bits flying off of cracked crab legs and crayfish.
"No plates. No forks. No rules!" is the motto of Chasin' Tails. Instead of a table cloth you get a roll of butcher paper. Instead of linen you get a roll of paper towels. You can get flatware if you beg for it. Despite this writer's best efforts on samples of the food, the waitress commented how neat my table was when I was done. "What did I do wrong?" I asked.
I had a bowl of the jambalaya at $8, semi-spicy and fresh. "Made from scratch and simmered for hours to breing out deep, bold flavors that would make Louisiana natives homesick," the menu reads. The same claim applies to the seafood gumbo.
Then I went to the Fried Fixins' list, where from a selection of shrimp, soft shell crab, calamari, catfish bites, gator bites (really?), popcorn fish tails and chicken tenders I chose one of my favorites, fried oysters. "Each selection is hand tossed in our homemade batter and fried to a golden perfection right when you order it," according to the menu. They all come with very tasty and crunchy Cajun fries or for $1 more, sweet potato fries.
Then came my main course, my "Bayou n' a Bag." This requires three steps. Step 1 is "What is your catch?" Do you want crawfish (flown in live from the bayous of Louisiana), shrimp, snow crab legs, king crab legs, blue crab (offered Sundays only), lobster, clams, mussels or raw oysters?
Step 2 is to select a style. Do you want it prepared as original Cajun, lemon pepper, garlic-butter, or the "whole shebang," a combination of all three?
Step 3 is to select your heat level. Do you want it mild, medium, hot or N'awlins hot? Check, check, check.
Then comes the bucket with the large plastic bag housing your combination of choices. The bag comes out of the bucket and is placed on the butcher paper before you. On goes your bib. Then you dig in with your hands and fingers. Roll out the paper towels.
Now, we know how challenging it can be to get the meat out of crab legs or crawfish, so be prepared for making a big mess, especially with all the spicy sauce they are mixed in with. There's some corn on the cob and baby whole potatoes in that bag, too. Prices for "Bayou n' a Bag" range from $10 a pound to market price.
For the serious eater, the "Bayou Catch" is offered Mondays through Thursdays that is a mix of a pound of crawfish and a half-pound each of shrimp, clams, mussels and snow crab legs. Corn, potatoes and four pieces of Andouille sausages are thrown in and it all goes for $39.
Chasin' Tails is located at 2200 N. Westmoreland St., Arlington. For more information, call 703-538-2565 or visit chasintailscrawfish.com. Restaurant hours are Sunday – Thursday: 3 – 10 p.m. and Friday – Saturday: 3 – 11 p.m.