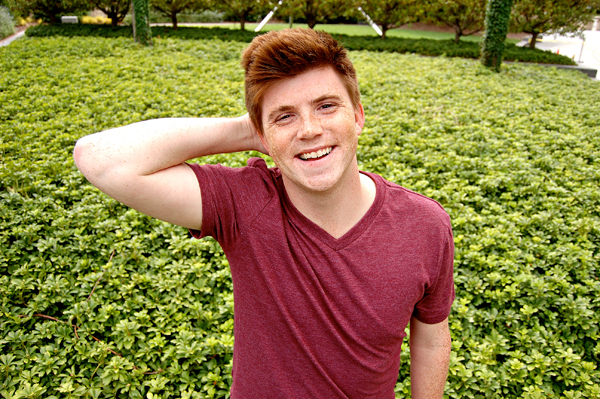 Brian Glennon may have left college a semester short of earning his communications degree, but the pop singer-songwriter is putting the skills he learned in school to good use in his latest venture: Independent recording artist.
The 23-year-old Leesburg native decided to leave halfway through his senior year at Virginia Tech in early 2011 to pursue his musical passions.
"Basically," Glennon said. "I was in school and kind of came to a crossroads: Do I continue going to school, or do I pursue doing something I love now?"
Since then, Glennon has been at the helm of several social media outlets, getting his music out to audiences and doing the promotional heavy-lifting that comes with being an unsigned musician.
"It's definitely helped in being able to market yourself to people who don't know who you are," Glennon said of his communications experience. "It gives them a way of finding you without really having to go out of their way. It's just one click away."
Through YouTube, Glennon released the music video to his song "Crazy" last month. The video, produced thanks to $500 collected from supporters via an online campaign, got several hundred hits in the first day and since then has soared past the 2,000 views mark.
"A lot of people have had a very strong connection with the song 'Crazy,'" Glennon said of the video's track, the lead song off of his EP Figure It Out. The quirky video stars Glennon as a man playing classic board games with a love interest in a companionship he can't seem to take to the next level.
"I think it's just that everyone's been down that road where there've been miscommunications in relationships, especially when you're trying to start the relationships," Glennon said.
The EP was recorded with Paul Barber. Glennon said the locally touted producer took interest in the project after receiving a few demo tracks.
"I just kind of shot him an email not knowing what to expect. He's pretty renown, in my eyes," Glennon said. "When I heard back, I was extremely surprised at first."
Barber and Glennon were able to clear out a week in March to record the debut release.
"Five songs in five days," Glennon said. The result is a vocals-driven pop record with simple, catchy melodies delivered by the strum of guitar and lyrics running the gamut of all things love – heartache, frustration, desire and infatuation. The songs are very personal to their author, but not necessarily revealing.
"People get what they want out of it," Glennon said, "but for me when I write a song there is subcontext that is written in the lyrics that you might not understand unless I fully explained what each song was about." It's that puzzle-building that Glennon says inspired the title of his EP, inviting listeners to literally "figure it out."
Glennon is currently working on a follow-up EP, an all-acoustic record more in line with his solo, unplugged stage shows.
"It's going to be a raw, basic and strictly acoustic," Glennon said of the upcoming album.
Glennon said, however, that for his Feb. 13 show at Jammin' Java, a double bill with Find Vienna, he'll be accompanied by a small backing band with a percussionist and an upright bassist to add "a bit more liveliness" to match the current EP.
While early on in his recording career, Glennon has big hopes for the future.
"Basically, I'd love to be able to play – just tour the United States and play music consistently and gain fans," Glennon said, adding that down the road he'd like to make the switch to the other side of recording, writing songs and doing studio work instead.
• For more information about Brian Glennon, visit reverbnation.com/brianglennon.