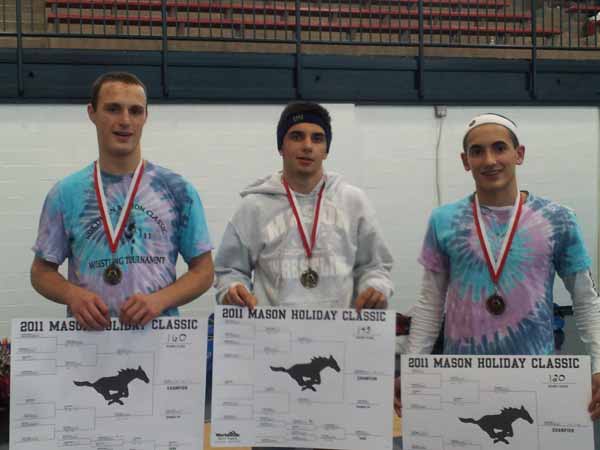 The George Mason High School wrestling team finished in third place at its inaugural Mason Holiday Classic Thursday in the GM Pit.
Riding championship performances by Danny Seidita, Alborz Alaeddini, and Ze'ev Lailari, the Mustangs finished close behind second-place finisher West Potomac in the tournament won by Strasburg High.
Seidita (120 pounds) made quick work of all three of his opponents, winning his first two bouts by technical fall, with the culmination of his day coming in a fall over South County's Elias Escoto in 1:46 in the finals.
Alaeddini (145 pounds), returning to action after an almost three-week injury layoff, recorded two falls en route to a 13-9 victory over Strasburg's Tyler Drummond.
Coach Bryan Harris was glad to see his senior co-captain back on track in what has been a frustrating season so far for Alaeddini.
"Alborz showed no negative effects of a shoulder strain which has derailed his season so far," said Harris. "That is certainly a positive step considering how much it has hampered him for the past several weeks. We have to keep him healthy now."
The highlight of the day, however, was Ze'ev Lailari's 5-3 overtime victory over defending state champion Anthony Jewett of Madison County. Lailari (160 pounds) secured a take down less than 20 seconds into the extra period to come away with the victory.
In addition to the three championships, Mason got excellent performances from Max Aifer (126 pounds) and Jake Acosta (285 pounds), who each finished in second place.
The Mason wrestlers were back in action last Wednesday at home, but results were not available at press time. They will compete Saturday at home at 10 a.m. The Saturday meet is their final home event and will be their Senior Recognition Day.