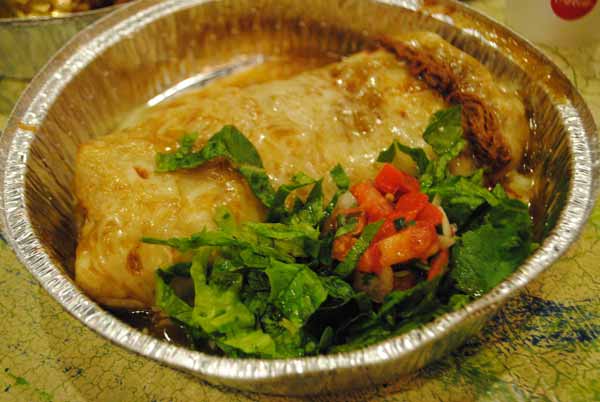 The immense impression of Cafe Rio spills forth upon opening the doors to this new Falls Church Mexican restaurant, as though its contents have been pressure-packed into a tiny Seven Corners-area spot.
The sights (vivid and varied colors make up the decor, walls dotted with bits of tile art and posters and tables and chairs quite literally splashed with color via flung and splattered paint), sounds (celebratory chants from workers when certain orders are placed and, on its Monday grand opening, the shuffling sounds of dozens of customers packed into the restaurant), and, of course, the smells (an assortment of meats at the ready), bombard the senses.
Ordering could be similarly intense, but large menus posted near the back of the restaurant, adjacent to the long assembly line where workers make the Cafe Rio fare, offer guidance on what dishes can be ordered and how they can be customized.
The restaurant offers up seven entree platters – burrito, salad, three tacos, two enchiladas, a taco and an enchilada, a quesadilla, and queso nachos – each served inside a tin bowl, both for take-out and for dining in.
The meat that fills out these dishes (or the lack thereof in the case of the vegetarian option) determines the cost of the meal, and the restaurant goes far beyond the ground-beef standard. Take the fire-grilled chicken ($6.95) and fire-grilled steak ($7.95) options, both serving up slices of the meat seasoned with a dry-rub blend which is lent additional charred flavor through grilling. Chicken also comes hand-shredded and braised in a mild sauce for a different take ($6.95). Chile roast beef ($6.95) is another braised option. The sweet pork barbacoa ($6.95) is a surprising addition to the otherwise mildly spicy pack of meats, with sweet and savory notes mingling in the shredded sauce-braised pork. But meats need not accompany the meal, as a vegetarian ($6.75) option adds cilantro lime rice, beans, cheese and sour cream on top of any entree pick.
Upon making those first two crucial selections, more choices – like adding black or pinto beans or a hot, medium or mild sauce – make for a more customized meal, and then it's on to the register to pay for the meal up-front before digging in.
The meal's bookends – appetizers and desserts – are selected at the register. The meal can begin with chips, accompanied by guacamole, salsa or queso in various sizes and combinations from $1.25 to $4.75. Desserts complete the meal, and Cafe Rio offers two selections at $3.95: Fresh lime pie or the famous tres leches (a surprisingly well-done adaptation of the cake for a quick-eats spot). A single order offers a mound of the sponge cake, made from scratch in-house, soaked in three deliciously decadent types of milk for a sweet, rich treat. Beverages from the restaurant's drink bar can also accompany the meal. The bar features sodas, but also a variety of iced teas, fruit drinks, and even a well-balanced, cinnamon-seasoned and milky, horchata.
The restaurant touts its use of only high-quality meats and fresh ingredients and its made-from-scratch tortillas, but the tortillas are most praiseworthy in the pack. Grilled on a large, rotating wheel before customers, transforming from a wobbly, doughy circle into the sturdy wrapper for the heaps of toppings to come, these tortillas are genuinely flavorful and contribute much to the burritos, tacos, enchiladas, and quesadillas in which they are used. When all components combine, diners are in for a fast and cheap meal that doesn't skimp on quality ingredients and flavor.
Cafe Rio is located at 6108 Arlington Blvd., Falls Church. For more information, call 703-962-9100 or visit caferio.com. Restaurant hours are Monday – Thursday: 10:30 a.m. – 9 p.m.; Friday – Saturday: 10:30 a.m. – 10 p.m.; and Sunday: 11 a.m. – 8 p.m.