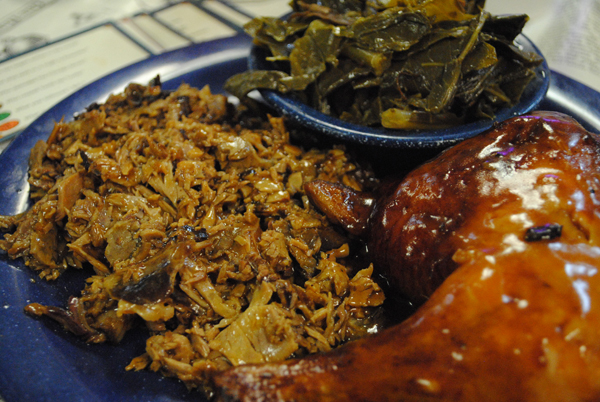 Most will agree that when it comes to barbecue, there's no better spot than a down-home kitchen. Whether it's crafted by someone's grandmother or uncle, good barbecue is often a family affair. Upon walking into Bubba's Bar-B-Q on the hunt for sauce-slathered delights, customers may just feel right at home.
The Merri Falls Plaza restaurant features, most notably, a vast assortment of pig figurines, in all different shapes, sizes and hues of pink, displayed on shelves across the walls. At the many tables filling the large space, covered in tablecloths reminiscent of newsprint in pattern, diners will find not only a variety of sauces to complement the meal to come, but also a mug full of well-worn Trivial Pursuit cards, allowing customers to spark conversation and inevitable rivalry while waiting for their meal to be prepared. Orders are made at the counter, behind which a large menu board displays the day's specials and the many meats that are smoked and served in ample portions.
Be it the hickory smoked pork ribs or the smoked brisket, the flavor is amplified through smoking the meat – bringing a more robust, fatty flavor without giant gobs of clinging fat – and coating it with a modest helping of a sauce that, while flavorful, doesn't have the heat present in other barbecue styles.
The meats are served in combination platters which plate helpings of ribs, chicken, pulled pork, shaved brisket, pulled chicken and shaved beef. The ribs lead the pack, offering morsels of meat that pull cleanly from the bone into bite-sized pieces of well-cooked meat. The chicken is equally admirable, with a savory skin that is downright butter-like in flavor concealing wonderfully tender meat beneath. While the brisket is underseasoned and a bit dry, even considering the tricky cut of beef, the bed of the tiny meat pieces make an ideal canvas upon which to paint with the sauces at the table, presented in unlabeled plastic squirt bottles, and a name-brand hot sauce.
The platters are accompanied by side dishes, which are entirely upstaged by the meats. The green beans, while flavored well by bits of smoked meat, lack the crispness in texture and vividness in color that suggest freshness. The collard greens matched bitter flavors of the leaves with some tanginess and smoky flavor, but the texture of the undercooked, firm greens leaves much to be desired. The hush puppies are delicious, but when deep-frying hunks of cornbread, little can go wrong.
Those not wishing to tackle an entire platter of meat might opt for any of the restaurant's sandwiches, which stack some of the same meats as its platters on top of buns. The pulled smoked pork sandwich, topped with optional coleslaw, is a delightful blending of textures, with the soft pork shreds stacking up to the crunchy slaw in every bite, but the mild flavors need assistance from the provided sauces.
Other menu items – like salads, burgers, deli meat sandwiches and deli salads – offer dining options for those less eager to dive head-first into the smoked meats.
Meals at Bubba's can all can be washed down with soda, beer or wine, but in grand barbecue tradition, the sweet tea flows here, and should not be passed up.
After the meal is done and the tablecloth – thankfully vinyl and easily wiped down – has become a wasteland of smeared sauce and discarded napkins, a case of desserts beckons from across the dining room, tempting diners with just a bit of space left over with some homemade treats.
While some of Bubba's dishes fall short, the restaurant consistently makes D.C.-area cheap eats lists (diners can expect to pay $15 apiece to be very well fed), and the cozy yet playful atmosphere and the delivery and catering options keep customers coming back for more.
Bubba's Bar-B-Q is located at 7810-F Lee Highway, Falls Church. For more information, call 703-560-8570 or visit bubbasbarbq.com. Restaurant hours are Monday – Saturday: 11 a.m. – 9 p.m.