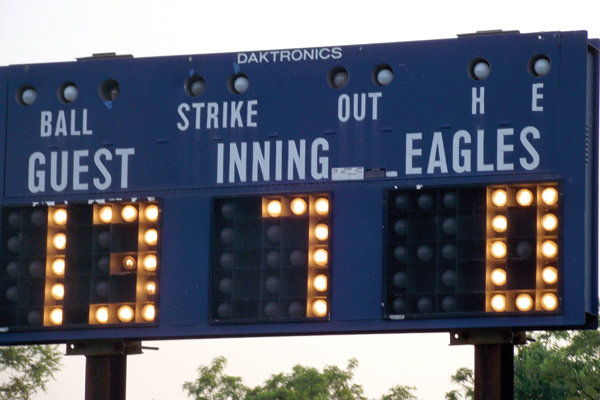 George Mason High traveled to Clarke County for a Region B baseball quarterfinal on Monday and plucked the host Eagles 13-0, thanks to powerful pitching by Mustang junior Max Kaplow (9 strikeouts, 1 hit, 1 walk) and relentless hitting. The Mason offensive onslaught included seven singles by juniors (three each by Kaplow and Stephen Lubnow, one by Jack Trainor), and five singles by the Mustang seniors (two each by Chris Horneman and Paul Weber, one by Tyler Duncan).
The victory, Mason's first in a baseball regional tournament since 2006, lifted their record to 15-8. Now the Mustangs turn their attention to a Wednesday regional semifinal against visiting Appomattox High School. Start time on Mason's field (which does not have lights) is 5 p.m.
Mason and Clarke had played two competitive games against each other in the regular season, each winning at home, and in the early going on Memorial Day, another close contest seemed to be in store.
Mason went up 1-0 in the first inning, when Lubnow drew a two-out walk, stole second, and then Kaplow singled him in. But the Eagles escaped with no more damage and held Mason scoreless in the second inning.
The Mustangs' defense looked sharp from the start: Kaplow struck out Clarke's first three batters, and after he issued his only walk to open the second inning, Clarke's hopes were snuffed when Duncan fielded a grounder at shortstop, stepped on second for the unassisted out, and fired to first baseman Lucas Cherry to complete the double play.
Clarke never made a threat on second base the rest of the time Kaplow was pitching. The Mustang ace, who last week was named Bull Run District Player of the Year, gave up only a bloop single, to Clarke's #9 batter Jacob Rion, but he was stranded at first base when Kaplow struck out Eagles' leadoff man Jesse Smoot.
Kaplow threw five complete innings, by which time Mason had built a 5-0 lead. In the third inning, Horneman and Weber each singled and scored, and in the fourth inning Horneman reached on a fielder's choice, sophomore Brian Crigler walked, and Weber brought in both with an RBI single.
The game-breaking inning for Mason was the sixth, when the Mustangs sent 13 batters to the plate and scored seven runs, thanks to hits by Horneman, Lubnow, Kaplow and Duncan, and also thanks to several Clarke errors. Eagles pitcher Smoot, who had relieved starter Ethan Emmart in the fifth inning, was pulled; his replacement Ike Dofflemyer finally got the third out to end Clarke's agony.
Mason Coach Adam Amerine called on Duncan to pitch in the bottom of the sixth; after giving up a walk and a single, he found his rhythm against the top of Clarke's order, retiring them on a fly ball and two strikeouts. Mason added run #13 in the top of the seventh, then junior Jon Freeman closed for the Mustangs on the mound. He allowed two singles, but induced two infield popups for the final outs.