Falls Church's newest restaurant promises to take diners to Burger Heaven, on a path of free-range beef and olive oil cooked French fries.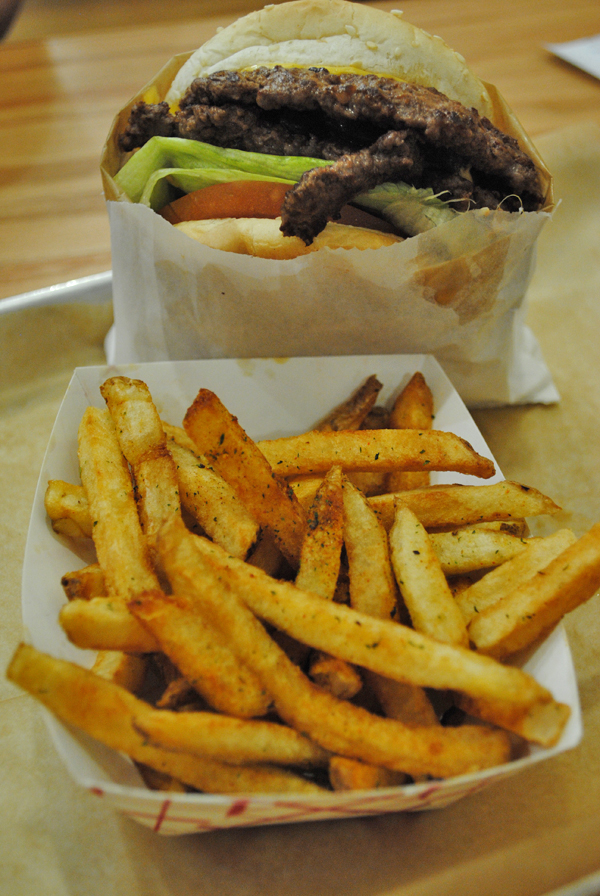 Falls Church's newest restaurant promises to take diners to Burger Heaven, on a path of free-range beef and olive oil cooked French fries.
The new restaurant, located in the Idylwood Plaza on Leesburg Pike, bills itself as a nutritious, gourmet burger option, offering the classic diner combo of burger, fries and milkshakes. But leave 50s nostalgia at the door, because the diner theme stops at the menu. Customers are instead invited into a chic, clean industrial space, where Burger 7 has traded in red vinyl stools and paper hats for stainless steel and exposed concrete flooring.
The menu takes the burger-and-fries format in a different direction, offering a handful of additional options — like onion crisps, sweet potato fries, sliders, and hot dogs — for diners that want a bit of variety, but this restaurant's focus is, as its name suggests, on the almighty burger. Here it is served with two patties for $5.50 as the B7, and $3.99 for one patty as the B7 Jr. And vegetarians can rejoice, as the menu also offers a homemade veggie patty for $3.99.
From that base, customers are invited to customize their burger experience with a choice of bun and toppings, but B7 recommends the B7 Loaded, which, for $5.99, comes with two patties on a white bun with lettuce, tomato, pickles, American cheese, grilled onion, sautéed mushroom, and B7 sauce. The toppings are fresh and delicious. The burger itself is juicy – in the limited way that a patty so thin can be juicy. It is seasoned in such a way that the taste of this truly fresh ground beef shines through; the signage in the restaurant touts that it is ground fresh in-house daily, and the quality of the beef is apparent in the taste. But the bun fails to support the toppings, and goes soft under pressure from tomato and pickles. And the special B7 sauces, save for brief moments of sweet and tangy zings interrupting the dining experience, fails to make an impression upon the burger.
While the restaurant's namesake burger may not be the best combination of toppings, customers are invited to make their own selections from an extensive list of toppings, featuring the classics (like pickle and lettuce), some oddballs (sweet peppers and sauerkraut), a number of sauces, and some 49 cent extras (like quality cheeses, fried egg and turkey bacon). While some options – like the fried egg – are incredible additions, some – like the soggy turkey bacon – should be avoided. But having such extensive topping options in and of itself is a plus when it comes to pleasing all types of diners.
A burger shouldn't have to stand alone, and usually fries provide the perfect accompaniment. The standard fries here have good taste, which is possibly amped up by the olive
oil frying and garlic seasoning, but they lack the crunch that a good fry should have. And when it comes to the sweet potato fries, abandon all hope for crunch. Though the earthworm-reminiscent sweet potato fries lack a firm shape, they are quite flavorful and give a sweet counterpoint to the savory burger. While some restaurants treat sweet potato fries as simply traditional French fry alternatives, coating them in salt, Burger 7 realizes their candy potential, dusting them in raw sugar and billing them as Sweet Fries.
Though the meal itself is hit or miss, dessert brings redemption. The $3.79 milkshakes, made with organic milk and hand-dipped ice cream, are not to be missed. Served with wide straws, they are the perfect texture for drinking. Chocolate, strawberry, and vanilla flavors are standard, but weekly flavors give some variety. This week, diners can pick up a butter pecan shake and delight in the rich, creamy flavor of the shake and its delicious little crushed pecan bits.
The path to burger heaven isn't perfectly laid out by Burger 7, but by ordering the shakes and choosing their own topping options, diners may just find their way. Thanks to the extra options on the menu, they can bring even their pickiest friends along for the ride.
Burger 7 is located at 7505 Leesburg Pike #E, Falls Church.  For more information, call 703-442-8777 or visit burgerseven.com.  Burger 7 is open daily from 11 a.m. – 10 p.m.