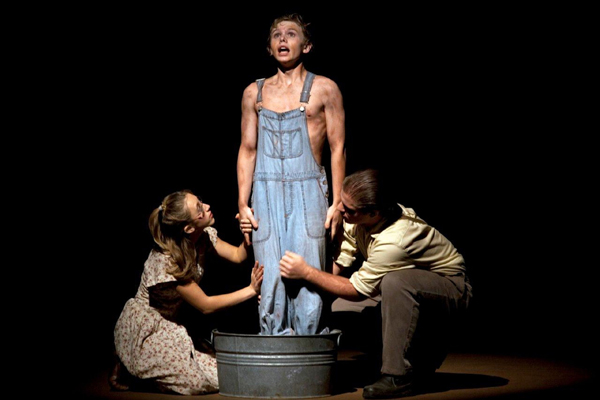 A boy who won't wash; deathly afraid of water. A preacher who won't preach; fed up with it all. A most unlikely pair, forging a friendship throughout the summer, ultimately, however, leads to tragedy. Falls Church High School presented this interesting plot in their production of "The Diviners."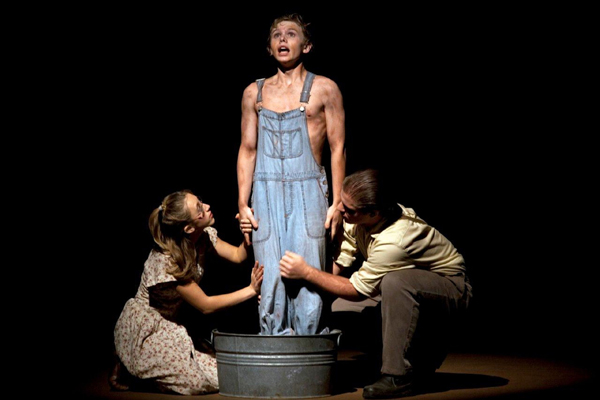 Written by Jim Leonard, Jr. in 1980, the play was first produced by the Hanover College Theatre Group, and was first professionally produced by the Circle Repertory Company in 1980.
Set in the 1930's, "The Diviners" explores life in the tiny town of Zion, Indiana, population forty. It follows a mentally challenged boy, Buddy Layman (Brennan Jones) as he lives his life dealing with a complete and utter horror towards water, brought on by a near-drowning when he was little, which took the life of his mother. He meets an ex-preacher by the name of C.C. Showers (Reggie Herold), who had been walking for months after leaving his church in Kentucky. Showers ends up working for Buddy's father, Ferris (Sam Johnson). The show goes on following Buddy as he gets ringworm, and the struggle for his family and friends to try and get him better, which requires Buddy to bathe, no easy task for those around him.
Jones plays Buddy very consistently. One of Buddy's signs of mental illness is that he never refers to himself in the first person, and Jones not once swayed from this. He stayed very energetic and physical throughout the show, culminating in a slow motion underwater scene done quite well.
One notable group were the farm hands, Melvin Wilder (Trevor Morgan) and Dewey Maples (Ayinde Bray). Almost always seen together, they provide some comic relief, while allowing for a small escape from the worries and troubles of Buddy.
The tech for the show was superb. Whether subtly providing a scene change, or shifting focus from one side of the stage to the other, the cues were on time and consistent, with good quality sound and appropriate lighting. One special mention is during the underwater scene, where the addition of dramatic music and interesting lighting made it feel that much more realistic.
Overall, the show went quite well. Aside from some rushing of lines, the actors were spot on for blocking and spatial awareness. They worked very well with the minimal set, with one large set piece being used for a multitude of places, from a house, to the woods, a store, and even a river bank. Whether looking for a story of hope and determination, or just a night at the theater, Falls Church High School's production of "The Diviners" is sure to please.
---
Jonathan Halverson is a member of The Critics and Award Program, Cappies, and a student at The New School of Northern Virginia.