J.E.B. Stuart High Triumphs in Baseball, Softball, Lacrosse and Tennis, All in a Single Afternoon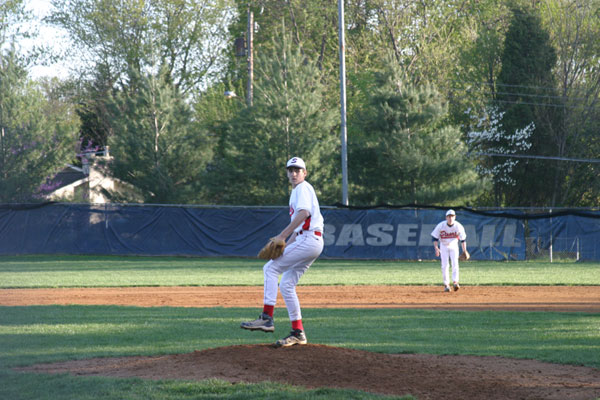 Friday, April 9 was a banner day for the J.E.B. Stuart Raiders. The varsity baseball, softball and girls lacrosse teams all prevailed at home, while the boys tennis and lacrosse teams won on the road.
J.E.B. Stuart High Triumphs in Baseball, Softball, Lacrosse and Tennis, All in a Single Afternoon   

Friday, April 9 was a banner day for the J.E.B. Stuart Raiders. The varsity baseball, softball and girls lacrosse teams all prevailed at home, while the boys tennis and lacrosse teams won on the road.
In a season which has thus-far been defined by close defeats, J.E.B. Stuart's baseball team finally got a win on Friday with a 9-1 route of Falls Church High.
"Casey Duncan started the game for us as a ninth-grader, pitched six innings and got his first varsity win as a pitcher," Raiders coach Randy Lightle said after the game.
"You could see the nerves at the beginning. He walked a couple of guys in the first inning, gave up a run, but he settled down after that and did an outstanding job.
"We hit up and down the order," Lightle continued. "Ryan Herron, my lead-off hitter, was three-for-four with two doubles and an RBI. Ryan is an 11th grader, and coming into this game he was hitting about .444. So there's no doubt that he's kicked that average up to close to .500. He's our leading hitter this season, so far.
"Our designated hitter, John Lyons-Harrison, was two-for-four with a double, and Adam Ninteman, who started out at first base and finished in left field, was also two-for-four, with an RBI," Lightle added.
Earlier last week, the Raiders lost to Wakefield, 10-9, and  on Monday, April 12, Edison High nipped the Raiders, 7-6.
On Friday, April 16, the Raiders will host another tough league opponent, Yorktown High.
As the baseball team put the finishing touches on its victory, the girls lacrosse team was already celebrating the fact that it beat Wakefield High 9-6 for what was also its first win of the season.
"It's really exciting, especially because it's my last year, and we've traditionally only gotten one win a year," said J.E.B. Stuart senior Jackie Vasquez, who scored twice for the Raiders in the game.
"It's nice to win early in the year. With the intensity we showed tonight, things should pick up for the rest of the season. Hopefully we'll manage to translate what we learned tonight against our stronger opponents," she added.
Vasquez and teammate Kenia Zelaya, a sophomore, said that the key to their team's win was the fact that the Raiders played with aggression and urgency throughout the game.
"Part of it was aggression," agreed first-year varsity coach Lizzy McManus. "Another factor is that we're working every day on shooting. We're working on taking appropriate and purposeful shots and on playing smarter defense. Another factor is that we've focused on winning every draw and working harder to gain possessions."
Gaby Nguyen, Ebie Lowery and Nadine Slocum all joined Vasquez in scoring twice for the Raiders; Rachel Scholl scored once.
McManus said that Stuart's tradition of winning a single girls lacrosse game annually is attributable to the school's absence of a junior varsity team or a youth development program.
"The usual building blocks are non-existent, so we have girls who have never really played lacrosse on the same team as girls who have been playing for six years. So it takes our team a long time to warm-up, so to speak, but they love lacrosse and every day the girls are improving."
This off-season, McManus hopes to start running lacrosse camps and clinics to build interest in the sport, with the eventual goal of establishing a J.E.B. JV team and a winning tradition.
The girls lacrosse squad will host Yorktown High on April 15 and travels to Mount Vernon High on April 20.
The last game to conclude at Stuart on Friday was the softball team's 24-6 shellacking of Falls Church High.
"Our record is 2-4, which is the best record that Stuart has had since before I was here, and it's my fourth year," said varsity coach M.K. Jennings after the game.
"We knew that we had a good shot at Falls Church. We ended up losing to them last year in a game that was cut short by weather. So it was a goal to come back and beat Falls Church, because I knew we could do it.
"These girls, they're such a good team, but we play a lot of games that we can't win, because of the caliber of the teams that we play. But this was a game that we could win. And it's important that they win the games that they can.
"Out of the seven other teams in our district, I think we can beat three of them. I'd just like to be out of last place, personally. We've been in last place for three years."
Jennings said that the keys for her team's success were "patience at the plate, not swinging at bad pitches, being aggressive on the base-paths and being aggressive in the field: going after the ball. We've been working with the girls to not be scarred of making an error because you're going for it, but to be aggressive in the field and make sure that you know where the throw is. That was a big thing: keeping their minds in the game and knowing where to throw to."
Senior Caitlin Waters had the Raiders' best offensive game against Falls Church.
"She's really been coming alive ­— her bat has been huge this year. She has several singles, doubles and triples so far this year, with a ton of RBIs," said Jennings.
"Erica Payne is also a big offensive force, as is Madeline Liberti. And I think Nore'll Marshall is also going to start hitting really well.
"But this year, I'm very pleased that we don't really have any holes in our lineup. Everybody's getting the bat on the ball. Everybody is making things happen. It's been incredible to see them reaching their potential."
Jennings said that her team's defense is anchored by many of the same players who are its offensive stars: Waters, Payne (a junior catcher who was Second-Team All-District last year), Liberti (an outfielder who received First-Team honors last year), and senior short-stop Danielle O'Brien, as well as by third-year starting pitcher  Claudia Contreras.
On Monday, April 9, the Stuart softball team fell to 2-5 on the year after dropping a heartbreaker to Edison High, 13-12. The team hosts Yorktown High on April 16 and travels to Hayfield Secondary on April 20.
The boys lacrosse team beat Wakefield High 16-6 on April 9, but fell to Falls Church High on April 12, 16-5. The team travels to Yorktown High on April 15 and hosts Mount Vernon High on April 20.
And the boys tennis team made it unanimous on April 9 by downing Washington and Lee High, 6-3. The J.E.B. Stuart boys tennis team is now 7-0 on the year. Looking ahead, the squad will host Mount Vernon High on April 19 and Wakefield High on April 21.