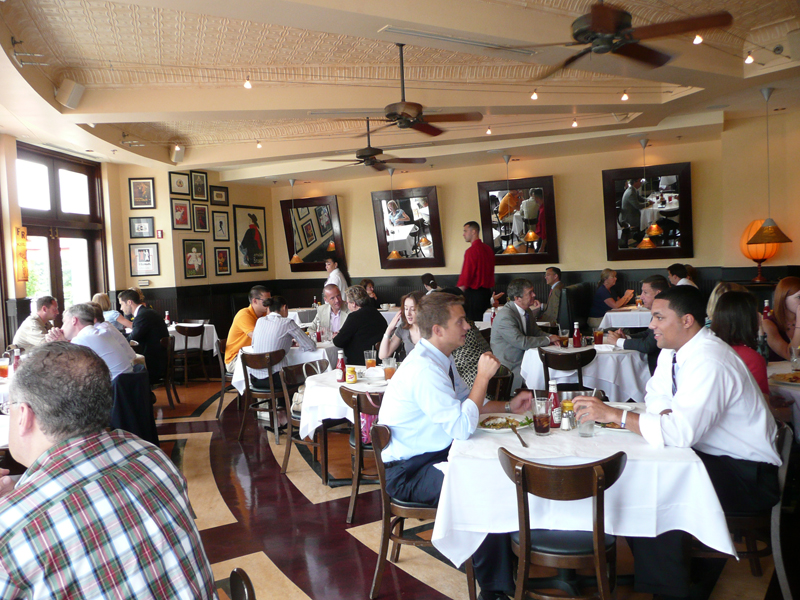 The Bungalow in Arlington is a laid back restaurant/bar where patrons can hang out with friends, shoot some pool and drink beer out of a 32oz mason jar.
The Bungalow in Arlington is a laid back restaurant/bar where patrons can hang out with friends, shoot some pool and drink beer out of a 32oz mason jar.
It got its start in January 1997 in Chantilly. A second location opened in 2001 in Arlington. Owners Keith and Cheryl Early run the whole operation. They built it into a place where people of all types can let their hair down and have a little fun, according to Jen Fantacone, the restaurant manager.The Bungalow is a lively place, featuring at least 15 beers on tap, big screen TVs for sporting events, live music on Tuesdays and Ladies Night on Wednesdays, where ladies can play pool for free after 8 p.m.
The Bungalow's walls are adorned with kitschy signs and the bar is designed to look like a little shack with a wooden roof, similar to the kind one might find on the beach. In front of the bar, there are booths that seat up to six people and a number of tables, each seating four people.
There are at least seven pool tables (costing $12 – $18 per hour depending on the day and time) for patrons to knock around a couple of balls. The nice thing about The Bungalow is that even though it can be a lively bar scene patrons don't have to shout to be heard, which isn't the case in some bars.  The Bungalow's menu features the standards such as pizza, burgers and appetizers. An appetizer called The Kickback Stack ($11.99) can be seen from across the restaurant, featuring three plates, potato skins, chicken wings and mozzarella sticks piled high on top of each other.
For pizza, the Bungalow has the standard Pepperoni ($9.99), but also a Chicken Ranch ($9.99), which combines garlic ranch dressing, chicken and bacon with mozzarella and cheddar cheese. It's a thin-crust pizza that almost snaps when biting into the crust.
As far as burgers are concerned, there is the Bunga Burger ($7.99), a half-pound burger with lettuce and tomato; and the Big Blue Boo-Burger ($8.99) which comes with crumbled bleu cheese and hickory-smoked bacon. Also, don't forget the Cheeseburger From Paradise ($8.99), a play on the Jimmy Buffett song, which has lettuce and tomato, but departs from the song to include cheese and bacon.
The Bungalow also serves salads and soups. The menu labels these items as Weeds & Warmers. For something different, a customer might want to try the Ahi Tuna Sandwich ($9.99) or a pulled bbq pork sandwich called the Carolina Yank ($8.99). Almost everything on the menu comes with a pickle spear and beer-battered fries.
During the week, there are specials like Free Burger Mondays, where customers can buy one burger and get another one free. On Fridays, a complimentary "munchie buffet" runs from 5 – 7 p.m., featuring club sandwiches, meatballs and a veggie platter.The Bungalow also has a Sunday brunch starting at 11 a.m. and Longneckin' every Thursday with drink specials on longneck beers.The Bungalow brings its "beach vibe" to everything it does. Even the staff seems to enjoy the fun atmosphere and are as accommodating as possible.
At the bottom of the Bungalow's menu, a quote reads: "Even a bad day at the beach is better than a good day at work." And that about sums it up.
The Bungalow
2766 S. Arlington Mill Dr. , Arlington, VA
bungalow4u.com • 703-578-0020

Hours:
Open Everyday,
11:30 – 1:30 a.m.