There's something invigorating about variety. The diversity engages our minds in ways that keep them agile, always ready to welcome and interact with something new.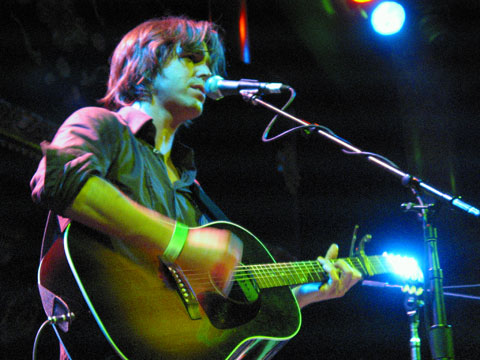 There's something invigorating about variety. The diversity engages our minds in ways that keep them agile, always ready to welcome and interact with something new.
There's also something comforting about routine. Knowing exactly what's coming, we embrace the familiar and can dispatch our focus from the details and concentrate more fully on the task at hand.
In this way, Mike Mattison, the vocalist for both The Derek Trucks Band and the co-founder of blues group Scrapomatic, leads a very balanced professional life. Since 2002, Mattison has sung for the renowned blues jam band, an outfit that has garnered a bit more acclaim due to Trucks' guitar virtuoso status and work with the Allman Brothers. However, Mattison's involvement with Scrapomatic dates back to the mid-90s, when he began performing in the roots/jazz/blues duo with guitarist/vocalist and fellow Minnesota native Paul Olsen.
"[In] The Derek Trucks Band, I feel like I'm just a piece of the puzzle, just trying to fit in to the ensemble. It's really more of an improvisational ensemble. Singing isn't really the focus of what's going on there," Mattison says. "Scrapomatic is my material and, while occasionally we'll have a band, Paul and I will often have to do all the work ourselves. I'm lucky to have both experiences. It's kind of a musician's dream to be able to play both sides of the coin."
Since joining forces, Mattison and Olsen haven't lacked for acclaim either. In 1997, the duo was nominated for Best R&B Group and Mattison for Best Male Vocalist in the Minnesota Music Awards. Since relocating to New York, the duo has performed throughout the city's many venues, even taking the stage at Carnegie Hall.
Scrapomatic performs what Mattison dubs "a modern take on back-porch music," a revamped spin on an old idiom, since, as Mattison says, "when Mississippi John Hurt was playing, there weren't malls."
"Part of the modern take is playing electric instruments, but it's also about subject matter and our sense of storytelling. I think it's rooted in the blues tradition, but it's also trying to tell stories about people we know, things we have experienced. We're trying to tell stories about modern life."
On their latest album, Sidewalk Caesars, tunes alternate from the singer-songwriter-ish "Good Luck With Your Impossible Dream," to the full-on delta blues stylings of "I Want the Truth," and the frantic rock of "I Just Wanna Hang Around With You," a forceful tune you'd unlikely expect from a "back-porch" duo.
"A lot of my favorite concert blues artists became electrified. When we started Scrapomatic, it was just Paul and myself, so we needed to make as much noise as possible with just two people. That was kind of a challenge, to take a blues duo, but make it sound like five or six different people," says Mattison.
On the songwriting front, he plainly states that Scrapomatic is lucky to have a music-college-trained guitarist like Olsen, but their shared heritage growing up in Minnesota helps the process run smoothly. "We share kind of a dark, mid-western humor," Mattison says. "There's a shared trust about our songwriting. If he can't finish something off, he'll dump it in my lap and vice versa."
While Mattison's work in The Derek Trucks Band helps keep him energized, his relationship with Olsen has been anything but mundane. While the duo's familiarity with each other allows them to tailor their work to their strengths, Mattison says that there are few days that go by without Olsen surprising him with some previously unknown skill, talent or taste.
"He's an interesting cat. He holds his cards close to his vest, but he's had a wide range of experiences. Some of the lyrics and melodies he comes up with, my jaw is just kind of on the ground."
Fans in the D.C. area will get an opportunity to share in that jaw-dropping experience when Scrapomatic plays the Mansion at Strathmore in Bethesda, Md. on Saturday, Jan. 9 at 7:30 p.m. Tickets are $15.
• For more on Scraptomatic, visit www.scraptomatic.com.